Carrie's Bike Guy From And Just Like That... Was In Sex And The City, Too
He was part of a *very* important scene for Charlotte.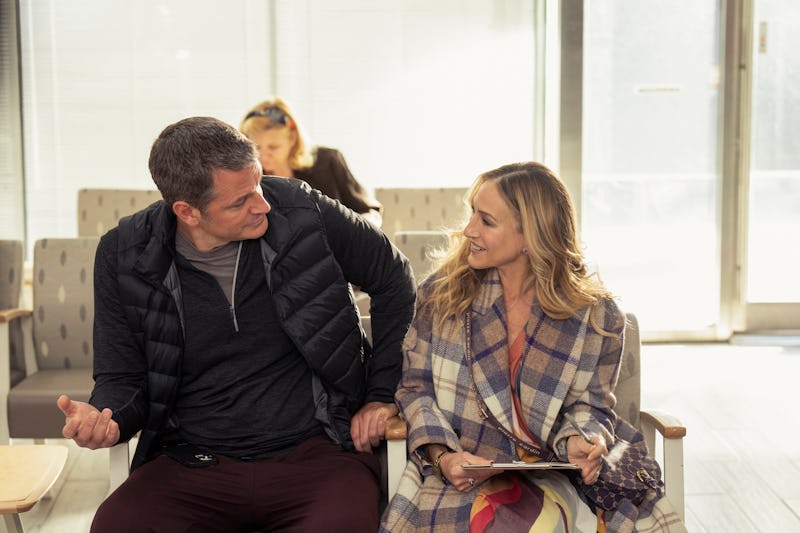 Craig Blankenhorn/Max
And Just Like That... Season 2 has been praised for tapping into the spirit of the original Sex and the City, between its flurry of new flings and — as Sarah Jessica Parker put it for The Hollywood Reporter — its "lighter" and "more joyful" feel. This is exemplified by Carrie's brief, whimsical connection with the cyclist who crashed into her in the show's July 13 episode.
After causing an accident by texting in the bike lane, Carrie brought the injured cyclist to urgent care and learned more about him. She then visited the tech entrepreneur, named George Campbell, at his very nice (and very expensive) home, where their hookup attempts were foiled by the constant interruptions of George's business partner, Paul.
"I think you actually are married. To Paul," Carrie told him. "He's not just your business partner. He's your wife."
George clarified that it was more of a John Lennon and Paul McCartney situation, but Carrie was out of there. "That kind of makes me Yoko, so I'm gonna go."
The episode ends with a Carrie voiceover that felt, well, very Sex and the City. "And just like that, George and I were over. But at least I got back up on the bike."
But that's not the only reason the episode felt familiar and nostalgic. As it turns out, the actor who played George Campbell, Peter Hermann, has appeared on Sex and the City before — exactly 20 years ago, in fact.
In the Season 6 episode "Hop, Skip, and a Week," Charlotte was invited to a single-and-mingle night at the temple after her breakup with Harry. She was set up with a man named David (played by Hermann!), a Yale alum who seemed perfectly nice and handsome. But as Carrie noted via voiceover, "The problem wasn't that David went to Yale. The problem was, he wasn't Harry."
Charlotte told him she wasn't ready to date, to which David suggested they just have sex — Charlotte said no. "Figured it was worth asking," he said.
The whole interaction barely spanned one minute, but the scene has likely endured in Sex and the City fans' hearts for what happened immediately after. After David left, Charlotte heard a woman comment about the "baldies" at the event, which made Charlotte think of Harry. And sure enough, he was there. Charlotte tearfully told him she didn't care if they ever got married (the cause of their impasse before), but still wanted to be together. In one of the show's sweetest moments, Harry got down on one knee and proposed anyway.
So, shoutout to Hermann's character for inadvertently catalyzing one of Sex and the City's great love stories — and for helping Carrie get back on the metaphorical bike two decades later! Hermann also famously starred on another Darren Star project, Younger, so he's no stranger to New York City love stories.