Everything To Know About Bling Empire Star Christine Chiu
The LA socialite is set to compete on Dancing with the Stars.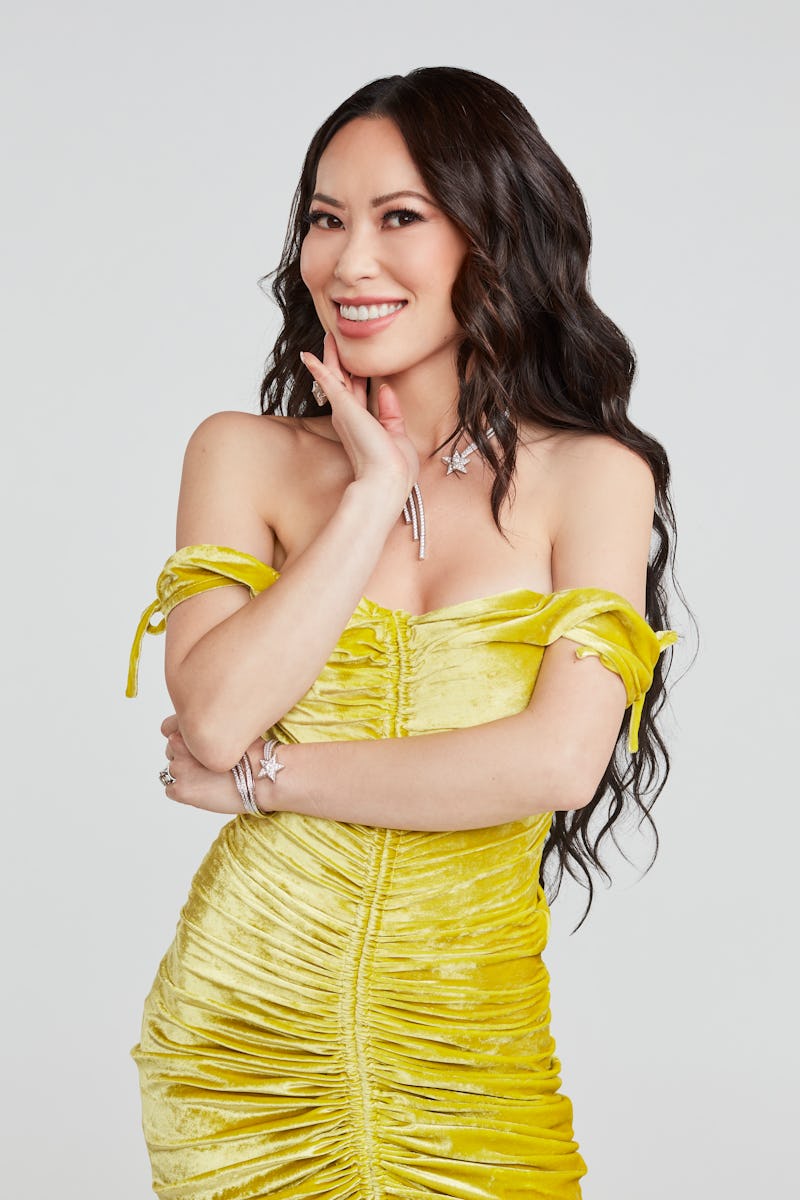 Maarten de Boer/ABC
Christine Chiu may not have ended up on Real Housewives of Beverly Hills (remember those 2014 rumors?), but she did eventually make it onto reality TV. She's both a producer and cast member of Netflix's Bling Empire, which centers on her group of affluent LA-based Asian friends (and frenemies, in some cases).
The show is currently in the midst of production for its second season, but in the meantime, Christine is headed back to the small screen for a different series. She's hitting the dance floor on Dancing with the Stars Season 30, where she'll compete alongside stars like Olympian Suni Lee, former Bachelor Matt James, and Real Housewives of Atlanta star Kenya Moore. Here's everything to know about Christine as she prepares to show off her dancing chops.
Christine's Husband
Christine is married to Dr. Gabriel Chiu, and together, they run Beverly Hills Plastic Surgery, a private practice that serves many Hollywood directors, producers, and studio execs, per The Hollywood Reporter. According to the practice's website, Dr. Chiu is a board-certified surgeon who specializes in the art of plastic and reconstructive surgery. He and Christine have a two-year-old son, Gabriel Jr., and in Bling Empire they discuss the possibility of having a second child.
In an Elle interview, Christine explained that she was actually making more money than Dr. Chiu when they first met and was hesitant to go out with him. "I was the Senior VP of marketing within [a] corporate office. His talent and humility caught my eye," she said. "But because I was strong-willed and did not want to fall into a stereotype of 'marrying a doctor,' I initially declined all of Dr Chiu's advances."
Christine's Instagram
Christine's Instagram could easily be a collection of magazine centerfolds. She collects couture fashion and loves getting creative with photoshoots to model her luxury wardrobe. Before the pandemic, she regularly attended fashion weeks in Paris and around the world, eager to find new and unique pieces. "I used to just purchase pretty things, now I try to buy things that have meaning," she told Women's Wear Daily, referring to a gold, house-shaped garment she purchased from the 2019 Fall Christian Dior show. "When else could I say, 'I bought the house of Dior and it's sitting in my closet?"
When she's not posting about the dozens of looks she's collected over the years (there are some she still hasn't worn, according to Harper's Bazaar), Christine shares photos of her son, "Baby G," (also in designer wear), Dr. Chiu, and their philanthropy work. Which brings us to...
Christine's Philanthropy
"I've always ascribed to the old adage that to whom much is given, much is expected," Christine told Women.com in 2019. "It is not only our duty and responsibility, but it's also in our interest to ensure the continuation of resources for our community development and better yet, to enhance the community for our next generation."
According to The Hollywood Reporter, Christine serves on 27 boards in the Beverly Hills area including UNICEF's Chinese Children's Initiative. In 2019, she and her husband worked with Prince Charles to open The Prince's Foundation Chiu Integrated Health Programme in East Ayrshire, Scotland. The program provides the area, which has a high unemployment rate, with holistic health and wellness services that aim to address depression, obesity, and women's health issues, among other concerns.
On Sept. 18, Christine also presented at the 30th anniversary of the Elizabeth Taylor AIDS Foundation, which raises awareness about the virus and fundraises to provide direct assistance to those affected. When she competed on Celebrity Family Feud with the cast of Selling Sunset over the summer, it was on behalf of Hate Is A Virus, a nonprofit aimed at combating racism against Asian Americans.
Christine told Women.com that in the future, she hopes to expand her philanthropic relationship with Prince Charles in a project that combines her "passion for the artistry and craftsmanship of dress-making" with education and employment to those who need it.
Christine's Thoughts on Bling Empire
Christine told Elle that she initially wanted to stay behind the camera for Bling Empire. "I would have preferred to only have been a producer on this project," she said. However, she decided to "[take] the risk" and appear onscreen in order to increase Asian representation in media, knowing that they had to use the "initial hook of materialism and drama."
She added that she "leaned into the character you see in the show" because it was a "necessary evil" to generate drama for audiences — and thus secure a Season 2 renewal. "The show is set against a backdrop of not just wealth but 'crazy wealth' and also required inter-cast dramatics to capture the interest of viewers," she said, alluding to her onscreen rivalry with Anna Shay. "Characters in any show play off of each other, and in at least the case of this first season, we succeeded by crafting a lighthearted (but also heavily debated) rivalry between a heroine and an anti-heroine. Who knows, perhaps viewers might see a shift in Season 2."
Christine's Thoughts On Dancing With The Stars
A dance show is very different from Bling Empire, but as Christine told ScreenRant, competing on Dancing with the Stars is a kind of emotional release for her. "I feel happiest and most vulnerable when I dance," she explained. "My mom passed away last year, and things were happening so fast and I was thinking about how I can process everything and I remember turning on the music one day and just dancing by myself to it and that form of therapy was so effective and fulfilling for me."
So when Dancing with the Stars presented an opportunity, she immediately agreed. "What little girl didn't dream of waking up every morning and having glam and having beautiful costumes designed for you and then not tripping on the dance floor, but dancing with a very handsome, good looking partner and getting twirled around to fun music?"
Worryingly, Christine said that she's already "dislocated a rib" during practice, but they've managed to work around the injury. It might be difficult, but Christine knows her Bling Empire crew will be there to support her. "I'm sure they're super excited," she said. "Some of them will be in the audience cheering me on for premiere night."
This article was originally published on