Dan Levy's Father's Day Pic Of Dad Eugene Spoofs The Schitt's Creek Alum's Past
The father and son look a little different here...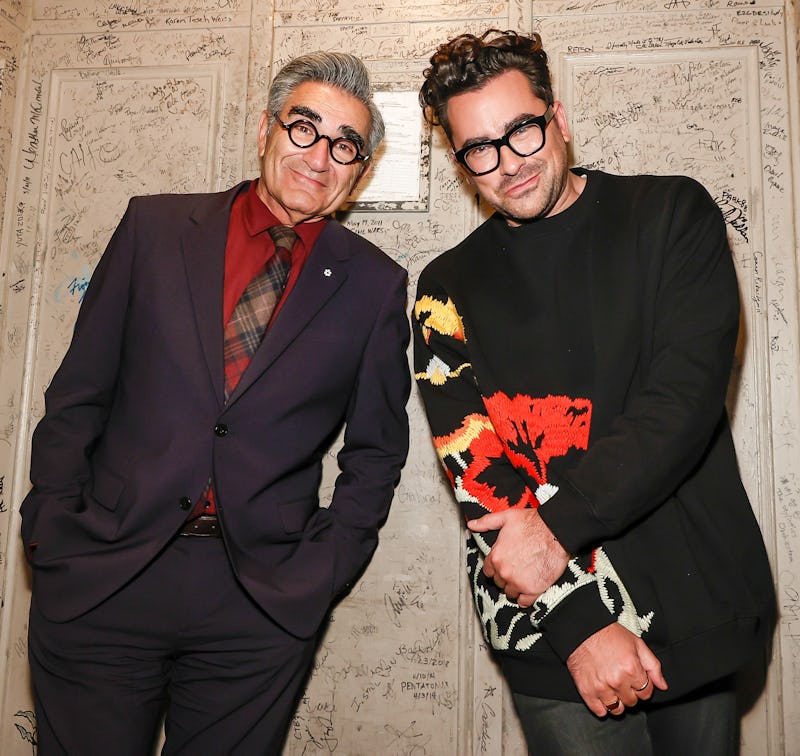 Arturo Holmes/Getty Images Entertainment/Getty Images
There are few father-son duos more beloved than Dan and Eugene Levy... or David and Johnny Rose, if you will. The Schitt's Creek stars and co-creators love (and tease) each other IRL as much as their riches-to-rags TV counterparts did for six seasons — and even though their show ended two years ago, they're still keeping fans fed. Case in point? On Father's Day, the younger Levy took to social media to celebrate his dad and used a hilarious throwback photo to do it.
"Always loved this photo of my Dad holding me as a baby," Dan captioned a still from Eugene's 2000 mockumentary Best in Show — in which his character, Gerry, proudly hoists up a slightly confused dog. "Happy Father's Day to one of the greats."
If you're a Schitt's Creek superfan, there's a good chance you're already familiar with Best in Show — but if you haven't seen it yet, you're in for a (dog) treat. Eugene wrote the film with Christopher Guest and stars alongside Catherine O'Hara (Moira Rose herself!). They play Gerry and Cookie Fleck, parents to a terrier, Winky, who they hope will take home the top prize at a major dog show.
(As it turns out, Best in Show wasn't the only piece of the elder Levy's cinematic legacy being honored on Father's Day. Jason Biggs, who played the actor's on-screen son in the American Pie movies, commented on the post, too. "Love that man," he wrote. "Happy Father's Day Euge!")
Of course, Dan's admiration for his father goes both ways. In 2020, Eugene praised his son in conversation with Bustle — describing him as "one of the top showrunners in the entertainment business right now." He also highlighted Dan's work ethic on the historic, Emmy-sweeping show.
"Through every phase of Schitt's Creek," Eugene said, "Dan had a very strong sense as to what it was he wanted the show to look like and what he wanted it to sound like and what the tone of the show was going to be and what the message of the show would be. He certainly makes himself responsible to make these things happen. He doesn't go with the flow at all."
Fortunately, if you desperately need more Rose/Levy family content, Dan's Father's Day messages are the gift that keeps on giving. In a 2019 post, he thanked Eugene "for the brows and the laughs."
And two years earlier, he shared one of the pair's many adorable throwback photos.
Keep a lookout next year!