This Tristan Thompson Comment on Khloé's Instagram Could Be A Major Pregnancy Clue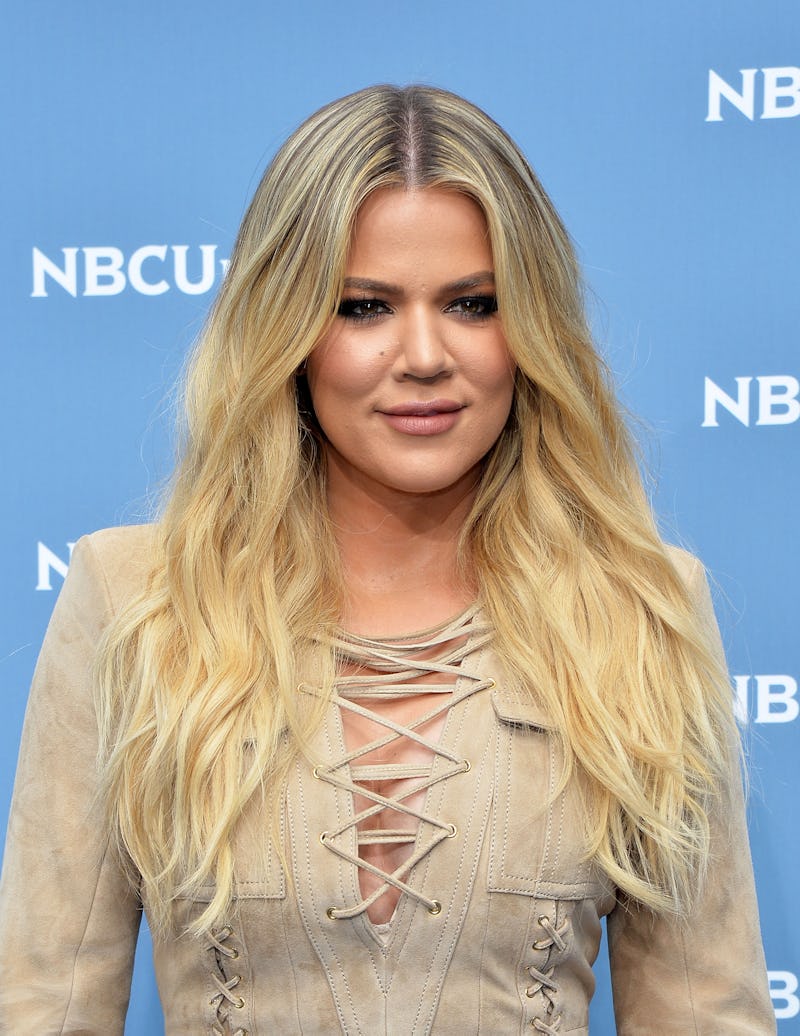 Slaven Vlasic/Getty Images Entertainment/Getty Images
Oh, baby. This recent remark shared by Tristan Thompson is hard to ignore. Thompson may have hinted Khloé Kardashian is having a boy in a comment he reportedly posted as a reply to an Instagram Kardashian posted on Thursday, in which she is promoting her Good American line. According to BuzzFeed, the NBA player responded to his partner's image by writing, "[five heart-eyed emojis] DAMM [face palm emoji] [male sex symbol]." To that, the Keeping Up With the Kardashians star reportedly replied, "hey daddy [four heart emojis]".
While many were distracted by Kardashian referring to Thompson as "daddy" (like she's done in the past), because it's just another clue she is pregnant, the fact that he used a male gender sign has seemed to go mostly unnoticed. Does it mean they're having a boy? Why else would the 26-year-old athlete post it?
On Oct. 25, People reported that Kardashian is pregnant with a boy, per multiple sources. At the time of the report, Bustle reached out to Kardashian's rep for comment, but did not receive an immediate response. Hmm... seeing as there are rumors that she's having a boy, Thompson's use of the male symbol seems even more suspicious.
As you can see below, one Twitter user also noticed Thompson's comment. The person wrote, "Did nobody notice the gender sign at the end of his post? As in, ITS [sic] A BOY." It's hard to determine why else Thompson would include it, but it's definitely going to keep people asking questions.
In September, Us Weekly reported that Kardashian was pregnant. At the time of the report, Bustle reached out to Kardashian's rep and Thompson's agent for comment, but didn't receive an immediate response. The couple has yet to confirm or deny the pregnancy rumors. Since the baby reports began, Kardashian hasn't been able to escape the spotlight more than ever. It also doesn't help that her youngest sister, Kylie Jenner, is reportedly pregnant too.
In September, like Kardashian, TMZ reported that Jenner is expecting her first child. TMZ also reported that her boyfriend, Travis Scott, is the father and that Jenner is having a girl. As for Kim Kardashian, she revealed to Ellen DeGeneres on The Ellen DeGeneres Show in November that she and Kanye West will soon welcome another girl via a surrogate.
Even though Kardashian and Thompson haven't publicly discussed her rumored pregnancy and their reported baby's gender, they could very well reveal all when the 2017 Kardashian Christmas card is released at the end of December. There's a theory that both Kardashian and Jenner will showcase their baby bumps on the card. It would make a great announcement, that's for sure.
Kim Kardashian has been sharing a new image from the family's card every day. It's unclear if these will somehow fit together into one image or if they stand alone. It all began on Dec. 1 and has turned into a type of Kardashian Christmas card countdown. Unfortunately, neither the Revenge Body star nor the makeup entrepreneur has been featured in any of the teaser photos yet, but here's hoping they be will soon enough. Though, it seems more than likely that they'll show up in pictures toward the ends of the month — or in the final reveal. Maybe, just maybe, they'll even confirm the genders of their reported babies on the card, too.
Until then, let's rack our brains over Thompson's Instagram comment and why the heck he use the standard male sex symbol.