Michelle Says Her Bachelorette Season Has An "Unexpected" Ending
"I had no idea I would be in the position that I was."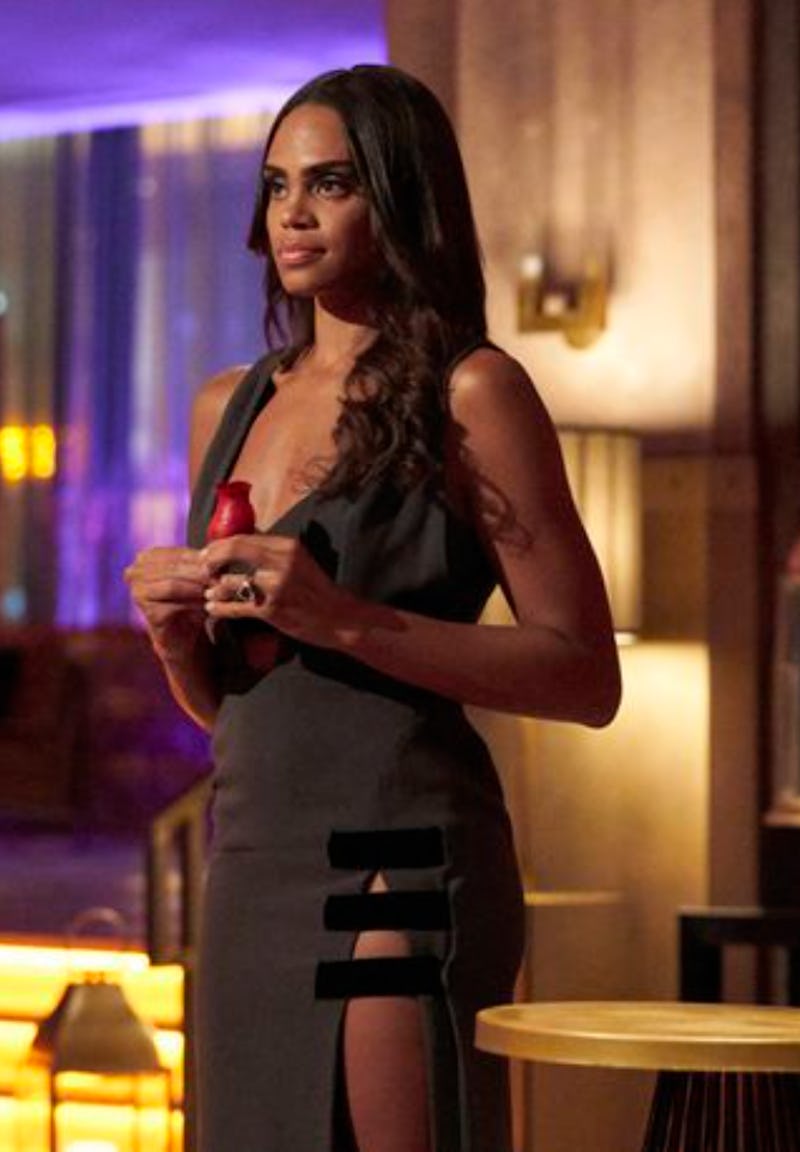 ABC/Craig Sjodin
Potential spoilers and speculation ahead for Michelle Young's Bachelorette season. Following months of anticipation, Michelle Young's Bachelorette season is finally nearing its conclusion. Which means speculation about who she gets engaged to – if anyone – is at an all-time peak.
Michelle herself has said that her ending is unexpected, recently teasing to Us Weekly that she could even end up single. "I had no idea I would be in the position that I was at the end of the season," the 28-year-old teacher said. "[The ending is] something that I didn't necessarily expect, something that I didn't think was possible for me. I'm excited for everybody kind of to see what that entails because I think a lot of assumptions are made, you know, of either who I end up with or if I end up with anybody."
According to Bachelor blogger Reality Steve, however, Michelle does indeed get engaged. He's also reported her purported winner, but we won't spoil it here.
Beyond that, there haven't been many clues about how Michelle's season ends. Unlike the preceding lead Katie Thurston, Michelle has avoided accidentally dropping any spoilers about who she chooses on social media. In fact, she didn't post on Instagram at all between mid-July and September, when she returned to her feed to share a promo for her then-upcoming season. She's continued to post about the show since then, most recently during the hometown episode, when she shared a series of photos of herself from dates with her final four men, but most of the captions have been vague.
The midseason trailer does hint at who Michelle's final two could be. There are several scenes in a tropical location showing Nayte and Brandon frolicking by the water and in the sand with Michelle. Joe — the only other remaining contestant — isn't anywhere in sight. That doesn't necessarily mean he'll be the one going home next, but considering the show has yet to visit such a destination, these scenes are clearly from the final weeks of filming.
The full season trailer offers our first glimpse at what is presumably her final rose ceremony, showing her standing on a platform with a single rose. Obviously this doesn't tell us who Michelle chooses or if she accepts a proposal, but it at least means that she follows through to the end of her journey – which is more than can be said for some previous Bachelors and Bachelorettes.
However things pan out, Michelle has affirmed that she has faith in the process. "I do think this process works. When you can set down all of these outside distractions and dive in, I think you can really learn a lot about somebody," she said during Matt James' After The Final Rose special, when she was first announced as Bachelorette.
She's also said she's happy with how the season ends. "What I tried to do is just enjoy every minute, positive, negative, all of it so that when I got to the end, I would be happy with how I handled the situations and I would hopefully have what I'm looking for," she told the Hollywood Reporter. "I love where I'm at, I am excited for everyone to see everything unfold and the whole entire journey, the good part, the hard parts. I'm just excited for things to kick off."
This article was originally published on