Ed Sheeran Says Friendship With Taylor Swift Feels Like "Therapy"
The singer got candid about their relationship during an Apple Music interview.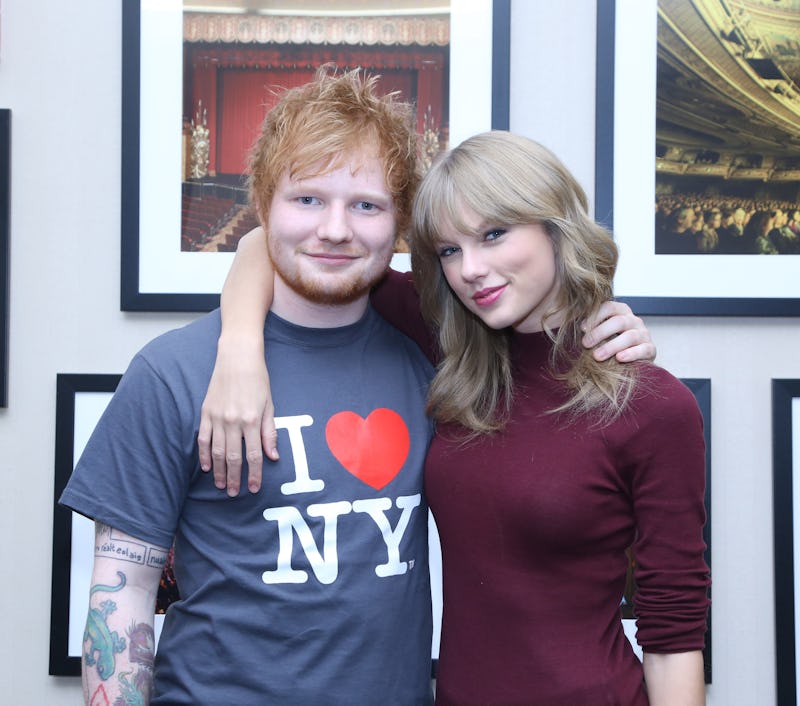 Anna Webber/Getty Images Entertainment/Getty Images
Amid the release of his Disney+ docuseries The Sum Of It All, Ed Sheeran has opened up about his decade-long relationship with Taylor Swift, revealing that their friendship feels like "therapy." Sheeran got candid about his friendship with the "Anti-Hero" hitmaker during a May 2023 interview with Zane Lowe on Apple Music 1, sharing that he has "long, long, long conversations with Taylor about stuff" because "she's one of the only people that actually truly understands where I'm at."
Speaking to host Lowe, the "Shape Of You" performer — who recently won a copyright lawsuit over one of his biggest hits — also disclosed that he had "an hour-20 conversation with her yesterday" and the pair discussed "everything that was on our minds." He continued: "I mean that in itself is kind of therapy as well, because you're actually talking to someone that genuinely gets it."
"That has all the things that you feel and have insecurities about and how other people treat you or how your family treat you, how your friends treat you. She's basically in the same sphere," Sheeran added.
Meanwhile, the "Perfect" singer also shared that Swift encouraged him to work with her own music collaborator, Aaron Dessner, on his forthcoming album — something Sheeran was reluctant to do. "I'm always — not guarded, but I kind of would keep my distance if there would be a collaborator that she'd be working with closely just because that's her thing," he explained. "But she was like, 'I think it'd be really important for you as an artist ... I think you and Aaron should work together.'"
Speaking on the Apple Music radio show, Sheeran added that he is now "incredibly grateful" for the introduction to Dessner, as he is "making some of the most meaningful music to me that I've made in a very long time."
As fans will know, Sheeran and Swift's longstanding friendship dates all the way back to 2012 and the pair are not shy about their mutual admiration for each other. Some of their most notable collaborations over the years include "Everything Has Changed," "End Game" and a third collab titled "Run," which is featured on Swift's Red (Taylor's Version).