This Emily In Paris x Blackpink Crossover Is Beyond Iconic
The Savoir team would be proud.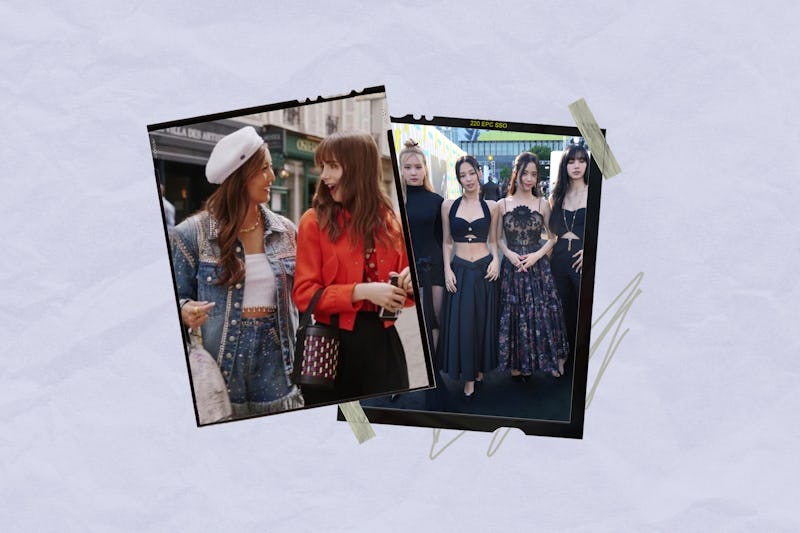 Netflix/Getty Images/Kevin Mazur
Paris Fashion Week is the gift that keeps on giving, from Viktor & Rolf's upside down dresses to that Kylie Jenner lion head. Now, anybody with Mindy Chen joins Blackpink jotted down on their bingo sheet is in for a treat thanks to this genius crossover moment. Ashley Park, who portrays Emily In Paris' Mindy has been single-handedly spearheading the ankle support trend during her time in the French capital. However, she almost broke the internet when she joined forces with Blackpink's Lisa for a couple of selfies.
"BLACKPINK mIN-Dy AREA. Lisa, you're the sweetest," Park wrote in the caption, punning on her character's name and the title of Blackpink's 2018 compilation album "Blackpink In Your Area." The actor posed in a look from the sustainable label KAOÂ. Stand-up comic and actor Ali Wong and Bridgerton's Charithra Chandran both cheered on the pairing in the comments section, with the latter declaring it "iconic."
While in Paris, Blackpink performed at charity concert Le Gala des Pièces alongside the likes of Pharrell Williams and Mika. At the show, they teamed up with two renowned classical musicians to reimagine two of their hits. For "Pink Venom" the group collaborated with the cellist Gautier Capuçon, and also linked up with the violinist Daniel Lozakovich to perform "Shut Down" at the one-off show. Following the show, Blackpink posed for a photo with a slightly starstruck French President Emmanuel Macron, as you do.
A well-documented K-Pop fan, Park's character Mindy previously covered BTS' song "Dynamite" on Emily In Paris. Group members V and RM soon shared the number on their Instagram stories. "The whole rest of the day, as soon as he had posted that, I couldn't think. I couldn't talk. I couldn't get up," Park later recounted on Jimmy Kimmel Live. "And I was like, 'Is this what it feels like when your body goes into shock?' Like, my sinuses, my head was like this…" As it emerged the next day, however, "I had Omicron, which is why I was in such a fog," she added.
Fingers crossed for a Mindy version of "DDU-DU DDU-DU" next season.