Everything To Know About Emily In Paris Season 4
Pack your bags — Emily is going on a Roman holiday.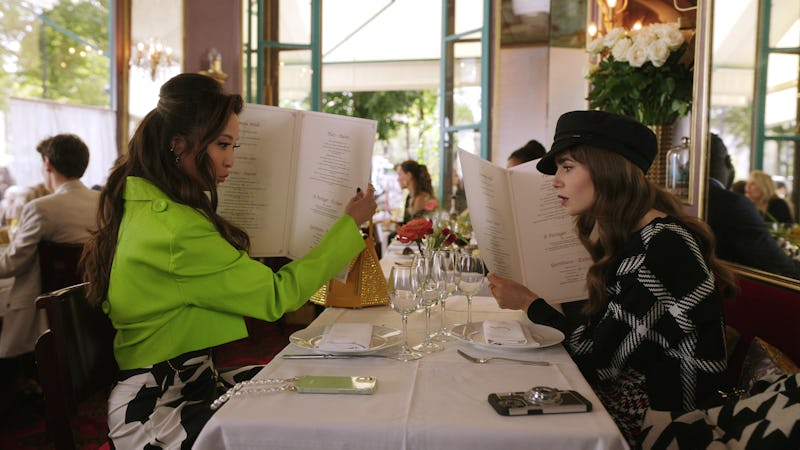 Netflix
Soon enough, it will be time to live vicariously through Emily Cooper in Paris once again. Netflix renewed Emily In Paris for both Seasons 3 and 4 back in January 2022, with star Lily Collins wearing the show's merch to celebrate. "I can't tell if Emily would love or hate this announcement outfit but she'd be screaming either way," she quipped. "Truly love you all, thanks so much for the incredible support. Seriously cannot wait for more. Merci Beaucoup!!"
The writers of the Darren Star-created series had Season 4 in mind while writing the third season, as it ends on a jaw-dropping cliffhanger that further complicates a very tangled love square. Season 3 premiered at the end of 2022, meaning the new season should theoretically be upon us soon. However, production on Season 4 has been delayed due to the ongoing Writers Guild of America strike, joining many titles across all TV channels and streaming platforms. As Emily would say, it's not "tres chic." But, there apparently is a trip in store for her, Collins teased at Netflix Tudum.
Here's everything you need to know about Emily in Paris Season 4.
Emily In Paris Season 4 Cast
While casting details have yet to be made official, it's likely that Collins (Emily) and her gang of Parisian friends and frenemies will all be back, including Ashley Park (Mindy), Philippine Leroy-Beaulieu (Sylvie), Camille Razat (Cami), Lucas Bravo (Gabriel), Bruno Gouery (Luc), Samuel Arnold (Julien), and Season 3 addition Lucien Laviscount (Alfie). The fate of Kate Walsh seems more unclear, as Emily officially cut ties with her former American boss during Season 3.
Emily In Paris Season 4 Plot
Emily In Paris Season 3 spoilers ahead. The show's third season ended on a major cliffhanger. Shortly after Cami leaves Gabriel at the altar, saying that he will always be in love with Emily and wasn't honest about her own intentions of reconciling with him, he drops the bomb on Emily that they were getting married because Cami was pregnant. Assuming that she would choose Gabriel, Alfie breaks up with Emily after the wedding blow-up, but he hasn't left Paris just yet.
Season 4 will see Emily and Gabriel navigating a new dynamic now that they're both single, but don't expect them to jump into a new romance right away. "I don't know that Gabriel is in the best place to start a relationship with Emily," Star told TV Guide in December. "I am not sure that Emily wants a relationship with Gabriel under the circumstances, so we'll have to see how things happen with them." According to Star, the season will focus on "navigating complicated relationships," both personally and professionally. "Emily is still going to be working with Alfie, Gabriel, and Camille," he noted. "Those work relationships are really fraught with emotional conflicts."
Meanwhile, speaking to PEOPLE in June 2023, Bravo (aka Gabriel) also teased what lies ahead for his character in Season 4. "I know that Gabriel in season four is aiming for the Michelin star. He's maturing a lot," the actor shared. "He's not going to be so much involved in relationship dramas. I think he wants to aim for something very mature and stable."
Bravo went on to reveal that Gabriel will "own up to his mistake" in Season 4, because "he's been more of a victim than owning [it]." The actor continued: "I think it's going to be coming of age for him in season four."
Another detail about the plot? Emily is going on a Roman holiday in Season 4. Collins teased this detail at the June 2023 Netflix Tudum event. "Her life takes some unexpected twists this season, the actor said in a clip. "Don't be surprised to find her on a Roman holiday." Who else will be joining her, and why she ends up presumably in Rome, remains to be revealed.
Emily In Paris Season 4 Potential Premiere Date
Production on Season 4 was expected to begin in late summer or early fall in Paris, but according to Variety, filming has been delayed by at least two months thanks to the ongoing writers strike. Producers reportedly hope to start shooting by the end of the fall, but this could change depending on how long the Writers' Guild of America keeps striking. Nonetheless, this will inevitably delay the Season 4 premiere.
Season 3 premiered on Dec. 21, 2022, and Season 2 aired almost exactly a year prior, with all episodes streaming at once in typical Netflix fashion. Logically, it would've made sense for Season 4 to also premiere in December 2023, but given the delays, it looks like fans might have to wait until at least early 2024 to find out what lies ahead for Emily.
Emily In Paris Season 4 Trailer
Given how production has been delayed, a Season 4 trailer is a long way off. This post will be updated as more details are announced.
This article was originally published on