These Sandra Oh Roles Are Must-Watches For Loyal Grey's Anatomy Fans
Because she probably won't return to Grey Sloan Memorial.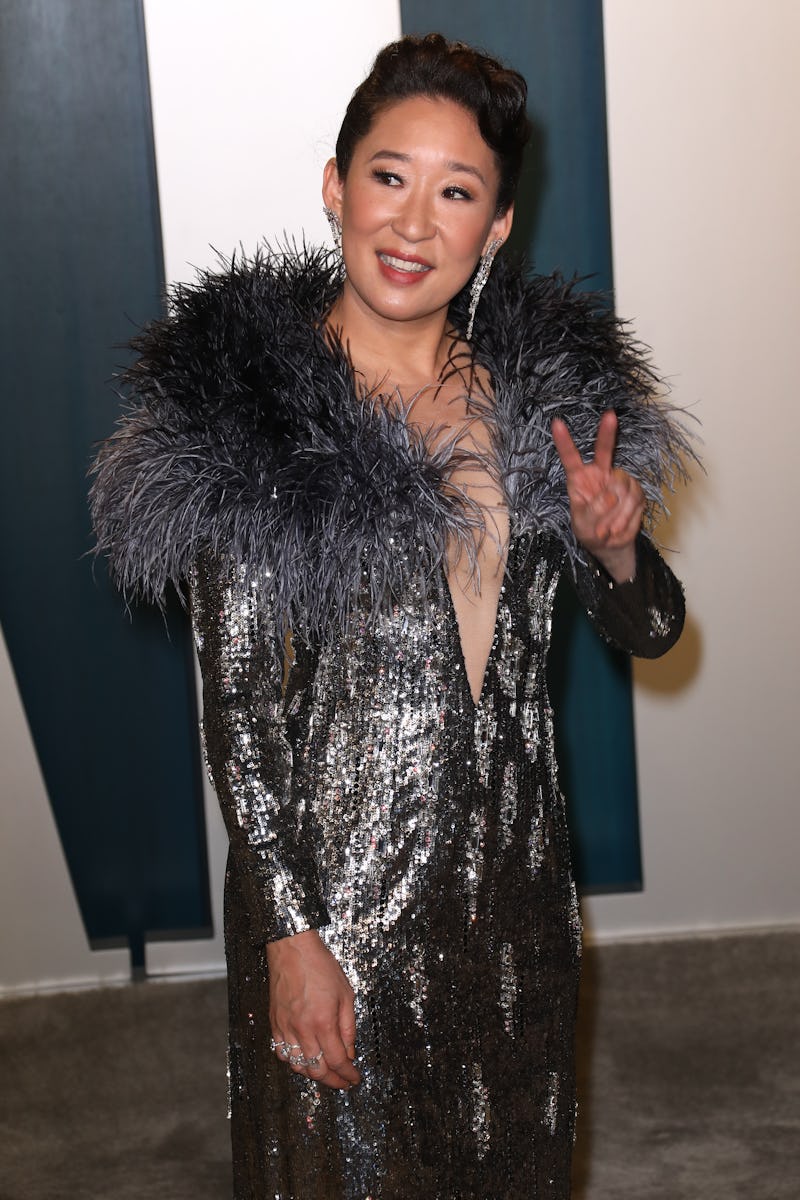 Toni Anne Barson/WireImage/Getty Images
With three decades of acting, two Golden Globe awards, and twelve Emmy nominations under her belt, it's clear actor Sandra Oh is beloved in Hollywood. While she has many projects in her extensive filmography, many fans fell in love with Oh for her decade-long portrayal of Dr. Christina Yang on Grey's Anatomy. And despite the fact that Oh exited Shonda Rhimes' hit medical drama back in 2014, fans are still hoping she will return to the show before it ends, which could be its current season. Upon leaving the show, Oh told TVLine that she would "love to come back" for the show's finale, and more recently, her character texted Meredith Grey on the series, further intensifying fans' hopes for an appearance. Of course, now Oh is a little busy starring as the titular character on Killing Eve.
In an April 2019 interview with Extra, Oh revealed she's changed her mind and doesn't plan to return to Grey's for an appearance. "Creatively, you have moved on," she told the program. "For me, Killing Eve is my home now. This is where I am. I am Eve. That's where I plan to stay as long as the show will have me. And that's really where I want to be."
Speaking with Entertainment Tonight Canada in October 2020, she answered more directly whether or not she'd reunite with her Grey's character. "I'm extremely grateful that you're asking me that question because that means that people are still invested and interested in Cristina Yang, who is a character I left six years ago. I'm really grateful for it," detailed Oh. "There are so many new projects, and I'm a different person. So I'd have to say no."
While Oh may never return to Grey's, fans can look forward to the recently-announced upcoming Netflix series titled The Chair. Created and co-written by Amanda Peet and produced by the creators of Game of Thrones, the series is a dramedy that follows a top university's English department leader, played by Oh, per Vulture. In the meantime, fans can catch Oh in one of the countless projects she's appeared in over her impressively long career. Learn more about some of her most notable roles below:
Arliss
Oh's first main role in a television series was on HBO's Arliss, which ran for seven seasons from 1996 to 2002. The niche comedy series centered around Arliss Michaels (played by Robert Wuhl), the president of a sports agency working for many high-profile professional athletes. Oh stars as Rita Wu, his smart, devoted personal assistant who always goes above and beyond to get her job done. While the show was certainly geared towards sports fans, its comedic style catered to a wide variety of viewers, including Fran Lebowitz, who is quoted praising the series in the trailer above.
The Princess Diaries
During her time on Arliss and years before she joined Grey's, viewers fell in love with Oh in her minor — but iconic — appearance alongside Anne Hathaway and Julie Andrews in Disney's The Princess Diaries. Playing Vice Principal Gupta, who is notably tasked with keeping Mia Thermopolis safe after she's outed as a princess, Oh delivered a performance so memorable that Graham Norton asked her to recreate one of her scenes during a 2020 appearance on his talk show.
Under the Tuscan Sun
Based on Frances Mayes' 1996 memoir of the same name, Under the Tuscan Sun follows a recently divorced writer, aka Mayes (played by Diane Lane), who buys a home in Tuscany, Italy on a whim in hopes it will steer her life in a more positive direction. Oh stars as Mayes' best friend Patti, who initially planned a Tuscan getaway for herself but gives Mayes her ticket and encourages her to go because she is pregnant and can't travel.
Watch it on Amazon Prime Video or Apple TV+.
Catfight
In this wacky 2016 black comedy that largely flew under the radar, Oh stars as an alcoholic housewife named Veronica Salt alongside Anne Heche, who plays a struggling artist named Ashley Miller. After the two get into a physical fight at a party, Salt falls into a two-year coma. When she wakes up, her entire world has been turned upside down — and she's sure it's Miller's fault.
Killing Eve
Oh currently stars as secret agent Eve Polastri in Killing Eve, a British thriller-drama that's crossed over to become an extreme American success. With each season's writers' room led by a different woman — including Phoebe Waller-Bridge and Emerald Fennell on Seasons 1 and 2, respectively — the series has been praised for its progressive approach to portraying women as spies and accurate representation of LGBTQ+ relationships onscreen. Co-starring actor Jodie Comer as assassin Oksana Astankova, aka Villanelle, the series makes for a perfect marathon-watch.