Grey's Anatomy Guest Star Chris Warren Played Zeke In High School Musical
You never know who might show up at Grey Sloan.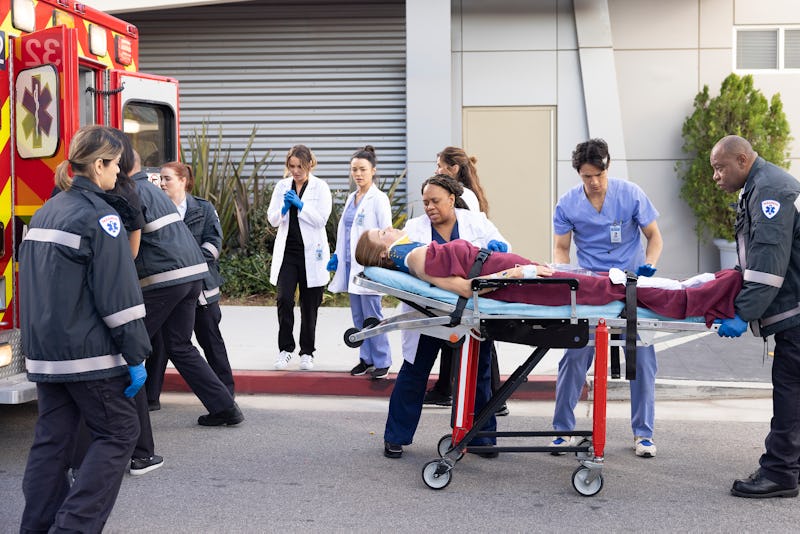 ABC/Liliane Lathan
Spoilers ahead for Grey's Anatomy Season 19, Episode 12. Over the years, the halls of Grey Sloan Memorial have played host to an ever-growing list of notable guest stars. And during the show's March 30 episode, a Disney Channel favorite entered the chat. As observant viewers pointed out, Chris Warren — who played Zeke in High School Musical 1, 2, and 3 — was the latest star to pay the surgeons a visit.
Fortunately, his character wasn't in any danger. (And, well, not all guest stars can say the same.) Warren actually played the husband of OB/GYN trainee Tia, who was seriously injured when a violent, anti-abortion protester hit her and Addison with their car. After last week's cliffhanger, it turned out that Addison was not as badly hurt as many fans feared. In fact, after popping back in a dislocated shoulder, she was on her feet and working with patients (though she was definitely pushing through the pain). She actually helped deliver Tia's baby via C-section, before Tia had to go into emergency surgery.
"Dr. Bailey, I've been married to a doctor for five years," Brandon, Warren's character, said via FaceTime before he could fly to the hospital. "I know when you're hedging. Please, just tell me what's going on."
Indeed, Tia's condition was dire — but by the end of the episode, she was stable. Brandon made it to the hospital to be by her side and watch over their new son, Connor. As the conclusion to one of the show's infamous two-parters, things turned out surprisingly well! But of course, fans couldn't get over seeing the beloved High School Musical alum on their screens.
Warren took to Instagram earlier in the day to celebrate the guest spot. "It is my first time playing a dad on TV," he explained. "I'm very, very excited. I'm proud of my work. I'm proud to be a part of it."
While it was Warren's first time playing a dad, he actually has that job in real life — sharing several children with his wife, Layla Warren.
Warren's latest role as a husband and new dad on Grey's was endearing — as was the iconic role of Zeke, the Wildcat-slash-budding chef who crushed hard on Sharpay Evans.
However, not all of his roles are quite so sweet. Most recently, Warren has starred on BET's Sistas as Hayden Moss — who the actor himself described to TVLine as "the most hated man" on the show. "That means I'm doing something right," he said, adding that it's the first time he's been able to play a "grimy" character. "It's been really fun getting to play somebody like that and being hated by so many people."