His Dark Materials S3 Will See Lyra Face The Biggest Battle Of All
It's almost time to dive back into Philip Pullman's fantasy world.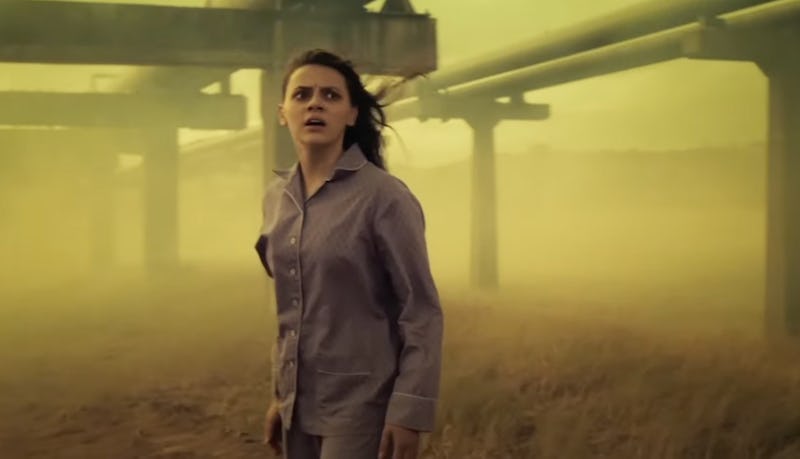 BBC
Fans of BBC and HBO's hit fantasy series, His Dark Materials, are bracing themselves for the third and final series in the trilogy after creators confirmed that "it's time to close the doors on the final chapter" in November 2021. Based on Phillip Pullman's book series of the same name, His Dark Materials, actor James McAvoy said viewers should expect "a lot of fisticuffs and a lot of explosions" when the series returns. Ahead of its release, here's everything you need to know about the third and final season of His Dark Materials.
His Dark Materials S3 Cast
Series regulars Dafne Keen and Amir Wilson return to His Dark Materials Lyra and Will, as well as Ruth Wilson's Mrs Coulter, Simone Kirby's Mary Malone, Ruta Gedmintas' Serafina Pekkala, and Will Keen's Father as Father President MacPhail.
Heartstopper's Kit Connor remains as the voice of Pantalaimon. As do David Suchet, Joe Tandberg, Sope Dirisu, and Lindsay Dunca, as the voices of Kaisa, Iorek Byrnison, Sergi, and Octavia.
Meanwhile, newcomers include Fleabag's Sian Clifford as Agent Salmakia and Sherlock's Jonathan Aris as Commander Roke. Also joining the S3 cast, Game Of Thrones star Adewale Akinnuoye-Agbaje plays Commander Ogunwe and Jamie Ward will play Father Gomez. Kobna Holdbrook-Smith, Simon Harrison, and Chipo Chung (taking over from Sophie Okonedo) are the rebel angels Balthamos, Baruch, and Xaphania, while Ama will be played by Amber Fitzgerald-Woolfe.
Fans will be pleased to know that McAvoy's character will likely feature more in the new season, following his brief cameo in Season 2.
His Dark Materials S3 Plot
The upcoming eight-part series will be based on Pullman's third book in the His Dark Materials' trilogy, The Amber Spyglass, and will see "multiple new worlds including the Land of the Dead", "returning characters" and "strange new creatures, the Mulefa and Gallivespians."
It's a complex plot, however as BBC succinctly writes, "The new series will see Will (Amir Wilson), the bearer of The Subtle Knife, and Lyra (Dafne Keen), the prophesied child, travel through multiple worlds to find and protect each other."
At the BFI & Radio Times Television Festival, on bringing the Mulefa creatures to life, VFX supervisor Russell Dodgson said: "They're like kind of a giant trunked horse animal that has a diamond-shaped skeleton". Adding, "It's going fine. It's a cool challenge, and we'll disappoint some people and make some other people really happy, I guess."
Die-hard fans may remember at the end of season two Lord Asriel (played by James McAvoy) call upon the angels to help him wage a war against the Kingdom of Heaven, as Mrs Coulter (played by Ruth Wilson) abducted her daughter Lyra to take her to 'safety' in their own world.
Ahead of series three, McAvoy dropped hints at some thrilling fight scenes to come, telling BBC's The One Show, via Radio Times, "What can I tell you? It's war."
He added: "At the end of the second season, we sort of declare war on the Kingdom of Heaven, so yeah, it gets pretty down and dirty, and there's gonna be a lot of fisticuffs and a lot of explosions and all that stuff.
"But at its heart, it's about a wee girl and a wee boy… and not the adults with the egos."
A New Character Awaits
Viewers will also get to know Mrs Coulter's family in the upcoming season, details which aren't included in the His Dark Materials trilogy originals, but S3 writers appear to have pulled some elements of Pullman's 2019 The Secret Commonwealth novel to bring to life Mrs Coulter's mother, Madame Delamare.
"We actually have some sort of outfits that are her mother's, that are sent to Mrs Coulter. In my head, [she's] linked up to the Magisterium, the Church," actress Ruth Wilson told BFI & Radio Times Television Festival crowds.
"Mrs Coulter's mother was very much part of the Church. So that actually represents, for her, rules and patriarchy. And I think that Mrs Coulter was always a disappointment to her mother in that way." She added: "You'll see that my reaction to those outfits is not necessarily very nice. Being reminded of my mother again, and her power and her influence."
His Dark Materials S3 Trailer & Release Date
Season 3 will premiere on Sunday, Dec. 18 on BBC One. It will air weekly on the channel, with all episodes made available on BBC iPlayer following the TV premiere.
The BBC has now shared an extended look of the series to come, featuring McAvoy's Lord Asriel with a new slicked-back hairdo, the Magisterium directing Ward's Father Gomez to find Lyra "dead or alive," and Lyra and Will's death-defying journey. The trailer also sees the return of Gedmintas' Serafina Pekkala, asking "if the prophecy is true, she will achieve something far beyond your rebellion."
This article was originally published on