3 Best Ways To Buy Taylor Swift Eras Tour Tickets If You Haven't Yet
Here's how to find last-minute concert tickets.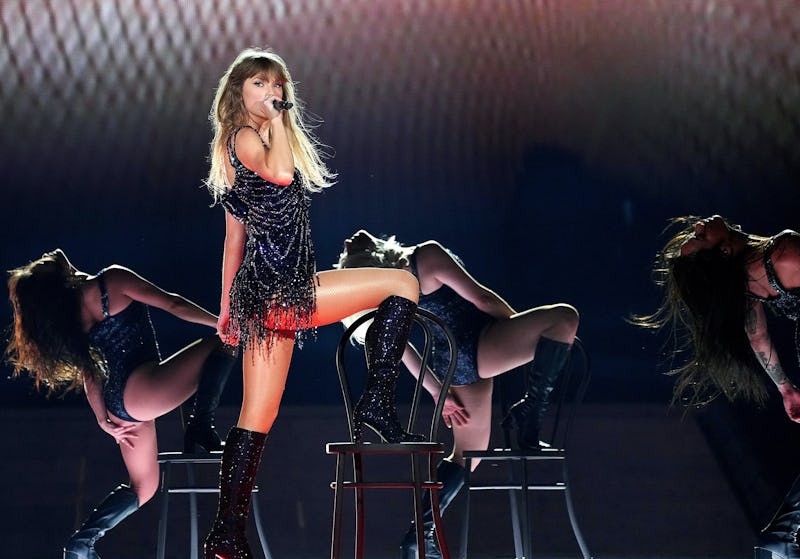 Kevin Mazur/Getty Images Entertainment
Millions of Swifties were left disappointed by the great Ticketmaster debacle of 2022, caused by unprecedented demand for concert tickets to Taylor Swift's Eras Tour. There were hours-long virtual queues, multiple site crashes, bots trying to attack Ticketmaster's servers, and a canceled general public on-sale. Numerous fans who received Verified Fan codes and boosts meant to increase their chances at tickets weren't successful, and if you didn't have a code or Capital One credit card, there was no chance to even try to buy them.
Given how everything went down, it may feel impossible to get Eras Tour tickets at this stage, but it's not too late as long as you know what to do, where to look, and when to strike. Swift is only a couple weeks into the tour, playing shows in Arizona and Las Vegas so far, and patterns leading up to the day of those shows can tell you how to bag tickets for whatever date you're aiming for.
Here's how you can still buy tickets to Swift's 2023 Eras Tour.
Wait For Ticketmaster To Release Seats
For the shows in Glendale, Las Vegas, and Arlington, SeatGeek and Ticketmaster released new seats about 10 days before the first show in each city. Putting new tickets on sale just days before a show is common practice in the concert industry, even if said show is publicly advertised as sold out, as promoters always hold back some tickets from initial on-sales for production purposes, press tickets, artists' guest lists, and other reasons. After determining which seats won't be used or interfere with the production, they go on sale just days prior, often without any notice.
Swift's Eras Tour is no exception, but in her case, this offer is not available to everyone. So far, these tickets have only been available to people who signed up for Ticketmaster's Verified Fan presale in November. For the Glendale shows, fans who previously received Verified Fan codes were able to access these tickets, as well as fans who were waitlisted but got new codes for this sale. However, Swifties reported that old Verified Fan codes were not working for Las Vegas or Arlington, meaning that only new codes issued by Ticketmaster may be valid going forward.
The rest of the tour is handled solely by Ticketmaster, meaning fans looking for tickets in Tampa, Houston, and beyond should check that site for any Verified Fan sales. And if you were placed on the waitlist months ago, check your phone and email on the chance that you receive a new code.
Track Resale Sites Days Before The Show
Scalping concert tickets is not a practice that should be condoned, but for some, especially fans who never signed up for Ticketmaster's Verified Fan sales or received a new code, resale tickets may be the most efficient or even only way to get in. While you should still expect to pay above face value for tickets on sites like StubHub, sellers have been decreasing prices of tickets that haven't sold as it gets closer to the show.
Sellers have also been putting up waves of new tickets in each venue, from side-view seats in Las Vegas to standing room only areas in Arlington, on the week of the show, all in the range of $400 to $500 per ticket. These seats are still much above face value, but they are a bargain compared to some nosebleeds being sold for $1,000 or more.
Try Ticket Buying & Trading Threads On Reddit
Swifties on Reddit have created threads solely dedicated to buying and selling tickets, and even trading tickets if fans need to switch dates or seats. While tickets being sold through social media usually shouldn't be trusted as the potential for scams is very high, Reddit moderators have placed guidelines to make every transaction as safe as possible, like requiring certain info for proof of purchase and limiting how much personal info can be given. Tickets cannot be bought or sold above face value, and posts asking for increased prices are swiftly taken down. Reddit users have also assembled lists of known scammers to warn potential buyers not to trust them.