What Are Taylor Swift's Track 5s? The Eras Tour Setlist Has 5 On It
"It's something she chooses purposefully, and we listen to that track especially closely," a longtime Swiftie tells Bustle.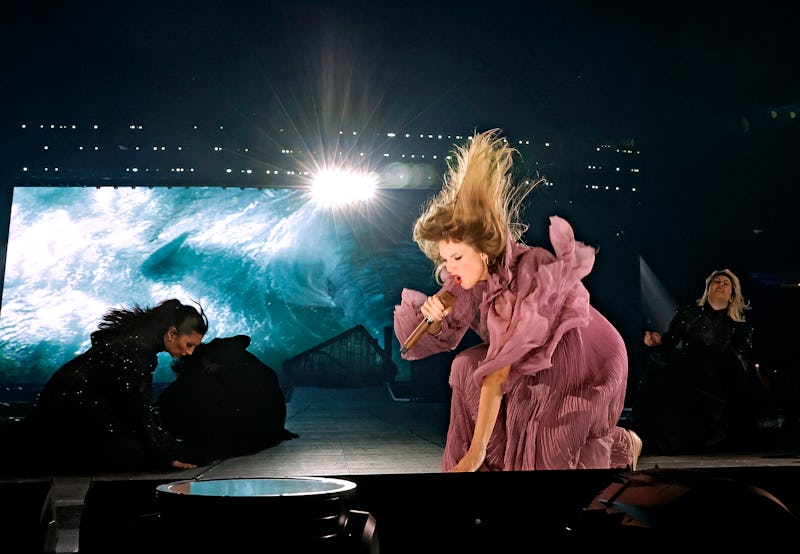 Kevin Winter/Getty Images Entertainment
Once Taylor Swift's Track 5s enter Swifties' ears, those lyrically vulnerable songs ricochet straight into their hearts. It makes sense then that the 12-time Grammy winner incorporated five Track 5s into her career-spanning Eras Tour setlist. At the Las Vegas show on March 24 and the previous weekend's opening shows in "ERAzona," Swift performed five of her 10 Track 5s within 23 songs of each other on the 44-song setlist: "The Archer," "tolerate it," "Delicate," "All Too Well (10 Minute Version)," and "my tears ricochet." Following tradition, fans yelled, "1,2,3 let's go b*tch," in Sin City during "Delicate." And while Swift strummed her red acoustic guitar for the extended "ATW," Swifties acted like a 60,000-person chorus, passionately singing every word in unison.
"Picking a Track 5 is sort of a pressurized decision," Swift once admitted in her 2020 music documentary folklore: the long pond studio sessions, explaining the importance of "my tears ricochet" to frequent collaborator Jack Antonoff, who told her this Track 5 is "one of the best songs [Swift has] written." Previously, she nodded to the lore of Track 5s in her 2018 music video for "Delicate," with eagle-eyed viewers noticing "Track 5" and "#5 Delicate" graffiti'd on a subway column and steel gate behind Swift at two different moments in the video.
Longtime Swiftie Hannah C. (aka lyrics analyzer @SippingAugust on Twitter) tells Bustle that these Track 5s each convey how Swift is truly feeling at a pivotal moment in her life.
"I think Track 5s became a thing during the Red era when Taylor and fans started to notice that all her Track 5s were vulnerable songs — and when we noticed, she noticed it, too," says Hannah C., a 35-year-old mother of two who attended both Arizona shows on opening weekend. "Then it continued through the rest of her eras, and it's something we looked forward to every album release. And because both Taylor and Swifties know that Track 5 is a big deal, it's something she chooses purposefully, and we listen to that track especially closely."
Though these songs are rarely the big singles from her 10 studio albums, Hannah C. notes that Track 5s "help us to understand some of the major themes of each album." For example, "All Too Well," which is often considered Swift's best song by critics and fans alike, perfectly paints a picture of young heartbreak in 2012's breakup album Red. And "The Archer" explores love in the context of fear and anxiety in 2019's "love letter to love" album Lover.
Here are the five Track 5s on Swift's Eras Tour setlist in the order in which she performs them:
"The Archer" from Lover
Position on the Eras Tour setlist: 6th song
Standout lyric: "I've been the archer / I've been the prey / Who could ever leave me, darling / But who could stay? ... / ... You could stay"
"tolerate it" from evermore
Position on the Eras Tour setlist: 14th song
Standout lyric: "I made you my temple, my mural, my sky / Now I'm begging for footnotes in the story of your life / Drawing hearts in the byline / Always taking up too much space or time"
"Delicate" from Reputation
Position on the Eras Tour setlist: 16th song
Standout lyric: "Sometimes, I wonder, when you sleep / Are you ever dreaming of me? / Sometimes, when I look into your eyes / I pretend you're mine all the damn time"
"All Too Well" from Red (Taylor's Version)
Position on the Eras Tour setlist: 23rd song
Standout lyric: "And I was thinking on the drive down, 'Any time now, he's gonna say it's love' / You never called it what it was / Till we were dead and gone and buried / Check the pulse and come back swearing it's the same / After three months in the grave / And then you wondered where it went to as I reached for you / But all I felt was shame and you held my lifeless frame"
"my tears ricochet" from folklore
Position on the Eras Tour setlist: 29th song
Standout lyric: "I didn't have it in myself to go with grace / So the battleships will sink beneath the waves / You had to kill me, but it killed you just the same / Cursing my name, wishing I stayed / You turned into your worst fears / You're tossing out blame, drunk on this pain / Crossing out the good years / You're cursing my name, wishing I stayed / Look at how my tears ricochet"
Track 5s Not On The Eras Tour Setlist
Track 5s In Order Of Release
"Cold As You" from Taylor Swift (2006)
"White Horse" from Fearless (2008)
"Dear John" from Speak Now (2010)
"All Too Well" from Red (2012)
"All You Had to Do Was Stay" from 1989 (2014)
"Delicate" from Reputation (2017)
"The Archer" from Lover (2019)
"my tears ricochet" from folklore (2020)
"tolerate it" from evermore (2020)
"You're on Your Own, Kid" from Midnights (2022)