Here's How To Watch Prince Philip's Funeral In The US
It'll be held on April 17 in St. George's Chapel in Windsor Castle.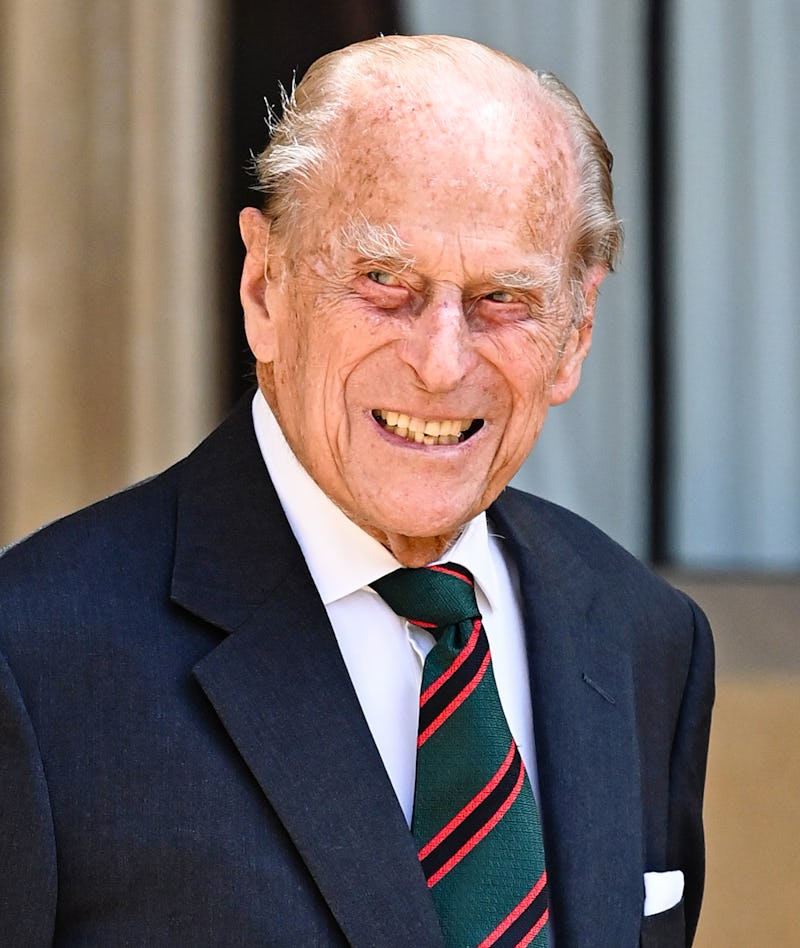 Samir Hussein/WireImage/Getty Images
Following the news of Prince Philip's passing on April 9, the royal family announced that Queen Elizabeth would observe an eight-day mourning period, meaning she won't work. "It is with deep sorrow that Her Majesty The Queen has announced the death of her beloved husband, His Royal Highness The Prince Philip, Duke of Edinburgh. His Royal Highness passed away peacefully this morning at Windsor Castle," read the family's statement. The mourning period begins Operation Forth Bridge, aka the royal family's name for the set of procedures put in place for Philip's death. After the eight days, he will be memorialized at an April 17 funeral, which will be broadcast for all of the U.K. to watch. But if you're in the U.S. and want to tune in, don't worry — like most major royal events, it'll be shown here as well.
Traditionally, a royal figure of Philip's stature would be honored with a state funeral, an event reserved for senior royals or notable political figures. However, prior to his death, Philip reportedly requested a more low-key ceremony, and the royal family has announced that he will instead be given a ceremonial Royal funeral. It'll be held on April 17 at 3 p.m. in St. George's Chapel in Windsor Castle — the same venue in which Prince Harry and Meghan Markle were married.
Despite his request for a fuss-free funeral, Sky News reported that Philip still expected around 800 guests at his ceremony. But due to the pandemic, the royal family announced, "The Funeral Service will be attended by Her Majesty The Queen and Members of the Royal Family." One member who won't attend is Markle, whose doctors reportedly advised her not to travel due to being pregnant with her second child. According to multiple British tabloids, including The Mirror and The Sun, Markle reportedly "made every effort" to attend Philip's services.
Though Markle is unable to attend, Harry will and has already flown to the U.K. to be with his family. (It's suspected that Harry, who was stripped of his military titles when he stepped back from his royal duties, will wear a suit for the funeral instead of an official uniform.) However, People confirmed Princes Harry and William will not walk side-by-side during the funeral procession. Instead, their cousin Peter Phillips will walk between them. While walking into the chapel, Harry will split off to walk with Princess Margaret and Antony Armstrong-Jones' son, David Armstrong-Jones, and William will join Peter. In addition, it's been reported that Harry and William will not sit together inside the chapel. Everyone inside will have to adhere to sitting six feet apart from others, with masks on, per COVID-19 regulations.
Though this arrangement may seem like an indicator of Harry and William's personal relationship, a Buckingham Palace spokesperson insisted the processional orders were simply "a practical change." They added, "This is a funeral, and we are not going to be drawn into perceptions of drama."
In the U.K., Prince Philip's funeral service will be broadcast on ITV, Sky, and BBC One. For U.S. viewers who would like to watch along, you can tune in via NBC or the network's streaming service, NBC News Now, beginning at 9:30 a.m. ET on April 17. ABC will also begin live coverage of the services at 9:30 a.m. ET. The palace has asked all viewers to watch from home in order to remain cautionary amid the ongoing pandemic. And in lieu of flowers placed at the palace gates, the royal family asked that those who wish to honor the late duke do so by signing the online public Books of Condolence, which are available on royal.uk. "A selection of messages will be passed onto members of the royal family, and may be held in the Royal Archives for posterity," according to the official website. In addition to these virtual tribute messages, the family asked for contributions to be made to charities of the donor's choosing as another way to honor Prince Philip.
This article was originally published on