Is Kim Han-bin Still Single After Single's Inferno?
The chef left the show solo — but things may have changed off-screen.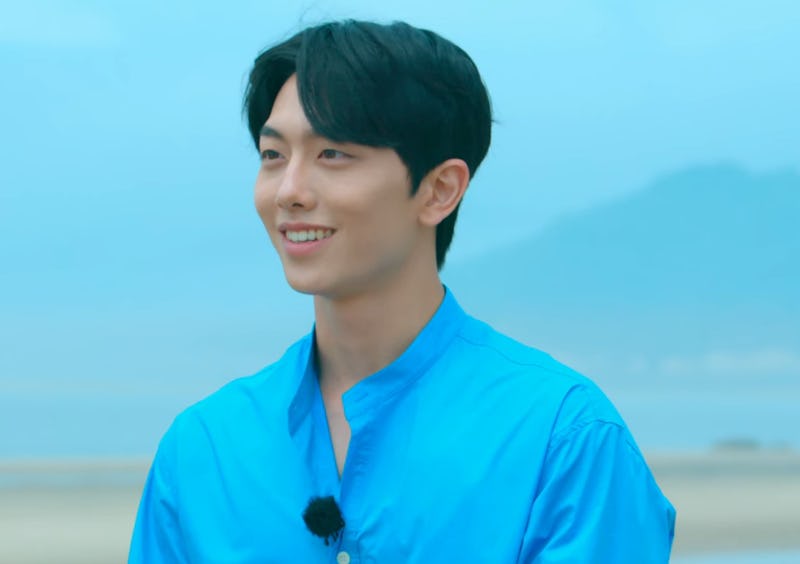 Netflix
Between his culinary chops and warm demeanor, it's easy to see why Kim Han-bin became a fast favorite on Single's Inferno Season 2 — among his fellow islanders and viewers alike. Potential suitors praised his reliability and knack for working with others in the kitchen (even before they knew that was his literal job) and loved his "fun, relaxed vibe."
But despite those positive traits, Han-bin didn't find love on the island. On Night 1, he was surprised to find that no potential women sent him a postcard signaling their interest. And while he selected Choi Seo-eun as the woman he'd like to leave the show with, she ultimately chose Jo Yoong-jae instead. "Thank you for always putting others first," Seo-eun told Han-bin. "And for always having such positive energy. I really support you, Han-bin, just as you support my decision. And I think you'll always shine."
Such is Han-bin's penchant for optimism that he couldn't help but observe the sunshine as Seo-eun and Jo Yoong-jae walked away in front of him. "The weather's nice," he said, smiling. Though it's clear Han-bin is OK with the outcome of his journey, it's still fun to wonder about his relationship status — especially since he's not the only suitor who left the show solo. So, is Han-bin still single after Single's Inferno?
As of Jan. 12, Han-bin's latest Instagram posts are from December, so there's no hard launch or even a vague post referencing a potential relationship to go by. But there are still clues! For example, Han-bin posted a story of him apparently learning English, which several Redditors took as a sign that he might be studying up for Nadine Lee, who expressed on the show that she was more comfortable speaking English after having spent most of her life in the United States.
The story comes nearly two weeks after an even bigger potential clue linking Han-bin and Nadine, which comes courtesy of u/mingyuwu1. On Dec. 31, the user shared Nadine's own story post, in which she took a selfie with someone whose face was obscured with an emoji. "nadine covered the guys face which MEANS he has to be someone from singles inferno," they wrote, adding that the mystery subject was wearing a similar ring to Han-bin's.
Another clue? Twitter user @bedualright pointed out that Nadine posted a photo of herself spending time in the snow after Han-bin posted a snow photo to his story. However, Nadine was also reportedly tagged in a photo with Shin Dong-woo and a contestant from Single's Inferno Season 1, so there are plenty of unknowns about her own personal life, too.