Fans Are Convinced Love's Return In You Season 4 Part 2 Isn't A Flashback
Victoria Pedretti makes a surprise appearance in the trailer.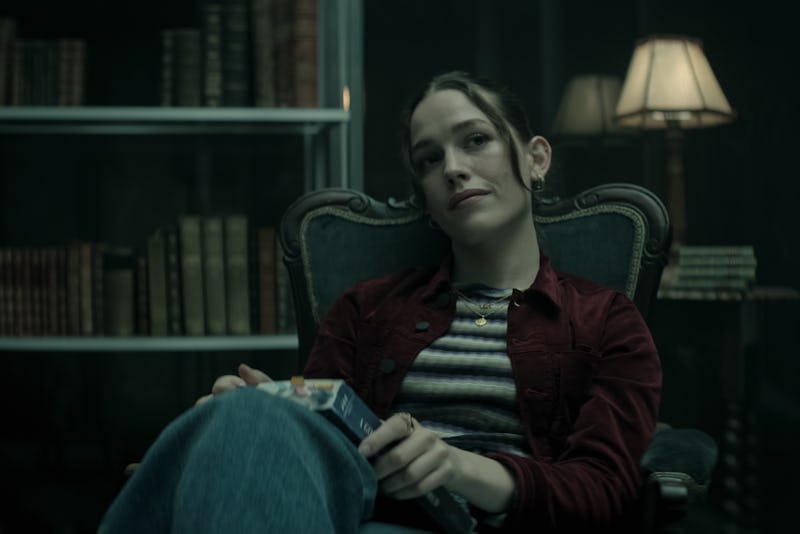 Courtesy of Netflix
Spoilers ahead for You Seasons 3 and 4. All "bloody hell breaks loose" in the You Season 4 Part 2 trailer — including someone possibly returning from the dead. In the sneak peek, which Netflix dropped on Feb. 15, Victoria Pedretti somehow reprises her role as Love Quinn, aka the ex-wife Joe Goldberg (Penn Badgley) killed in the Season 3 finale. "You know what my favorite thing about love is? It gives you second chances," Joe says in the trailer.
Cue him finding his late ex reading a book in the cage. "Hi, Joe," she says, looking up from her reading. While the new preview makes clear that Love is in the second half of You's fourth season, which premieres on March 9, the fact of whether this comeback is real or a dream remains a mystery.
One thing fans are convinced of, though, is that the scene is not a flashback. The reason? Eagle-eyed viewers noticed that the book Love is reading is A Good Man in a Cruel World by Rhys Montrose (Ed Speleers), Season 4's Eat the Rich Killer. Several fans also theorized on Twitter that Love and Rhys are somehow connected, but Pedretti previously shot down the idea that Love could "come back from the dead," like Joe's ex Candace (Ambyr Childers) did in Season 2. "I wish that that wasn't the truth, you know? But I think she's dead," she told Elle in October 2021. "I don't know. But I'm pretty, pretty positive. It's sad. I definitely loved her a lot."
Either way, expect to see Joe and Rhys sharing plenty of screen time. "I want a friend. Someone who shares my interests, someone I can finally tell all my secrets to. I care about you, Joe," Rhys tells him in another preview scene. But Joe doesn't see things the same way. In a later moment, he is shown looking disheveled and insists, "You don't get to tell me who I am. I am not some cold-blooded psycho."
In the first half of the season, Joe assumed the identity of a London-based professor named Jonathan Moore. He began receiving threatening messages from an anonymous texter, who knew about his past and used it as blackmail. Then, the mystery person began murdering members of his new wealthy friend group one by one, threatening to frame Joe for the killings unless he did his bidding. By the end of the Part 1 whodunnit, Joe eventually discovered that Rhys was the murderer.
"The fun really starts when you know who the killer is. Figuring it out and having to investigate a bunch of shady individuals is fun for a while. But we were happy to do half a season of that and then really get into who this killer is and what is going on with them," showrunner Sera Gamble recently teased to Bustle of Part 2. "That's the heart of the show. You could subtitle the title, "What the Hell with Joe Goldberg?" The point of the show is to dig in there. Now we have given him this dark counterpart. I cheekily call it the Serial Killer Buddy movie. Not that Joe wants to be in that movie, but he's been forced into that movie."