My Name Is Leon Is Based On Kit De Waal's 2016 Novel
And stems from many of the author's own personal experiences.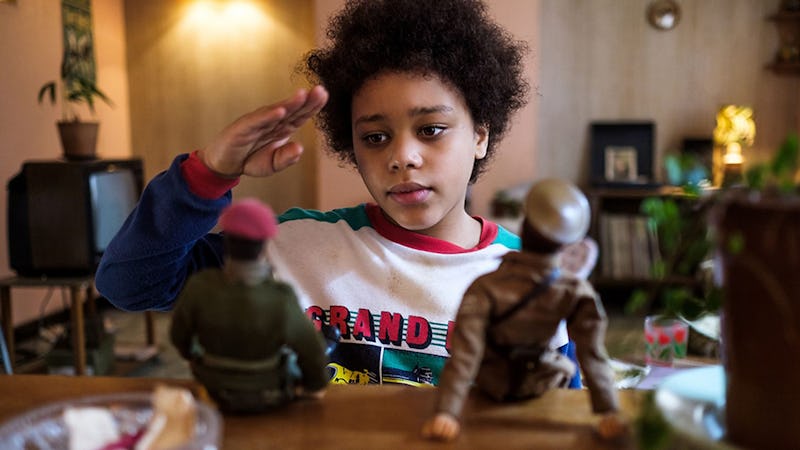 BBC/Press
Set in 1980s Birmingham, against the backdrop of Prince Charles and Diana's Royal Wedding and a surge in rioting and escalating racial tensions, My Name Is Leon follows the journey of a nine-year-old mixed race boy who is taken into care, and quickly separated from his white brother. As he battles to reunite his fractured family, Leon befriends the local men tending to their allotments, and they educate him about race politics and the Irish hunger strikes. A story of racism, classism, and the failures of the fostering and adoption system, the one-off show is adapted from Kit De Waal's 2016 novel of the same name. But are these events based on real life experiences?
Leon himself is not based on a real-life person – he takes his name from a minor character in one of De Waal's previous books, and the author used a picture of an unknown young boy on a bike as a reference point while she was writing. That said, My Name Is Leon still stems from many of her own personal experiences – De Waal also grew up in Birmingham, and her mum was a foster carer.
"There were already five of us and there were at least five other children around throughout my childhood," she told BookBrowse. "Our house was a mess of toys and diapers and bottles and sterilizers and bikes and hanging laundry and biscuits and tears and laughter. It wasn't idyllic, as we were pretty poor and always hungry, but there was something delightful about the ever-changing playmates and chaos."
Before becoming an author, Kit De Waal used to write training manuals for foster carers and social workers, and now sits on an adoption panel. Her two children are also adopted. The author's experiences with the care system directly informed her novel, and "there was virtually no research involved," she said. The writer also grew up minutes away from the site of the Handsworth riots in 1981 – which were prompted in part by rumours of a march by the racist far-right group National Front – and "a lot of the detail [around that topic] came from my personal experience."
Featuring a cast including Sir Lenny Henry, Small Axe's Malachi Kirby, Monica Dolan (A Very English Scandal), Olivia Williams (Counterpart), and former Doctor Who star Christopher Eccleston, My Name Is Leon also stars Cole Martin as the lead, in his first ever role, and is informed by the same real-life experiences which shaped the novel.