Tia Booth "Blacked Out" During Her Bachelor Live Proposal
Here's what Tia has said about the wedding so far.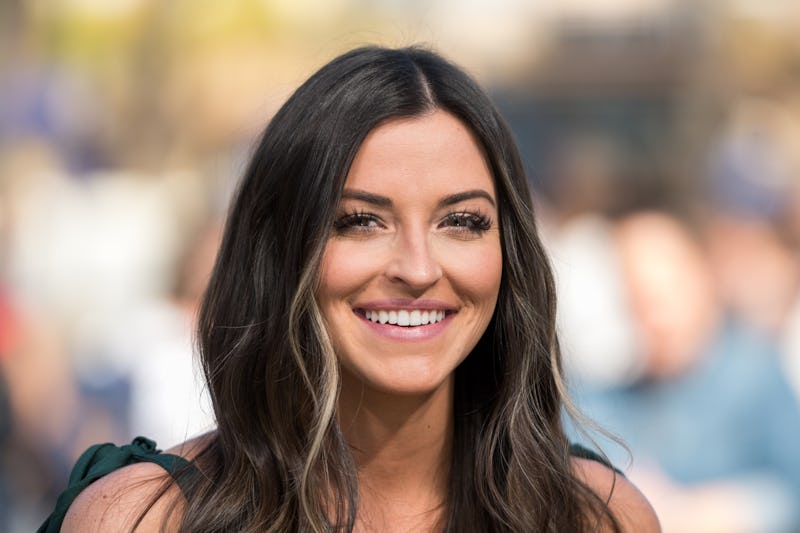 Noel Vasquez/Getty Images Entertainment/Getty Images
Three years ago, Tia Booth was ready to take a break from dating on reality TV and social media. "I have a feeling that if I meet somebody, it's going to be through friends, not through a DM," she told People magazine. "And I think if I'm looking for it it's not going to happen, so maybe if I'm patient it will come to me. I am ready for something serious!"
By 2021, Tia was ready to test the waters again on Bachelor in Paradise Season 7. She spent a good portion of her time on the beach waffling between James Bonsall and Blake Monar, which seemed like an upgrade from her first date — an uncomfortable naked volleyball game — with Kenny Braasch. However, James decided to pursue a short-lived relationship with Anna Redman, while Tia and Blake couldn't seem to see eye to eye about how their relationship should proceed. During a late-season argument, Tia voiced frustration that Blake wasn't more proactive about romancing her.
"Right when the cocktail party started, I saw Thomas [Jacobs] go by with a tray of chicken nuggets for Becca [Kufrin] and a bunch of pics of their dogs just to be cute and sweet for her," Tia explained on her Instagram Stories of the fight. "[Blake] says, 'You know I'm not gonna set up anything for you, right? You should know how I feel about you. All that stuff other guys do is fake for TV. And I lost my mind. This ain't my first rodeo. It ain't that hard. Gimme nugs & fries."
Blake confirmed Tia's account on his own Instagram Stories, but noted that it didn't include the full context of their conversation, saying he simply found it "unromantic" to have producers set up dates or moments. He also posted in a since-deleted Story, "When you refuse to simp after knowing someone for three days..." alongside a photo of him flexing.
If that wasn't enough, Tia's Paradise experience capped off with an out-of-nowhere makeout session with Aaron Clancy. Less than half an episode later, Aaron decided to leave Paradise with his new BFF James, leaving an admittedly amused Tia alone in Mexico.
She's since found a better match, though. In October, Tia went Instagram official with her new boyfriend Taylor Mock — who, as of April 10, 2022, is now her fiancé. "Not gonna lie-it's been nice keeping this to myself, but it's about time y'all know too," Tia wrote at the time.
Taylor had already hinted he was dating Tia while Paradise was still airing. In September, he posted a series of photos on Instagram including a mirror selfie of him kissing Tia. He didn't mention her directly in the caption but reflected on moving to Nashville — where Tia lives — exactly one year ago. "Anywaysssss here's a photo dump of people that make Nashville feel like home," he concluded.
On an episode of the Bachelor podcast ClickBait, Tia explained that the two met at a party in Nashville right before she was set to leave for Paradise. "He got the balls one day to try to hit on me and get me to hang out with him, and I was like, 'Sweetie, I'm going on Bachelor in Paradise. I'll see you later,'" she said. "Then after I got home, I was like, damn, this freaking dude has been right here trying this whole time, which is all I asked for on the show. So then I gave it a shot and we've been good."
According to Tia, she and Taylor never had a "proper" first date. "I literally told him — he was trying to wear me down — I was like ... 'I'm in a good mood today. If you want to come watch me, like, do stuff at my house ... [and] hang out with me when I do that,'" she explained. "And that was like the first time we hung out just us. He thought I was kidding. I'm like, 'No, really. I have sh*t to do."
The next day, she invited him over again. "I was like, 'Hey, I need help carrying a rug into my house.' And so he helped me do that. And he stuck around. He's a lot nicer and sweeter than me, so God love it."
Tia added that Taylor is "an angel" and "really sweet," but that, "It's just scary being public. In the public eye, everybody pays attention to every little detail."
Even though privacy was always important to the couple, Taylor made one big exception for the proposal. During The Bachelor: Live On Stage in Atlanta, he asked Tia to marry him in front of a live audience, and she said yes — but don't expect her to remember what she said yes to. During an Instagram Q&A on April 12, Tia said they both "blacked out" during the thrilling moment. "I think he said, 'Sorry Paradise didn't work out for you, but I'm glad you came home to Nashville... I want to spend the rest of my life with you?'" Tia recalled.
Even if the couple can't quite remember the specifics of the proposal, they're excited all the same — and already starting to plan. As Tia revealed in another story post, she used to think she'd prefer an elopement, but now thinks they "might as well have a big party."
This article was originally published on