Jenna Ortega Acted "Almost Unprofessional" To Change These Wednesday Plotlines
"And then I would have to sit down with the writers, and they would be like, 'Wait, what happened to the scene?'"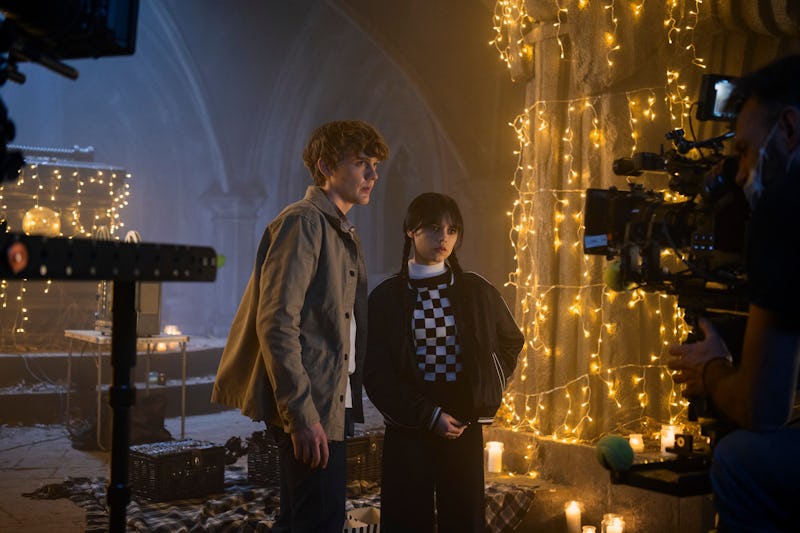 Vlad Cioplea/Netflix
There's a scene during Wednesday's dance episode where siren Bianca tells Wednesday, "You're lucky. You don't care what people think of you."
"Honestly," Wednesday says, "I wish I cared a little more."
This apathy is not something Jenna Ortega shares with her character, though. In fact, Ortega cared so much about getting the Netflix series right that she actually changed Wednesday's dialogue on set, she revealed during a March 6 appearance on Armchair Expert. "I don't think I've ever had to put my foot down on a set in the way that I had to on Wednesday," she said.
Ortega explained that she "didn't know what the tone [of the show] was" going in, and she struggled with lines that she didn't feel resonated with Wednesday's icy personality. "Everything that she does, everything that I had to play, did not make sense for her character at all," Ortega said. "Her being in a love triangle made no sense."
One moment that stood out? "There was a line about, like, a dress that she has to wear for a school dance, and she said, 'Oh my god, I love it! Ugh, I can't believe I said that. I literally hate myself,'" Ortega recalled. "And I had to go, no." Instead, when Wednesday spots the vintage Alaïa gown she ultimately wears to the dance, she simply communicates her interest with a long gaze.
"There was times on that set where I even became almost unprofessional in a sense, where I just started changing lines," Ortega continued. "The script supervisor thought, like, I was going with something. And then I would have to sit down with the writers, and they would be like, 'Wait, what happened to the scene?'"
Ortega would tell the writers "why [she] couldn't do certain things," she said, adding that she "grew very, very protective" of Wednesday.
That isn't surprising to anyone who's kept up with Ortega over the course of Wednesday's promotional cycle. She's previously spoken out against the show's budding relationship drama, telling Etalk that she planned to "fight this love triangle thing so hard." She told MTV, too, that she hoped Wednesday and Xavier might have a "really sweet platonic relationship" instead of a romantic one.
While Ortega might clash with the Wednesday writers' creative choices, she's not the only one fighting to protect the character's dark, doomy vibe. In fact, co-showrunner Miles Millar told IndieWire that he resisted certain changes from Netflix higher-ups — like omitting a line where Wednesday jokes about liking stabbing. "That's the whole point of the character," he said. "To lose that or dilute that is a betrayal of the character."