Kate Middleton Was All Gratitude After Getting Her COVID Vaccine
The Duchess of Cambridge acknowledged everyone who made it possible.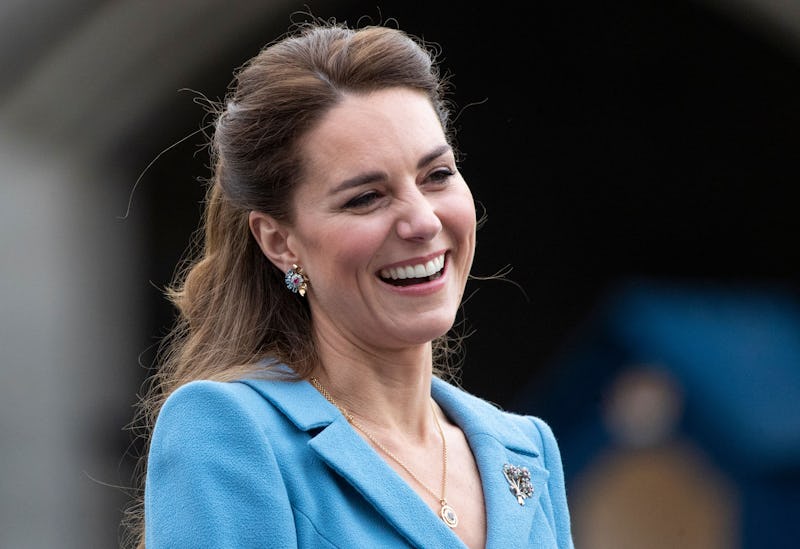 JANE BARLOW/AFP/Getty Images
It's one shot down for the Duchess of Cambridge. Kate Middleton posted a photo of her COVID-19 vaccination on social media on Saturday, May 29, and she made sure to include her thanks to the people who made it possible. Her caption acknowledged "everyone who is playing a part in the rollout" and noted that she's "hugely grateful."
"Yesterday I received my first dose of the COVID-19 vaccine at London's Science Museum," Kate wrote. "I'm hugely grateful to everyone who is playing a part in the rollout - thank you for everything you are doing."
The duchess got her jab about a week-and-a-half after husband Prince William, who got his on May 18 and then posted a photo of his own on May 20. Both went casual for their appointments, showing up in jeans and exposing some arm for the vaccine. William's post had people commenting on his biceps, and Kate's was no different. "So everyone just has good arms in this family?" wrote one commenter. Another added, "Kates secret plan to outdo wills on the arms worked."
The post wasn't about her arms, of course. The Cambridges have been highlighting the efforts of medical workers throughout the COVID-19 pandemic, as well as trying to help the general public cope with the upheaval in their daily lives. They've talked about homeschooling, mental health, and more, so sharing their vaccine stories is on-brand.
In the United Kingdom, people aged 30 and up are currently among the groups eligible for the COVID-19 vaccine. Some of the commenters on Kate's post specifically applauded her and William for not using their royal status to get their shots early. "I think it's selfless that they both waited their turn," one person wrote. Another noted, "She didn't cut in line....RESPECT!" Yet another called her a "wonderful example."
The Cambridges were able to fit in their vaccines around their royal tour of Scotland, which William kicked off solo on Friday, May 21. During their time in the country, they raced land yachts, battled it out on the tennis courts, and even revisited the place where they first met, the University of St. Andrews. They also again celebrated medical workers, holding a drive-in movie night for National Health System staff at the Palace of Holyroodhouse, the queen's official residence in Edinburgh. The event was to say thanks "for the extraordinary dedication, commitment and personal sacrifice you have shown in supporting our communities through this pandemic," per their official Instagram post.
During the same trip, on May 27, the Cambridges' Instagram shared an adorable video of Kate hosting the family of a young girl named Mila at the palace. Kate had spoken to Mila on the phone a few months ago, after learning about Mila's family having to isolate in separate households while she underwent chemotherapy for leukemia. Their meeting fulfilled a hope Kate had expressed at the time: that they could someday meet and wear pink dresses together.
With the Cambridges both on their way to being fully vaccinated, carrying out these royal duties will soon carry a lower COVID-19 risk — and it just might have inspired others to schedule their appointments as well.