At 28, Katey Sagal Had No Interest In Becoming An Actor
She was busy learning from Bette Midler and forging her way as a musician.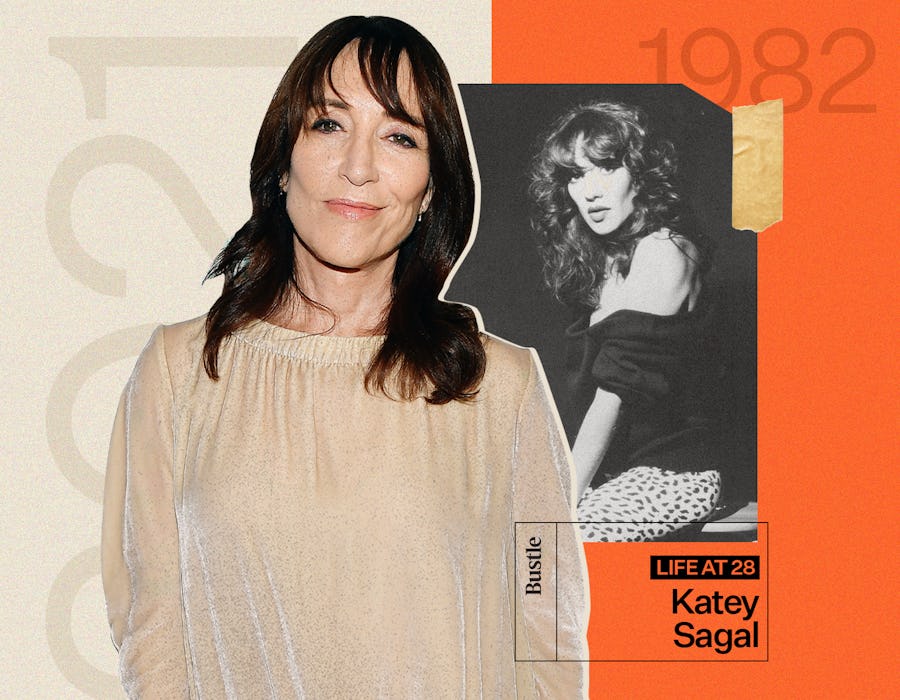 Vince Bucci / Stringer / Getty; Belle Zwerdling
In Bustle's Q&A series 28, successful women describe exactly what their lives looked like when they were 28 — what they wore, where they worked, what stressed them out most, and what, if anything, they would do differently. Here, Katey Sagal talks her latest TV show Rebel, her passion for music, and how her acting career caught her by surprise.
From Peg Bundy on Married with Children to Leela on Futurama, you know Katey Sagal for the bold, frequently big-haired women she's played on TV over the last three-plus decades. But acting wasn't always part of her plan. As a child of parents in show business — a producer and writer mother and a director dad — Sagal was actively encouraged by her family to pursue acting and join the family business. She rebelled by going in a different direction, opting to instead pursue her passion for music alongside iconic performers like Bette Midler and The Harlettes. "I still cling to that identity," Sagal tells Bustle of her musical roots. But with no safety net following the death of both parents in her 20s and the challenge of making a living as a musician, Sagal ultimately turned to one of the most unpredictable industries: Hollywood.
In the decades since, Sagal went on to land some of her biggest roles — including her latest turn as Annie "Rebel" Bello on ABC's Rebel, in which she plays a persistent consumer advocate à la Erin Brockovich (who executive produces alongside Sagal and Grey's Anatomy showrunner Krista Vernoff). Below, Sagal tells Bustle about learning from Bette Midler, getting sober, and starring in a rock opera at 28.
How did you feel about your life and career at 28, in 1982?
I was a background singer, and I was singing with Etta James, and also with Bette Midler. It was an on-and-off struggle to make my living as a musician. I was really committed to it, as my goals were to be writing and making my own records. By the time I was 28, I started to think, you know, maybe I'm limiting myself. I had no other skill set other than to play music, really. So, toward the end of 28 is when I started to feel like, OK, I better open up some opportunities. Because it was a struggle. I had already been married [and divorced] by the time I was 28. That was not the best decision. Made that when I was 23. At the time, it seemed completely the right decision. I don't think I really thought I had stuff starting to be together until my early 30s.
Did being on the road open things up for you in a way?
I think so. The unfortunate thing that happened in my 20s is that I lost both of my parents. There was no home to go back to. And I really understood that I'm gonna have to figure some stuff out to pay the bills. I mean, I have to make a living.
Linda Hart described The Harlettes as "show business boot camp." What did you learn from singing with them that you've taken with you over the years?
I learned enormously from Bette Midler. She is a very hard worker. And disciplined — I learned that from her. I would watch her, night after night, pretty much give the same show and make it seem like it was a new show. That, to me, was a skill that I admired and wanted to learn from. I learned so much from that job. I learned how to work with others, how to play well with others, and how to be supportive.
What did an average weekend look like for you at 28?
I had an alcohol and drug problem. At the time, I didn't think it was. This was the '80s, so everybody was doing that. And I got involved in that problem, and have since been sober for the last 34 years. And it was my late 20s, where that stuff really became apparent to me — that I needed to change that part of my life. It was really after I lost my father. They say that when you lose your parents is when you really grow into adulthood. And when that happened to me — there I was, being sort of an irresponsible adult, in so many of those ways. It really snapped me out. I had to get help, and I went and got help.
You were firmly a musician at the time — yet within five years, you were starring on Married with Children. How did those years in between prepare you for that transition?
A friend of mine had written a contemporary rock musical. We did it in a little non-equity, 60-seat theater in the Valley when I was almost 29. And agents came, and they approached me, and they said, "Would you like to be an actress?" and I said "Ugh, my dad wanted me to be an actor, no." And then they came back a couple times, and finally I had a moment where I was like, yeah OK. I need to figure something out. Within six months, I got a job down at The Music Center being in another rock opera. It was really dark — very Stalin-era. It was very dark but it was hip. And somebody from CBS was in the audience, and they asked me to come and audition for a sitcom. It was a job with Mary Tyler Moore called The Mary Show. Danny DeVito was the director, and he hired me.
Within a couple of months of finding my sobriety, I got the job on Married with Children. Actors hate this story — I didn't struggle in terms of going to a million auditions and all of that, but I did struggle as a musician. I stayed sober, and watched all the people around me, and I learned how to do what I do now.
To think it all started with your friend's musical, that's really cool.
It was a big lesson in just opening my mind. You get so linear in your 20s, like, "This is what I'm gonna do, that's who I'm gonna be." And the older I was getting, I was like, you know what, maybe I better start saying yes to some of the things that I really thought, no way.
In your 20s, you're somewhat fear-based. I think our culture kind of supports that — this sort of, "know everything you want to do by the time you go to college." And luckily, I realized that wasn't happening, and I can't pay my rent, so I better figure it out. So I started to say yes.
Why were you so opposed to being an actor before that?
I was a really rebellious teenager, did not want to do what my parents did. And I was able to sing, and I got a lot of attention for it, and I really liked boys, and they were all in a band. I loved music — I taught myself to play the piano, and play the guitar, I loved to write songs. It was really where I found a lot of identity, from a young age.
What advice would you give to 28-year-olds today?
Be easier on yourself. It just feels like every millennial I know is just trying to figure it out quickly. I would say to them, enjoy the ride. Try to relax a little bit more. Try to take really good care of yourself — if you have any kind of addiction situation, get that in hand, it will only get worse. And love yourself more. Which is something I wish I had done in my 20s. I was very hard on myself, and I think a lot of you guys are. It's hard to tell somebody in their 20s that it's gonna be OK, but it really is. I found my 20s to be probably my hardest decade, and it got better from there. So hang in.
This interview has been edited and condensed for clarity.