Katie Revealed Which Moment From The Bachelorette Premiere Made Her "Skin Crawl"
Between "kissing the cat" and getting a tour of Jeff's RV, it was a difficult choice.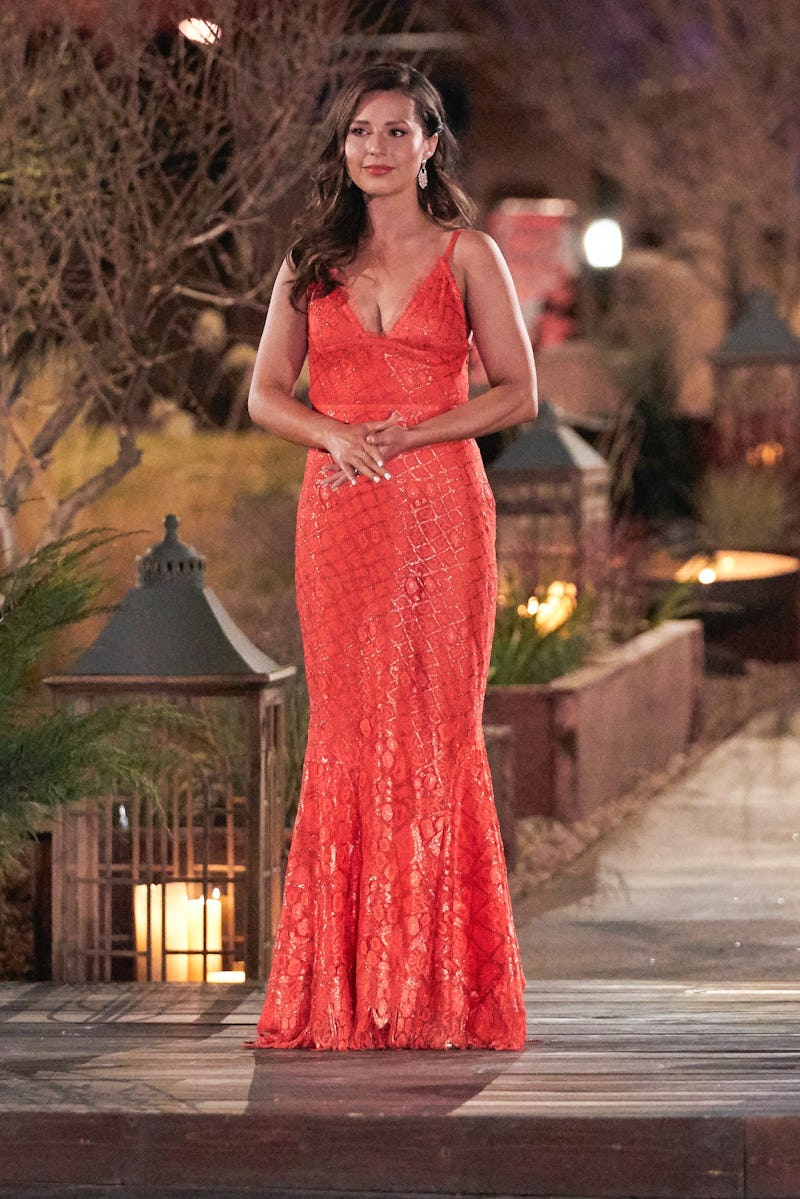 ABC/Craig Sjodin
Every Bachelor and Bachelorette star, past and present, would likely agree that rewatching the show is a very awkward experience — just ask Katie Thurston. After the Season 17 premiere on Monday, June 7, the 30-year-old bank marketing manager appeared on Jimmy Kimmel Live! and revealed the moment from the show that made her the most uncomfortable. "I've never seen myself make out with so many guys," she told the late-night host after explaining that she watched alone to avoid any further embarrassment.
Unfortunately, watching in solitude didn't help, and when Kimmel asked which part of the premiere made her "skin crawl the most," Katie answered honestly. "Kissing the cat," she revealed, referring to contestant Connor B. In case you missed it, the Nashville-based musician exited the limo wearing a full catsuit, which Katie found... quite attractive. But when they locked lips, his cat-nose makeup got everywhere. "You really got in there," Kimmel quipped. "Yeah, I did," the reality star agreed.
It should come as no surprise that Connor's unique entrance was well-received. On Matt James' season of The Bachelor, Katie introduced herself while holding a vibrator. "People send me enough vibrators to last me a lifetime now," Katie said, adding that she definitely doesn't need to add any more to her already impressive collection. But her own entrance on James' season did help with the anxiety that often comes with meeting the contestants for the first time. "I think I was less nervous on the other side because I knew, kind of, what to expect," she said.
Still, nothing could've prepared Katie for meeting Jeff, who showed up in an RV and gave her a tour of his (very untidy) living space. Watching the 31-year-old contestant throw his dirty boxers around was pretty much all the reality star needed to see before sending him packing, but it was hardly the strangest thing about him. "He was the skin salesman," she told Kimmel. "Red flags everywhere." She also revealed that living in an RV isn't her "fantasy," so it simply wasn't going to work.
Ultimately, Jeff was just one of many men who were dumped this season, which was a very different experience for Katie. "At least 29 guys you had to dump," Kimmel said before asking how many guys she's broken up with prior to the show. "I mean, like five, maybe?" she responded. "It was a lot. Breaking up with people is not easy." But as we know, not everyone will leave brokenhearted, so Kimmel shared his wife's predictions for Katie's final four contestants.
If Kimmel's wife is correct, the reality star will be going on hometown dates with Andrew S., Justin, "Connor the Cat," and Greg, who she believes will earn Katie's final rose. Greg was the recipient of the first impression rose and instantly became a fan-favorite when he gifted Thurston with a noodle necklace made by his niece. Katie also mentioned that he looks like her ex, which could be a sign that he's her type. At this point, it's still too early to tell who will win over the Bachelorette. However, Twitter seems to be in agreement that Greg is definitely a top contender.