Twitter Is Touched By Keanu Reeves' Kindness Toward A Young Fan In This Viral Video
"In a world where you can be anything you want — we should all aspire to be more like Keanu Reeves."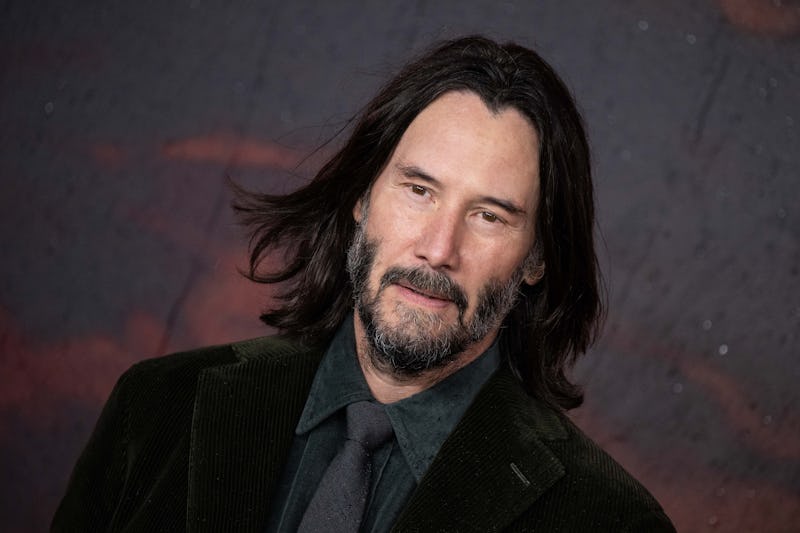 Jeff Spicer/WireImage/Getty Images
Another day, another moment where Keanu Reeves proves that he's a total class act. In a video shared on Twitter on April 25, the John Wick actor is seen talking to a young fan named Noah at a surprise signing at Golden Apple Comics in Los Angeles. Reeves' debut comic book BRZRKR, which follows an "immortal warrior's fight through the ages," was published in 2021 — with a second volume released in 2022 and a third volume coming in October.
In the viral clip, Reeves introduces himself to Noah after asking his name. "You're probably my favorite actor in the whole world," Noah tells him. Reeves then asks Noah if he saw Duke Caboom in Toy Story 4. Noah says Duke Caboom was his favorite character. The Twitter video already has 1.8 million views as of April 26.
Twitter couldn't stop gushing over Reeves' kindness and patience when interacting with this young fan. Many called him "the GOAT" and a "national treasure."
"This man must be protected at all costs," one user replied to the video. "Keanu is not only one of the greatest actors of our time but also one of our greatest human beings," another fan wrote. "In a world where you can be anything you want — we should all aspire to be more like Keanu Reeves," a third chimed in.
One moment that had Twitter particularly emotional was when Reeves introduced himself to Noah. "I'm definitely melting," one person said in response. "Celebrities like him are very rare he knew that boy knew his name and still introduced himself it's the small things that go a long way, we have to protect Keanu at all cost," another pointed out.
Reeves once said during an interview on The Graham Norton Show: "I don't want to be a part of a world where being kind is a weakness." And he continues to live by these words each day.