Kim Kardashian & North West Pranked Kris Jenner With Prosthetics & Makeup
North has become the resident Kardashian prankster.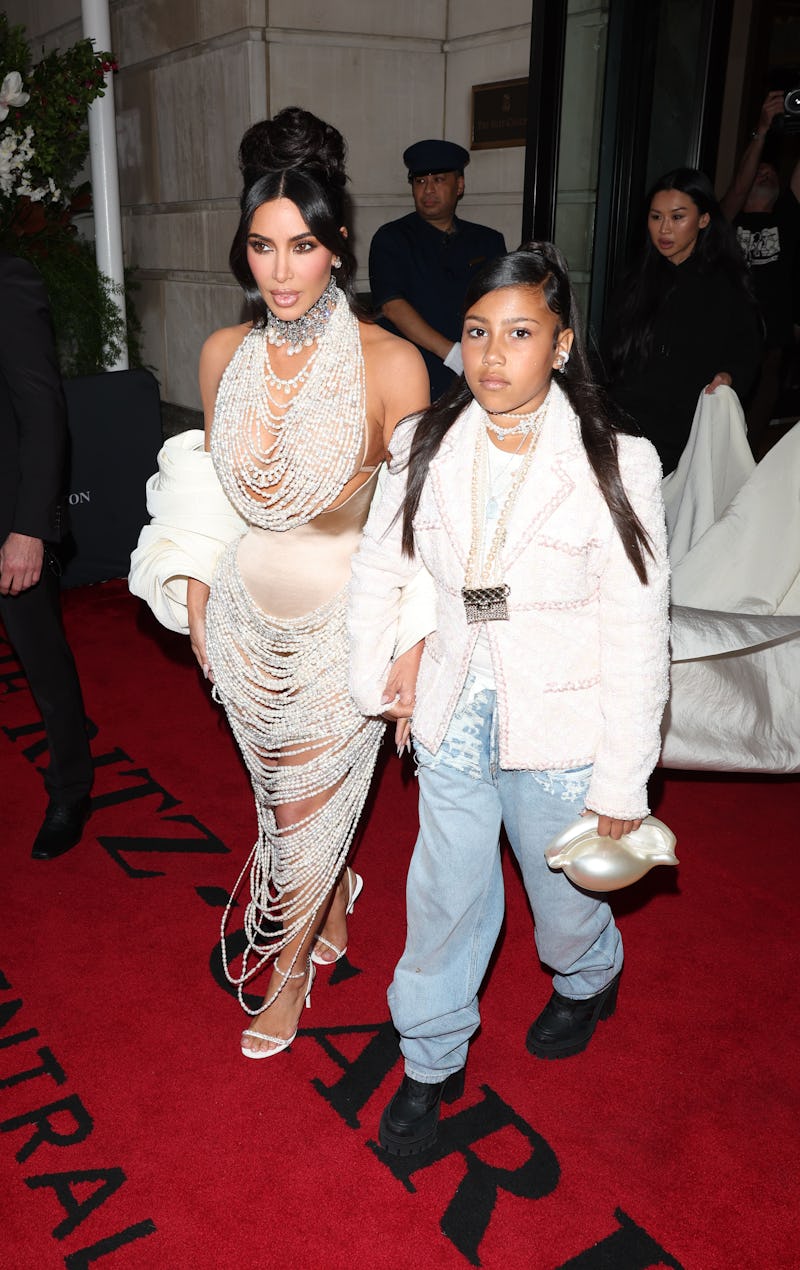 MEGA/GC Images/Getty Images
North West is slowly but surely becoming the Kardashian family's prank master. On the June 8 episode of The Kardashians Season 3, Kim Kardashian's daughter pulled a prank on her family by transforming her mom into "Anica," her new art teacher, with help from none other than the Kardashian family's now-former prank master, Scott Disick.
In her confessional, Kim explained that using prosthetics and special-effects makeup for silly pranks has become a bonding experience for her and 9-year-old North. "I always try to find little things that each one of my kids and I can do alone, I have different little activities that I do with them," she said. Therefore, North used hilarious nose prosthetics, makeup on her cheeks, and a short brown bob wig to disguise her mom. Disick helped her go around the house and introduce everyone to "Anica," and despite their uncontrollable laughter, it somehow worked.
When introducing her to the head security guard, Scott told him, "Kim just picked her off the street, but we love her," which he bought for some reason. They targeted Kim's 5-year-old daughter Chicago next, with Kim adopting a bizarre deep voice. "Hi little girl, I'm Anica. What's your name? Do you wanna do an art class with me?" she asked Chicago, who ran away crying. Even the nanny who comforted her didn't realize it was actually Kim at first. "I don't even know where I got Anica's voice from," she remarked in a confessional.
Naturally, their last victim was Kris Jenner, whose typically always the subject of the family's pranks. Disick took the lead and FaceTimed Kris, introducing her to "this girl I've been seeing for a while, Anica." Kim was laughing so hard that she couldn't look into the camera, but Kris took a genuine interest in Scott's new flame, asking why she was so shy. "No, she's not shy, she's fine," she said. "She kind of looks like Kylie and Kim." At this point, they both lost it, but she still wasn't totally sure it was actually Kim. "Is that a filter on your phone?" she asked.
Scott usually pulls off his pranks with Kim's sister Khloé Kardashian, forming a comedic duo of sorts. Together, on a 2019 episode of Keeping Up With the Kardashians, they successfully convinced Kris that she peed in a dumpster and went to a liquor store appearing tipsy by taking photos of Khloé dressed in her mom's exact outfit from the previous night and staging them as paparazzi snapshots. Kim and Scott even joked that they were new Khloé and Scott after pulling off Anica.
But at the end of the day, it was all for North's enjoyment. "I just love making her happy and seeing her see me and Scott happy and laughing and silly," she said in a confessional. "You know, afterward, she said to me when we were going to bed, she's like, 'Mom, I just love you so much.' She's like, 'I had so much fun.' And that is worth everything, worth looking like this ridiculous person with a big nose."