Kylie Jenner Shares A New Photo Of Her Son With Travis Scott For Father's Day
The couple has yet to reveal the face or announce the new name of their 5-month-old son.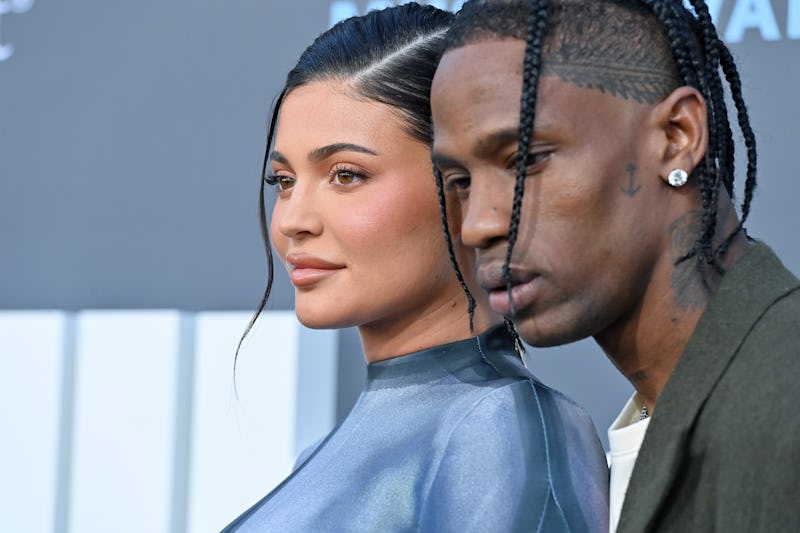 Axelle/Bauer-Griffin/FilmMagic/Getty Images
Kylie Jenner is giving fans yet another glimpse of her son — without revealing anything about him. On June 19, the Kylie Cosmetics founder paid tribute to her boyfriend Travis Scott on Father's Day, sharing a sweet, candid photo of the rapper eating ramen noodles in bed with their 5-month old son snuggled up against him, and their 4-year-old daughter Stormi Webster sleeping beside them. But as consistent with her previous photos of their infant son, Jenner covered the baby's face with a brown heart emoji, so only his hair and forehead are visible.
"Happy father's day daddyyyyy we love you," she captioned the photo, complete with another heart emoji. Scott lovingly commented on the post, writing,"L❤️❤️❤️❤️❤️❤️❤️❤️EEE YAAAA,"complete with another string of brown heart emojis. Jenner also shared another adorable photo of Scott and their son in matching gray-and-white Nike sneakers.
Jenner and Scott welcomed their second child on Feb. 2 and announced his birth just days later. Nearly a week after his arrival, the 24-year-old reality star revealed that their son's name was Wolf Jacques Webster. However, in March, she confirmed that they were changing his name. "We just really didn't feel like it was him," she wrote on her Instagram Story. The couple has yet to announce their son's new name, which Jenner's followers even joked about in the comments section, with one user writing, "Father of Stormi and TBA."
As of April, the couple hadn't legally changed his name yet, but Jenner has promised to share it as soon as she's ready. "We have some strong options, but we haven't officially changed it," she told Entertainment Tonight in a joint interview with her family. "Before I officially changed it, I want to make sure."
The Kardashians star also revealed that the name Wolf was "never on our list" and only suggested by her sister Khloé Kardashian. "Don't do this to me," Khloé responded. "No, I liked the name," she replied to reassure her. "There's nothing against Wolf, it just wasn't him." Their sister Kim chimed in to point out that "sometimes you must meet a baby" before naming them, which Jenner agreed with. As of now, it seems that Jenner is either weighing her options or keeping his new name under wraps.