Kylie Jenner Revealed The Name Of Her & Travis Scott's Baby Boy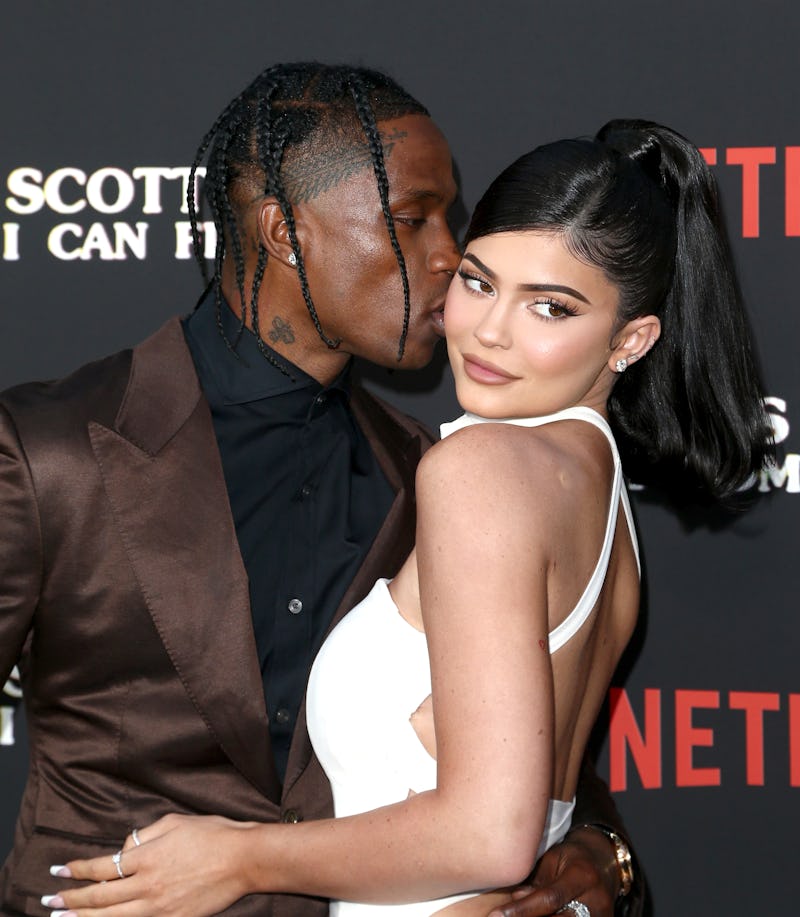 Tommaso Boddi/Getty Images Entertainment/Getty Images
Kylie Jenner revealed the name of her baby boy with Travis Scott through a Feb. 11 Instagram Story simply featuring the child's name, Wolf Webster, written over a black background alongside a white heart. The pair's announcement comes less than two weeks after Jenner gave birth on Feb. 2, the day after 4-year-old Stormi's birthday. Jenner waited four days to share news of Wolf's birth with the world, posting the first picture of the newborn holding hands with Stormi on her Instagram page on Feb. 6, writing, "2/2/22" and tagging the controversial Astroworld rapper.
Several of the Kylie Cosmetics founder's close friends and family members wrote supportive comments in response to her initial birth announcement, with Scott posting a series of heart emojis underneath the photo. Kris Jenner wrote, "Angel pie," Kourtney Kardashian said, "Mommy of two life," and Kylie's close friend Anastasia Karanikolaou commented, "angel baby." Kim Kardashian posted an angel emoji, and Kylie's makeup artist, Ariel Tejada, left a comment that read, "Can't wait to meet the little angel."
As reported by Bustle, the overlapping language in Jenner's loved ones' comments led fans to think she and Scott had named the baby "Angel." Plus, People reported Wolf's birth date represents an angel number in numerology, aka the belief that recurring number sets throughout one's life can correlate to specific events. Despite many social media users believing the comments were clues, it proved to be a mere theory. Some fans have since speculated Jenner and Scott drew inspiration from X-Men characters Wolverine and Storm when naming their children, though that's likely a coincidence as well — albeit a funny one.
The pair first confirmed Jenner's pregnancy in September 2020 through an Instagram video featuring Stormi embracing her mother's pregnant belly. "Stormi, we're gonna have a baby," Kris Jenner said in the clip. "This is one of the happiest days of my life."
Later that month, the beauty brand mogul appeared in a 73 Questions video for Vogue and told the publication she and Scott hadn't yet chosen a name. "Well, we need to find out the gender first, and we decided to wait," she said.
According to an insider close to the couple who spoke to E! News in December 2020, Jenner was laying low until the big day Wolf arrived. "She's been hanging out with her family and a few close friends and is just nesting until the baby comes. She loves being at home and has been getting the nursery ready," said the source, who also noted Scott's presence in her life leading up to the birth. "Travis has been by her side and has been very supportive during her pregnancy. They have definitely been inseparable and leaning on each other. They are both excited for the baby to come."