Emma Corrin & Jack O'Connell Share Sizzling Chemistry In Lady Chatterley's Lover
Netflix's upcoming adaption of the hit novel is already gaining attention.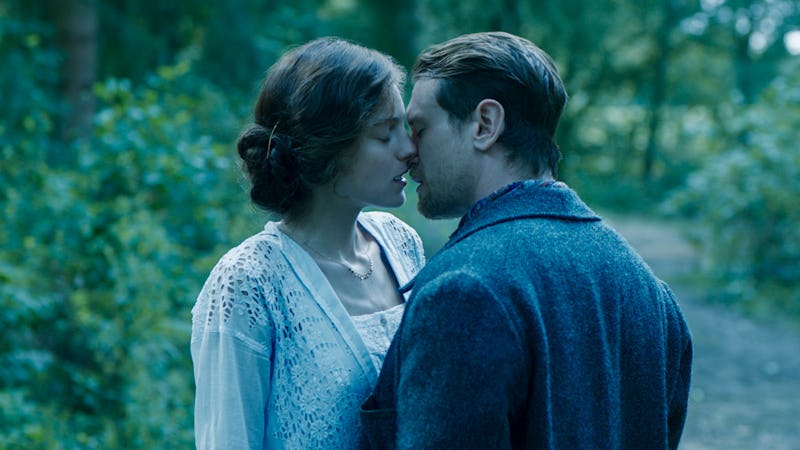 Netflix
After stealing scenes and breaking hearts as Princess Diana in The Crown Season 4, it's safe to say that Emma Corrin is on a roll when it comes to picking major roles. Having recently been on the promotional trail for My Policeman, in which they star alongside Harry Styles, Corrin is now set to light up the screen in Lady Chatterley's Lover. Of moving on from The Crown, the actor told The Guardian: "The industry loves to pigeonhole. The sooner I can move away from doing posh English, the better, even though that's what I am." With that said, keep reading for everything you need to know about Corrin's next big role.
Lady Chatterley's Lover Cast
Corrin will play the title character, Lady Constance Chatterley, with Skins alum Jack O'Connell portraying their eponymous lover, Oliver Mellors. Meanwhile, Matthew Duckett, a relatively new face, will portray Lady Chatterley's husband, Clifford. And Joely Richardson brings his caregiver Mrs. Bolton to life.
Behind the camera, Laurence Mark (The Greatest Showman), along with Pete Czernin and Graham Broadbent (Emma), will serve as producers.
Lady Chatterley's Lover Plot
The book on which the movie is based on was written by D.H. Lawrence and published in the 1920s. Considered to be a scandalous read, Lady Chatterley's Lover tells the story of a wealthy titular woman "who finds herself married to a man she doesn't love and engages in a torrid affair with a gamekeeper on their English estate," according to Variety. After its publication in Italy and France, the romance novel was barred from being printed in the U.S. amid claims of its obscene content.
Lady Chatterley's Lover's frank depictions of sexuality caused quite the stir, and booksellers faced jail time if they were caught selling it, per The Washington Post. Reed Smoot, a Republican Senator from Utah in the 1930s, even argued that the book was "written by a man with a diseased mind and a soul so black that he would even obscure the darkness of hell." Alas, the book found its way to U.S. readers in 1959 and was labeled "The Book That Brought Good Sex Writing to the Masses" by The New Republic.
Written by Life of Pi's David Magee and directed by The Mustang's Laure de Clermont-Tonnerre, Netflix's reimagining of Lady Chatterley's Lover has already got people talking. Clermont-Tonnerre told British Vogue: "It's scary that not that much has changed since the '20s. As women, we're still fighting for equality. You only have to look at what happened with Roe v. Wade, and what's happening now in Iran."
Looking back on the original material, she added: "This book is about a woman's journey to empowerment, to controlling her body, owning her sexuality and owning her life. My goal was to emphasise her point of view, and to give the audience a visceral experience of a woman experiencing pleasure."
Lady Chatterley's Lover First Look & Release Date
First-look images shows Corrin and O'Connell showcasing the sizzling chemistry the book is famous for. And you won't have to wait too long to enjoy it for yourselves, as Lady Chatterley's Lover lands on Netflix on Dec 2.
This article was originally published on