Lizzo Claps Back At Rude Fan's Tweet About Her 2023 Met Gala Performance Outfit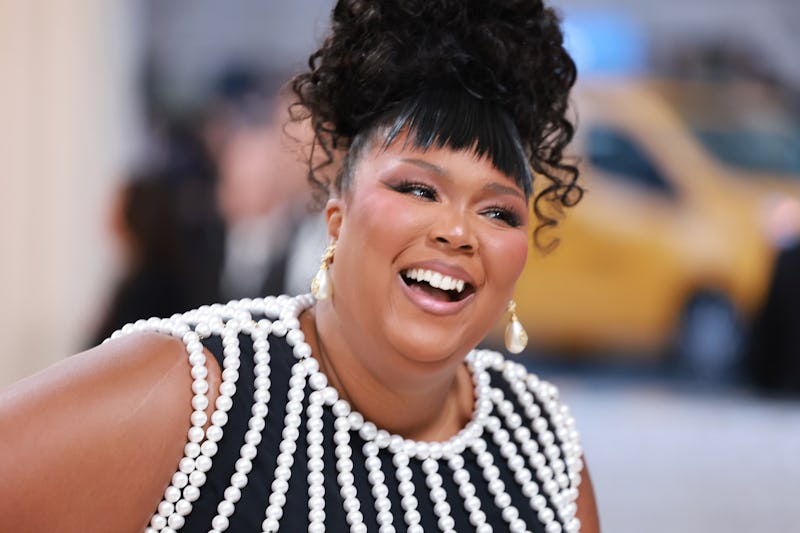 Theo Wargo/Getty Images Entertainment/Getty Images
The likes of Florence Pugh, Rihanna, and Kim Kardashian wowed on the steps of the 2023 Met Gala on May 1. However, it was four-time Grammy winner Lizzo whole stole the show inside the Metropolitan Museum of Art. As per Vogue, the singer, rapper, and actor performed a string of hits at the Temple of Dendur inside the iconic New York venue. Following her Met Gala performance, images of her set began to emerge online, and Lizzo had a savage response to one rude fan's tweet regarding her outfit.
Commenting on a post showcasing the hitmaker's silver Yitty bodysuit and knee-length Piferi boots, which she wore while performing hits such as "Truth Hurts," "Juice," and "About Damn Time," one Twitter user wrote in a now-deleted tweet: "put some clothes on" — to which Lizzo simply responded: "F*** you b****." Fans of the singer were quick to send their messages of support, with one fan writing: "You tell her Lizzo."
"I don't want anyone to disrespect my queen like that," another fan commented, while one user also replied: "Lizzo has time today."
As per People, Lizzo shut down the Met Gala 2023 red carpet earlier in the night wearing a pearl-adorned custom Chanel look that was inspired by a gown from the fashion house's 1991/92 ready-to-wear collection. Prior to her arrival, the singer shared her black and white ensemble on Instagram, which showed her enjoying some french fries with the caption: "What's after 7?"
After wowing A-list guests with her hit-filled set, Lizzo stunned once again in her Met Gala after-party outfit, serving Studio 54 realness in a gold Paco Rabanne look.
Titled "Kark Lagerfeld: A Line of Beauty," this year's Met Gala theme aimed to honor the late fashion designer who passed away in February 2019 aged 85.