Twitter Can't Get Enough Of Loki Being Bisexual & His Chemistry With Sylvie
Loki's sexuality is now canon in the MCU.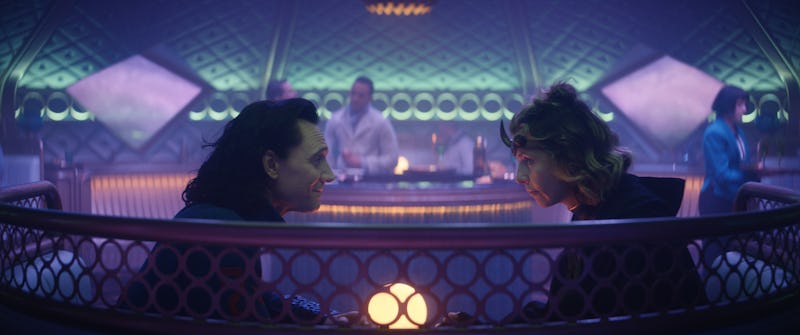 MARVEL STUDIOS
Spoilers ahead for Loki Episode 3. The chaotic charm of Loki reached new heights with the show's June 23 episode — which saw another apocalypse, Asgardian singing, and an emotional heart-to-heart between the God of Mischief and his new variant friend, Sylvie. As the two talked about their lives and past relationships, Sylvie wondered if Loki had ever courted any "would-be princesses, or perhaps another prince."
"A bit of both," Loki replied. "I suspect the same as you. But nothing ever..."
"Real," Sylvie finished. The sweet exchange confirmed that Loki is canonically bisexual in the Marvel Cinematic Universe and also marked the first time his romantic life was referenced in earnest. Series director and executive producer Kate Herron broke down the scene on Twitter, writing that "it was very important to me, and my goal, to acknowledge Loki was bisexual."
"It is a part of who he is and who I am too," she continued. "I know this is a small step but I'm happy, and heart is so full, to say that this is now canon in the MCU." Herron, of course, wasn't the only one celebrating the Loki love on Twitter. Viewers took to the site to share their thoughts about the beloved character's reveal, as well as Tom Hiddleston's instant chemistry with Sylvie actor Sophia Di Martino.
The new episode brought sheer joy for many viewers — just in time for Pride Month, too.
User romanovaswinter noted the vibrant blues and purples — reminiscent of the Bisexual Pride Flag — used throughout the episode.
The colorful detail did not go unnoticed by Di Martino herself, who tweeted about the "beautiful lighting."
Loki and Sylvie's instant connection was another high point for fans, many of whom took to Twitter to praise the characters' chemistry.
Despite how well the characters clicked, user lokisloverr was quick to remind viewers that they weren't actually a couple. (To be fair, though, the logistics of whether or not Loki could pursue a relationship with a different version of himself are still up for debate.)
Of course, Loki's adventure with Sylvie came at the expense of another quickly beloved character — Agent Mobius, who's probably in pretty hot water back at the Time Variance Authority. Fans and "Lokius" shippers were thinking of the agent over the course of the episode, especially after it was revealed that the TVA employees were actually variants themselves.
As Loki enters the second half of its six-episode run, Loki's status with Mobius — especially after that heartbreaking Roxxcart betrayal — is one of many questions that need to be answered. How Loki and Sylvie survive the impending Lamentis apocalypse is another. Either way, the chaos doesn't seem to be letting up anytime soon.