The Loki Director Wants You To Think About Christmas While Watching The Show
We've never seen the God of Mischief quite like this.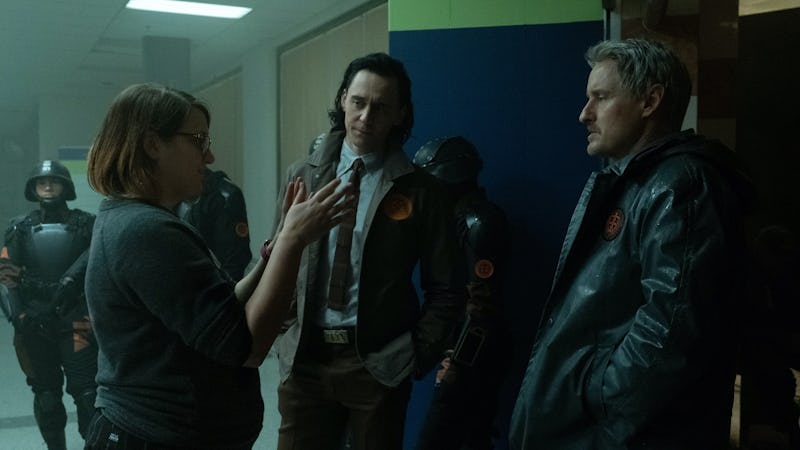 CHUCK ZLOTNICK/MARVEL
Spoilers ahead for Loki Episode 1. Loki is like a play — it's also like Mad Men, Teletubbies, and your favorite Christmas movies, with a slew of sci-fi and noir inspiration, too. In crafting the unique world of the Time Variance Authority and the emotional journey that awaits an ever-troublesome 2012 Loki, director and executive producer Kate Herron pulled from an array of media to inspire a multi-genre show as mischievous as the god it's named for.
Of course, as a massive fan of Loki — she considers his journey to be "one of the best arcs" in the MCU — Herron also had to make a case for revisiting this particular era of the character. "He's in a very different emotional space," Herron tells Bustle, Zooming from her "now-barren" Atlanta Loki office where she's still wrapping up work on the series."He hasn't made peace with his brother. So much of what could be in his future hasn't happened to this particular character yet. And he's someone with a lot of pain and a lot to work through in regards to his identity." That pain is on full display as Loki gets acquainted with his past and future on-screen — teary and angry as he helplessly watches his mother die, for example, and realizes his godly aspirations were always doomed.
While creating the show, which started as a 60-page pitch and doubles as Herron's "love letter to sci-fi," the filmmaker referenced famous women from the genre — like Ripley and Kara Thrace — who were originally written as men. Wunmi Mosaku's TVA hunter was a similar case. "Wunmi came along and blew us out of the water," she said. "And we were like, 'Yeah, let's go for that plan.' She's incredible." Of course, Mosaku isn't the only exciting woman to watch out for in Loki.
Here, the Disney+ director and Sex Education alum talks about Loki's emotional journey, which lines Owen Wilson improvised, and how she relates to one key character.
In addition to Loki's films, were there other Marvel projects that you pulled inspiration from?
A really strong reference for me [was] Guardians of the Galaxy for two reasons. One, in the sense that it set up a completely new part of MCU very successfully. Stylistically we're very different, but I just learned a lot from that in terms of being bold in the choices, and it can be something very different to what we've seen before.
But also with Guardians, what I love about that film is that it has heart. For me, that film is really about family. That's something I've learned a lot from in terms of approaching this. We have this spectacular epic adventure, but if I take that away, what is our story really about? What's the heart of the story?
You've also said Teletubbies was one of your inspirations. What parts of that show did you apply to Loki?
It is a genuine reference; it's a stylistic one that comes a bit later in the show. If they're a follower of the Teletubbies, they'll know when they see it. But we drew from so many things for the show. I love sci-fi, and I wanted it to be like a big love letter to sci-fi. Beyond just sci-fi references — like Hitchhiker's Guide, Brazil, Metropolis — I also just wanted to capture what it's like to work in an office because I've worked as a temp in a lot of offices.
Loki goes through the emotional ringer in Episode 1, seeing his life's highs and lows onscreen even though he didn't live all of them yet. How did you approach that part of his journey?
It's almost like It's a Wonderful Life, right? Or Christmas Carol in a way. It was a balance of the more painful chapters in Loki's life, but then also moments [in Thor: Ragnarok] like "I'm here," and seeing that he'd reached that point with his brother. There was hope there. And something I pitched was that I felt like it'd be really awesome if Loki was watching his memories like they were a play on a stage. It kept us emotionally with our Loki but allowed us to be like an audience member alongside him.
What was it like working with such strong female characters?
Gugu [Mbatha-Raw]'s playing a character who's very much in power and very high up. There's a lot of interesting, juicy stuff to talk about [with] there being a woman in power. I've personally connected with that. That was always really important to me [and] the whole team; we just wanted to tell a good story and create these interesting characters.
There was one line where Agent Mobius tells Judge Renslayer, "I feel like I'm always looking up to you. I like it. It's appropriate."
He improvised that line. Owen is, as I'm sure we all know, an amazing improviser and very funny. It was really funny pitching the world to him. He has this amazing writer's brain, and he would just pitch stuff on set. Once he was like, "I understand the rules of the sandbox I'm playing in," it was like, OK, cool, now play!
More Owen Wilson-isms (and Loki mischief, surely) are on their way every Wednesday at 3 a.m. ET. This interview has been edited and condensed for clarity.