Netflix's Sexy Beasts Blind Dating Show Is Like Love Is Blind & The Masked Singer
"I'm appalled and disgusted and will definitely be tuning in on the 21st of July."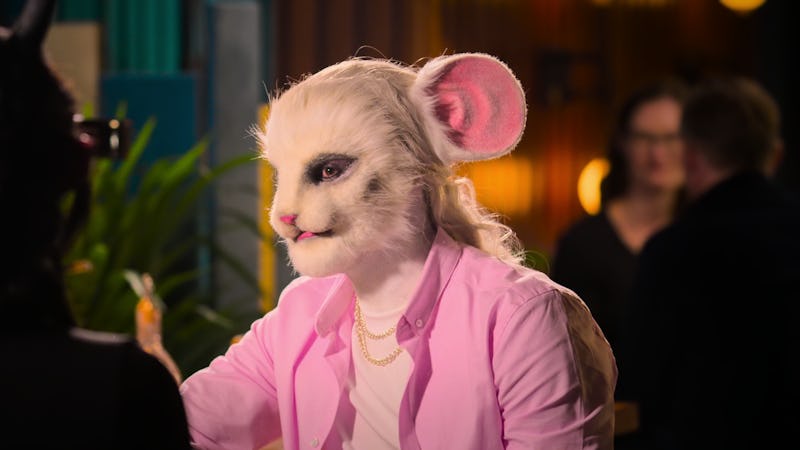 Netflix
Netflix just unveiled the trailer for Sexy Beasts, a new reality dating series that might just be the platform's wackiest one to date. And that's saying a lot, considering last year's Love Is Blind saw single men and women get to know each other from isolated pods, a then-outlandish concept that we soon got to know pretty well in quarantine. Sexy Beasts aims to take the concept of blind dating to the next level, completely disguising contestants with professional-grade prosthetics. So even though the potential couples are face-to-face, they have no idea what their dates actually look like. Following the trailer's release on June 23, a storm of conversation was sparked on social media, with fans questioning the series' outrageous concept and blaming Love Is Blind for inadvertently paving the way for it.
Inspired by a U.K. series of the same name that's been running on the BBC since 2014, Sexy Beasts will pair up single individuals for blind dates in prosthetic makeup that's transformed them into animals, aliens, sea creatures, and even the devil, among other disguises. The show's goal is for the suitors to focus on each other's personalities rather than looks, though it's hard to imagine being on a date with a human-dolphin hybrid and being able to think of anything that isn't the giant fin protruding out of their head. "Would you count this as a weird experience for you?" timidly asks one contestant dressed in a full-on fox costume in the trailer, to which any normal person's answer would be a resounding "Yes."
Filmed last year amid the COVID-19 pandemic, the idea for Sexy Beasts appears to be a reaction to the popularity of dating shows like The Bachelor and the monstrous success of The Masked Singer, because why not combine animals and romance? Actually, come to think of it, isn't it about time someone produces a dating series that furries can enjoy, too, and cast them instead of putting everyday individuals in such heavy, presumably uncomfortable makeup? But enough questions — you'll have to come to your own conclusions once the show premieres on July 21.
After the Sexy Beasts trailer dropped, fans took to social media to express pure shock, excitement, and blame towards Love Is Blind for being so successful and inspiring Netflix to up the stakes of blind dating. Additionally, actual furries shared their mixed reactions to the series' concept.