Twitter Can't Stop Laughing At Tom Sandoval's Vanderpump Rules Reunion Tantrum
"I'm going to f*cking flip and get the f*ck out of here. Not kidding."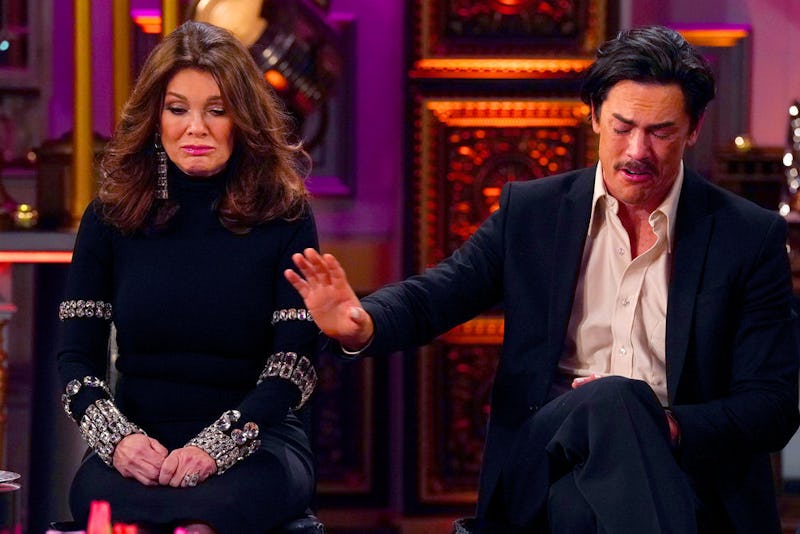 Nicole Weingart/Bravo
The center of #Scandoval is having a hard time dealing with the mayhem he caused. Twitter is losing it over Tom Sandoval having a tantrum during Part 2 of the Vanderpump Rules Season 10 reunion, after he wasn't allowed to have an off-camera conversation with Raquel Leviss. In March, just a few weeks before the reunion, Ariana Madix broke up with Sandoval, her boyfriend of nine years, after finding out that he had been having a seven-month affair with their castmate and close friend, Leviss. This was the pair's first time facing the rest of the cast all at once since #Scandoval broke, and clearly, the stress took its toll on Sandoval.
After having a conversation with Leviss about how the reunion was going so far, Sandoval seemingly left her trailer (100 yards away from Scheana Shay) before stating that he was done filming. "Hey, can we have a for-real break when we're not being filmed? Can I just chat with her without like..." he said, insinuating that he wanted to have an off-camera conversation with Leviss. A producer, Patrick, told him that a solo break was allowed, but his interactions with Leviss and others must be filmed, noting how the rest of the group eating together on their lunch break was also being filmed.
Clearly, Sandoval was not a fan of this rule and demanded time alone with Leviss. "I'm going to f*cking flip and get the f*ck out of here. Not kidding," he yelled, as the producer attempted to reassure him. "I need a break from filming. Stop filming me. I wanna talk to her, and I don't want a camera in my goddamn face. You're not understanding. I don't feel relaxed, she doesn't either, we have to watch what we f*cking say. I don't want that. I'm in a very delicate position right now."
Naturally, Twitter didn't have any sympathy for Sandoval and immediately clocked his probable true intentions — plus used many memes, of course.
If Twitter felt bad for anyone, it was Patrick, who everyone agrees deserve a raise or a spot on the cast.
Thank you for your service, Patrick.