5 Wild Theories About Miley Cyrus' "Flowers" Music Video
The song debuted at No. 1 on the Hot 100 on Jan. 24 — and fans are still dissecting the video.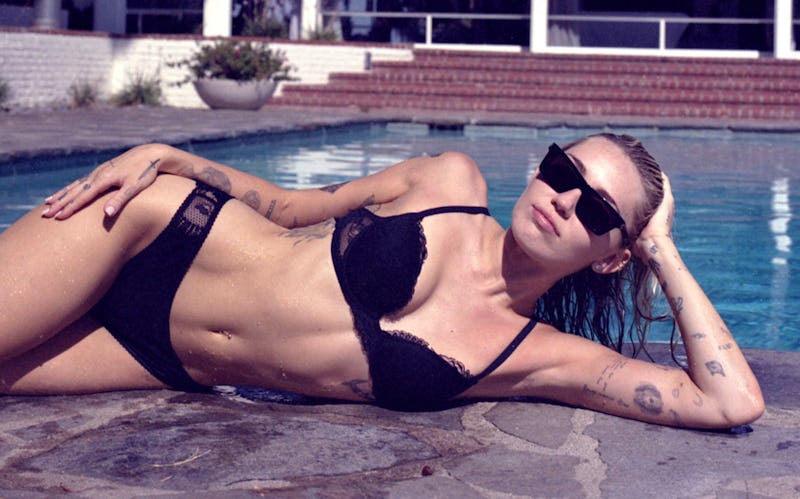 Miley Cyrus/YouTube
Miley Cyrus can buy herself flowers — and take over the world with just one new song. With "Flowers," Miley has broken Spotify records, gone viral on TikTok, and debuted at No. 1 on the Billboard Hot 100's Jan. 24 chart, thanks in part to the song's connection to her relationship with ex-husband Liam Hemsworth. The self-empowerment anthem was released on Hemsworth's 33rd birthday (Jan. 13). And in the first verse, Cyrus references their Malibu home that burned down in the 2018 Woolsey fires, making it clear that she's addressing their breakup.
However, fans have taken those nuggets of information and created conspiracy theories about what may have happened in their relationship, ranging from high infidelity to Joker references. Even her older sister Brandi Cyrus is a fan of the theories, though she didn't confirm any.
"All the narratives fans are making on TikTok, it's so good," Brandi said on her Your Favorite Thing podcast. "The song did come out on his birthday — was that on purpose? I don't know. Can't say. Genius, though." Brandi went to describe two separate fan theories, calling them "f*cking hilarious," but stayed quiet on their legitimacy. "It's the best PR that could ever happen because it gets people talking about the song on TikTok and it's everywhere," she said. "I'm letting this play out. It's a first-hand experience situation. Only Miley knows the truth."
Cyrus has yet to comment on "Flowers" publicly, but whatever her intentions were, it worked out perfectly. "Flowers" has topped the charts in the UK and Hemsworth's native Australia, and it already reached the summit on the Hot 100. Perhaps she'll have more to say on her eighth studio album Endless Summer Vacation, which comes out March 10.
Prepare for the new album by reading these "Flowers" conspiracy theories.
Theory 1: "Flowers" Is A Response To A Song Liam Dedicated To Miley
Perhaps the most believable theory is that Hemsworth dedicated Bruno Mars' hit ballad "When I Was Your Man" to Cyrus at some point — maybe at their wedding or maybe when they weren't even together — and the proof lies in the lyrics. The chorus of "Flowers" appears to be a direct response to Mars' song, taking his pleas of "I should've bought you flowers and held your hand" and twisting them into independent mantras such as "I can buy myself flowers" and "I can hold my own hand." Additionally, there is footage of Cyrus and Hemsworth dancing to Mars' anthem "Uptown Funk" at their Christmas Eve wedding in 2018, proving they were fans at the very least.
Theory 2: Miley Is Wearing Liam's Suit
Shortly after the video's release, a 2019 clip of Cyrus and Hemsworth at the Avengers: Endgame premiere went viral, in which the actor appeared to scold his then-wife for sticking her tongue out and doing typical Miley Cyrus things on the red carpet.
At the end of the "Flowers" video, Cyrus wears a fierce suit and dances around the house in a celebratory rite of independence. Many fans think she wore the same suit that Hemsworth did at the premiere. But as Bustle previously pointed out, Miley's blazer in the video is from Saint Laurent Fall 2022 collection. So while the blazers aren't identical, the choice to wear one looking similar to Hemsworth's 2019 one could still be true.
Theory 3: Miley Filmed The Video At A House Where Liam Had Affairs
Many Twitter stans are convinced that Cyrus filmed the "Flowers" video at the same house where Hemsworth allegedly cheated on her with 14 different women — except there's no proof that any infidelity actually happened on either of their parts. It's also hard to believe that Hemsworth would be able to buy a mansion this extravagant solely for the purpose of hiding side pieces.
While Hemsworth has never commented on his divorce from Cyrus, she denied rumors that she had cheated when their 2019 split was announced. "I can admit to a lot of things but I refuse to admit that my marriage ended because of cheating," she wrote. "Liam and I have been together for a decade. I've said it before & it remains true, I love Liam and always will."
Theory 4: Miley's Dress Is A Nod To Jennifer Lawrence
Miley begins the video donning a gold-sequined hoodie dress as she struts up a road to a lavish home. The look is actually a vintage dress from Yves Saint Laurent's fall 1991 collection, but fans have linked it to the golden Prabal Gurung gown that Jennifer Lawrence wore to the Hunger Games premiere in 2012. Despite sharing a similar hue, the dresses have totally different designers, shapes, and structures, meaning it was likely not an intentional reference. However, fans have reason to believe that Lawrence was still involved somehow.
During a 2015 interview on Watch What Happens Live with Andy Cohen, Lawrence admitted to kissing Hemsworth off-camera while they were filming the Hunger Games movies. "Liam and I grew up together," she hesitantly explained. "Liam's real hot. What would you have done?" When Cohen joked that he would pick Gale over Peeta, nodding to Hemsworth's Hunger Games character, Lawrence quipped, "I did, at one point."
However, the Hunger Games series filmed between 2011 and 2014. Given how Hemsworth and Cyrus broke up multiple times over the course of their romance, with their most high-profile split being in 2013, it's very likely that his alleged fling with Lawrence didn't coincide with his relationship.
Theory 5: Miley Recreated The Joker Dance Because It's Liam's Favorite Movie
Fans appear to have made this rumor up after noticing similarities between Cyrus' moment of solo joy in "Flowers" and Joaquin Phoenix's twisted dance moves in the 2019 film Joker. Hemsworth has never openly said that his favorite movie is Joker, and their routines aren't similar enough in choreography, scenery, or motive. But if Cyrus did happen to be making an intentional reference, then let's hope that this is her audition to join Lady Gaga in Joker 2.