Do Kamala & Bruno Get Together In The Ms. Marvel Comics?
Like everything in high school, it's complicated.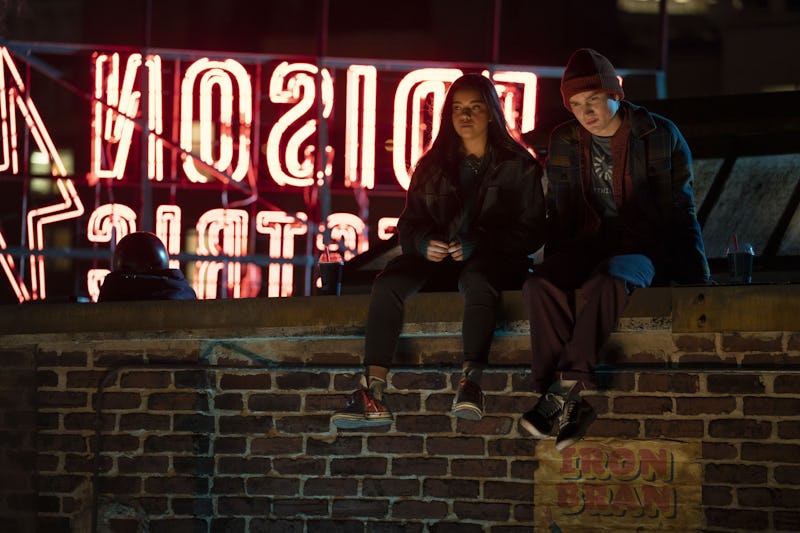 Daniel McFadden/Marvel Studios
The Marvel Cinematic Universe has played host to countless couples among its ever-expanding hero lineup — from Wanda and Vision to Peter and MJ (who were simply so perfect, they became an IRL ship). So naturally, when you watch the first episode of Disney+'s Ms. Marvel and are introduced to both the titular hero, Kamala Khan (Iman Vellani) and her best friend, Bruno Carrelli (Matt Lintz), you might find yourself wondering: will Kamala and Bruno get together at some point? The answer can be found in the Marvel Comics — but remember, this is high school. Was anything ever cut and dry?
In the Marvel Comics, Bruno has been Kamala's best friend since elementary school — and when she assumes the Ms. Marvel mantle, he's the first person she lets in on the secret. In this way, he might sound similar to another iconic friendship from the MCU. "He's the tech whiz. He's a sidekick. You could say he's the Ned to the Peter Parker, Spider-Man," Lintz recently told Screen Rant.
But if he's the Ned, he's also the MJ — that is, there's definitely a "will-they-won't-they dynamic" at play here, as Marvel puts it. At one point in the comics, Kamala takes a bullet for Bruno (promptly realizing she has self-healing powers, too). In another, the pair admits that they've had long-running crushes on each other — but Kamala says she doesn't have room for a relationship. "I'm not ready to be anything else, to anyone else," she tells Bruno in Ms. Marvel No. 19. "I need to give this everything I've got." At one point, even being Kamala's friend proves to be dangerous for Bruno, who is severely injured carrying out a superhero scheme — and, needing some space, soon transfers to attend school in Wakanda.
Ultimately, though, in Magnificent Ms. Marvel No. 9, Kamala and Bruno get their friends-to-lovers due — and share a passionate kiss, after he was there for her during a family emergency.
But the big question is, will this adorable romance come to fruition in Ms. Marvel? That's hard to guess. As you can see, even in the relatively short history of Kamala and Bruno in the Marvel Comics, they've been through a lot of ups and downs — and if their relationship is meant to be a slow burn, there might not be space (or time) for it all in just six episodes. However, Lintz acknowledged to Screen Rant that "[Bruno's] relationship with Kamala is something that people are going to watch and want to see," and we do know that Kamala, at least, will return for The Marvels.
So ultimately, it seems likely that Kamala and Bruno will get their shot at a complete love story — even if it takes a while to get there.