Everything To Know About Black Panther: Wakanda Forever
The new trailer adds momentum to a fan theory that Shuri will take over the Black Panther mantle.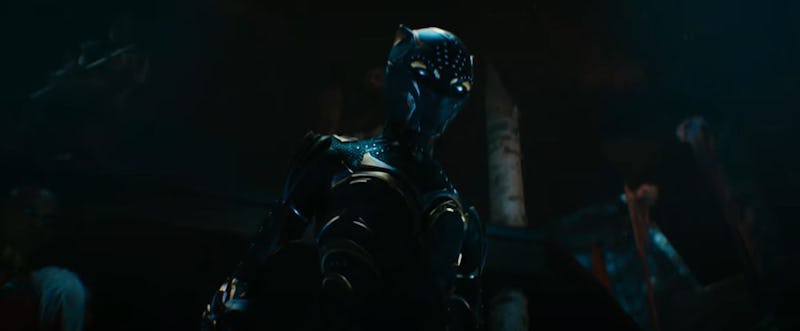 Disney / Marvel Studios
Since Marvel fans were first introduced to Wakanda four years ago, fans have been patiently waiting to return. On May 3, 2021, Marvel Studios finally announced details for several of its upcoming films, including Black Panther 2, officially titled Black Panther: Wakanda Forever, but like several other Hollywood productions, the Marvel sequel was delayed due to lockdown.
Sadly, tragedy had already hit the Black Panther production with the loss of Chadwick Boseman (King T'Challa) in August 2020. While it's been somewhat of a mystery how, exactly, the film will move forward without its original lead, a new trailer and plot details from Marvel's San Diego Comic-Con presentation on July 23 provide a few major clues — and it looks like the next installment will honor Boseman and T'Challa while ushering in the next person to hold the Black Panther mantle, too.
Here's everything audiences can expect once Black Panther: Wakanda Forever in just a few months.
Black Panther: Wakanda Forever Plot
The first film culminated in T'Challa's triumph over Erik Killmonger (Michael B. Jordan), who assumed the throne after beating T'Challa in a previous showdown and set up a romance with Nakia (Lupita Nyong'o). And the very last scene before the end credits showed T'Challa and Shuri (Letitia Wright) in California, where he said they would bring Wakanda's advanced technology and innovations to America via the Wakandan International Outreach Center.
Of course, when that movie was made, Boseman was expected to return to the big screen, and the plot would continue from there. Ryan Coogler, the first film's writer and director, previously told Screen Rant he wanted to explore "what kind of king he is with experience and how that affects his performance in the stories." However, things sadly had to change.
On Dec. 10, 2020, Marvel Studios President Kevin Feige announced that they won't recast T'Challa. "[Boseman's] portrayal of T'Challa the Black Panther is iconic and transcends any iteration of the character in any other medium from Marvel's past, and it's for that reason that we will not recast the character," he said. "However, to honor the legacy that Chad helped us build, we want to continue to explore the world of Wakanda and all the rich and varied characters introduced in the first film."
The world of Wakanda isn't the only one we'll be exploring in the upcoming sequel, though. As the new Comic-Con trailer (below) confirmed on July 23, Wakanda Forever will introduce the Kingdom of Atlantis and its leader, Namor — with the Wakandans and Atlanteans seemingly going to war with each other. The sequel will also see T'Challa's family mourning him and honoring his legacy, and a mural of the Wakandan leader can be seen at one point.
Black Panther: Wakanda Forever Cast
In an interview with ComicBook published on Aug. 19, 2021, Feige revealed Dominique Thorne would appear as Ironheart in Black Panther: Wakanda Forever before starring in her own self-titled Disney+ series. The actor, who made her feature film debut in If Beale Street Could Talk, will play a relatively new character from the comics. Ironheart, aka Riri Williams, is described by Marvel as a "teenage super genius," who "has taken Tony Stark's armor and reverse engineered it, adding her own modifications, and becoming a hero in her own right!"
Michaela Coel has a role in the sequel, according to Variety. The Chewing Gum and Black Mirror actor came onto Hollywood's radar after she wrote, co-produced, directed, and starred in the Emmy-nominated HBO Max drama I May Destroy You. As revealed at Comic-Con, Coel will play Aneka, "the combat instructor of the Dora Milaje," per Collider. And good thing — because the Wakandans seem to be up against some pretty major threats in the sequel.
Coel will be joining stars from the original film, including Winston Duke (M'Baku), Angela Bassett (Ramonda), Nyong'o, and Martin Freeman.
Letitia Wright, who plays T'Challa's sister Shuri, also returns with Wright having an expanded role. Rumors of her possible MCU exit circulated following Disney's vaccine mandate last October, where Wright allegedly shared anti-vaccine sentiments on the Atlanta set, per The Hollywood Reporter. (Wright was criticized in December 2020 after sharing a video questioning vaccines.) She denied the incident, however. On Dec. 10, THR announced via its Heat Vision email letter that Wright would be returning to filming in January 2022 after an on-set injury led to a filming hiatus beginning in November. Production finally began again in the third week of January, according to Entertainment Weekly.
As for T'Challa, Marvel Studios will refrain from using a computer-generated Boseman to play him in Coogler's sequel. Marvel Studios' Executive Vice President Victoria Alonso shut down the idea during an interview with Argentinian outlet Clarin in November 2020, saying, "There's only one Chadwick and he's not with us."
She added: "We are taking a little time to see how we return to history and what we do to honor this chapter of what has happened to us that was so unexpected, so painful, so terrible, really."
Confirming his return for the Black Panther sequel, Winston Duke admitted that it was emotional to work on the movie following the loss of Boseman. "It was very emotional to read the script," he told Collider. "It was emotional to pack to go back to set. But we're all a bit of a family now and we grieve together, and we're making something really special."
Surprisingly, there are rumors that Jordan could return despite his character, Killmonger, refusing medical help and appearing to lose his life in the previous film. He may only appear in flashbacks or the spiritual realm of Bast, as he ingested the heart-shaped herb, but Marvel hasn't confirmed anything the speculation.
On April 30, Jordan teased his possible (but not necessarily probable) return to the Black Panther film series in an interview with Sirius XM. When asked how likely he is to reprise the role of Killmonger on a scale of one to 10 — 10 being most likely — he said, "I'm gonna go with a solid 2." With a laugh, he clarified his answer: "I didn't want to go zero! Never say never. I can't predict the future."
In the same interview, Jordan also offered fans some insight on how Marvel will be moving forward without Boseman. "I honestly don't know much at all," the actor said. "All I know is they're developing a script that is a reflection of a lot of circumstances and tragedy that we had to deal with this past year." He went on to share his confidence that Coogler and Marvel will "do the absolute best job at developing the story in a way that makes everybody happy and satisfied and honors Chad and moves forward with grace."
Even without Killmonger, there is a confirmed new antagonist for Black Panther 2. Tenoch Huerta joined the cast in June 2021 and will play Namor the Submariner. In the comics, Namor rules the kingdom of Atlantis, which has long been battling with Wakanda. Huerta reportedly learned a Mayan language for the role.
Speaking to Yahoo! Entertainment for an interview published on April 28, Nyong'o also opened up about her feelings toward returning to the Marvel franchise following Boseman's death.
"People will ask me, 'Are you excited to go back?' Excitement isn't the word. I feel like I'm in a very pensive and meditative state when it comes to Black Panther 2. His passing is still extremely raw for me," the actor detailed. "And I can't even begin to imagine what it will be like to step on set and not have him there."
However, similar to Jordan, Nyong'o places her trust in the Marvel team, noting they "have a leader in Ryan [Coogler]." She continued, "His idea, the way which he has reshaped the second movie is so respectful of the loss we've all experienced as a cast and as a world. So it feels spiritually and emotionally correct to do this."
Despite Feige's previous announcement, Chicago film critic and Marvel fan Emmanuel Noisette launched a Change.org petition and #RecastTChalla campaign in April. It's already amassed more than 50,000 signatures. "T'Challa is literally Black history," the petition reads. "There is no more positive form of representation in Black culture than strong Black men and women supporting one another." Clarifying that the appeal in no way suggests Boseman can be replaced but rather aims to continue what the actor "worked so hard for the world to see," the petitioner writes, "By not recasting, it could stifle the opportunity for one of the most popular, leading Black superheroes to add on to their legacy."
Even Boseman's brother, Derrick, agrees. Speaking to TMZ on Dec. 14, Derrick said he believes even Boseman would've wanted the same thing since he thought that "T'Challa was bigger than just himself as one guy." Per the outlet, Derrick also said "there's so much power in seeing a Black king."
Daniel Kaluuya, who played T'Challa's best friend W'Kabi, confirmed that he won't return in the sequel on July 13, 2022, citing scheduling conflicts with his film, Jordan Peele's Nope. Rotten Tomatoes' Jacqueline Coley first shared the announcement via Twitter stating, "Fresh from my NOPE interview with Daniel Kaluuya he did not reprise his role in #BlackPanther2 due to his schedule conflicts w/ #NOPE! It's official he's not in #BlackPantherWakandaForever."
Kaluuya's on-screen wife, Danai Gurira, who plays Okoye, is expected to return. W'Kabi and Okoye were originally supposed to share more screen time in the first Black Panther, especially as they landed on opposite sides of the big fight, but their scene was ultimately cut. With Kaluuya not returning, it remains to be seen how Okoye's story will continue.
Tenoch Huerta will star as Namor, the ruler of the underwater realm Talocan. In the comics, Namor ruled the kingdom of Atlantis but Talocan was created for this film, drawing on ancient Mayan culture. In a trailer released on Oct. 3, Namor can be seen flying with ankle wings — the character's signature look. "I think with making these types of movies, you've got to lean into the weird stuff, or you risk missing what makes it fun," Coogler told Entertainment Weekly. "He's got really unique features and things that don't necessarily go together. He can breathe underwater, obviously, but he's got these little wings on his ankles. He's got pointy ears and walks around in his underwear. It's all fun, man."
Black Panther: Wakanda Forever Soundtrack And Score
The soundtrack for the first film was produced and curated by Kendrick Lamar alongside record label honcho Anthony "Top Dawg" Tiffith and became an immediate success. (The soundtrack's lead single "All the Stars" by Lamar and SZA even received an Oscar nomination for best original song.) Not much has been said about if they will return to develop the second album, but we do know that Lamar is involved in one major way, at least — his Grammy-winning song, "Alright," is mashed up with a Tems cover of "No Woman, No Cry" in the film's first trailer.
Though E! dispelled rumors about Rihanna's involvement with the film in 2020, saying she would star on-screen rather than bringing the movie to life with music, New York Times' Kyle Buchanan revived the rumours. "How do you follow up a classic like 'All the Stars'? By snagging Rihanna's first big song in years."
At the end of 2021, Metro UK reported that some major A-list musicians are in talks for the soundtrack — and possibly more. According to a source, "Say So" singer Doja Cat is "in line to perform" on the soundtrack "because of her South African heritage." Solange, Stormzy, and The Weeknd, who previously performed "Pray For Me" for the first Black Panther, are also "being considered" for a soundtrack "bigger than the first."
Tory Lanez was supposedly also on the shortlist, but the outlet said the rapper will likely be replaced by R&B singers Giveon and Brent Faiyaz following the felony assault charges filed by Megan Thee Stallion in July 2020. In addition to contributing hits, a few musicians could also be making cameos but it's "still being discussed," per Metro UK.
Composer Ludwig Göransson is set to return for the sequel after winning the 2018 Grammy and Academy Awards for his work on the first film.
Black Panther: Wakanda Forever Release Date
In August 2019, Feige said the sequel would premiere in theaters on May 6, 2022, but that was before the lockdown and Boseman's death. Because the initial 2021 production date was pushed back five months, the Black Panther 2 release date was then delayed to July 2022, which Feige confirmed in December 2020. On May 3, Marvel Studios announced that Black Panther: Wakanda Forever would hit theaters on July 8, 2022.
However, there was yet another delay. As Deadline reported on Oct. 18, 2021, almost all of the upcoming MCU titles had been pushed back "on account of a domino effect going on with production and filmmakers." Between that, Wright's injury, and more disruption related to lockdowns, Wakanda Forever will now premiere on Nov. 11, 2022 — and interestingly, Feige announced at Comic-Con that the film would mark the end of the MCU's Phase 4.
Black Panther: Wakanda Forever Trailer
In addition to previewing the war between Wakanda and Atlantis, the first Wakanda Forever trailer also teased a few major appearances in the upcoming sequel — including Riri Williams meeting fellow genius Shuri in the lab (and hammering out her iconic Ironheart symbol), and a blink-and-you-miss-it clip of the new, yet-to-be-revealed Black Panther in uniform.
A new trailer dropped on Oct. 3 giving a closer look at a mourning Wakanda and its new adversary, the underwater kingdom of Talocan, and its leader Namor. We also get our first look at the new Black Panther in the trailer's final frame, which hints that a female will be taking over the mantle from T'Challa. While we don't yet know the identity of the new Black Panther, the new suit gives Shuri fans something to get excited about.
Breaking down the trailer with Entertainment Weekly, Coogler said that creating the film was "cathartic" in dealing with the loss of Boseman. "I started to come up with a film that had elements of the film that we had just finished writing, but also applied the themes that the people who were hurting just as much as me could actually perform and execute and come out on the other side whole," he said about re-writing the film after the tragedy.
A new poster also adds credence to the Shuri theory as she is centrally placed in front of the Black Panther mask, indicating that she will lead the head-to-head battle with the Talocan kingdom.
Reporting by Shannon Barbour, Jack Irvin, Grace Wehniainen, Alyssa Lapid, and Radhika Menon. Contributions from Orla Pentelow.
Don't have Disney+? Sign up here.
This article was originally published on