Why Nick Viall Won't Write Off Thomas From The Bachelorette Just Yet
The former Bachelor has some sage advice.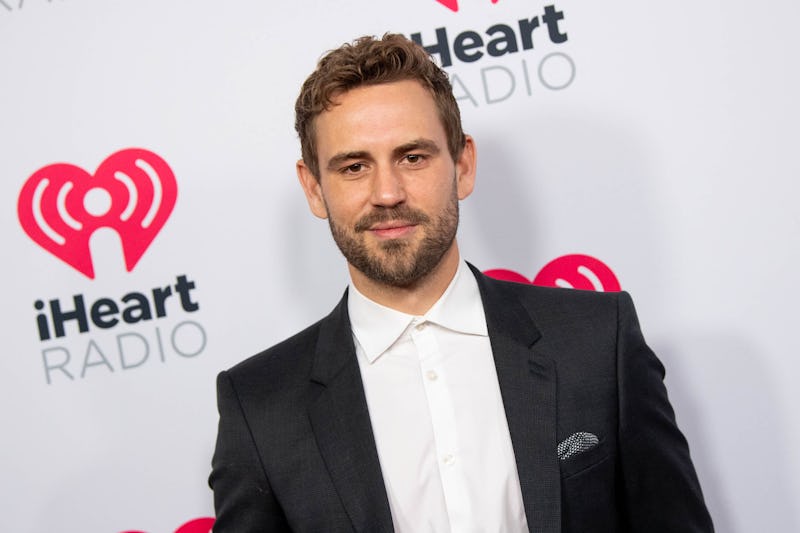 Emma McIntyre/WireImage/Getty Images
On the June 21 episode of The Bachelorette, fans of the hit reality series were treated to an emotional, soul-baring discussion that was co-moderated by franchise alum Nick Viall as part of one of Katie's group dates. Was it the group date the men were expecting? Absolutely not. But when the guys started revealing some of the most intimate details of their lives — and Katie followed suit by revealing she was sexually assaulted 10 years ago — it became clear that it was the group date they all needed.
"It certainly came as a surprise to everyone," Nick tells Bustle of Katie's decision to share her story. "There was no expectation going into the date that Katie would share anything. It was really about the guys." The Viall Files host also commended Katie's courage, particularly because it's still early in the season to develop trust in her relationships. "I think it was really brave of Katie to do that, especially when she's sharing a story and it's just her and 10 other guys and she's talking about a situation where she was the victim by another man," he says. "That showed a lot of strength."
Perhaps Katie wouldn't have shared her story had the guys not been so vulnerable with her first. Hunter, for example, brought himself to tears talking about his failed marriage and his relationship with his children; Connor B. admitted to being verbally abusive to an ex while under the influence of alcohol. "I don't think any person or any guy wants to admit that they weren't the best husband or the best father, but it showed a lot of courage," Viall says. "And I think the same thing goes for Connor. Who wants to acknowledge that they maybe had a substance abuse problem and it affected their relationships to the point where they hurt people?"
Although Nick admits that the rest of the guys "gave their best effort," he did notice some red flags that Katie should probably look out for. "I think some guys were just trying to, in the nicest, longest-winded way, suggest that maybe they had been f*ck boys in the past or maybe a little douchey here and there," he says. But aside from that, it was Thomas who raised eyebrows in living rooms across the country. "He didn't read the room and it was very performative," the former Bachelor star says. "At least it came across [that way]. And maybe that's just nerves on his part, but he seemed like a guy who was kind of dismissive."
Still, Viall wants Bachelor Nation to remember that it's still early on and Thomas could absolutely redeem himself in the court of public opinion. "Just because the guy shows some red flags, it doesn't mean he's a bad guy," he says. Thomas was hardly the most concerning part of last night's episode, too: Karl manipulated Katie into believing that several of the guys had bad intentions before she sent him packing. "What we saw was quite honestly toxic behavior," Nick says. "This was a guy saying, 'Hey, I want to scare you. I'm going to play on your biggest fears ... I'm not going to back it up, I'm just going to tell you to trust me.'"
Given that Karl was promptly sent home after the men unanimously agreed to tell Katie he was manipulating her, it's clear that the Bachelorette is not playing games. Fortunately, she has people like Viall to lean on for advice. "The advice I gave Katie before I left was to just pay attention to the guys' answers. Just listen," he says, explaining that asking the men questions is key. He also advised the Season 17 lead not to get too excited (like she did when Connor B. exited the limo on night one dressed as a cat) and misinterpret nerves for sparks. "You know, when she feels a spark, that might be a sign for her to ask more questions," he adds. "That could just be your intuition suggesting your spark could be nervous energy."