Olivia Rodrigo Doesn't Know What The Butterfly Lyric In "Hope Ur OK" Means Either
She also had to fight to make "deja vu" sound like it does.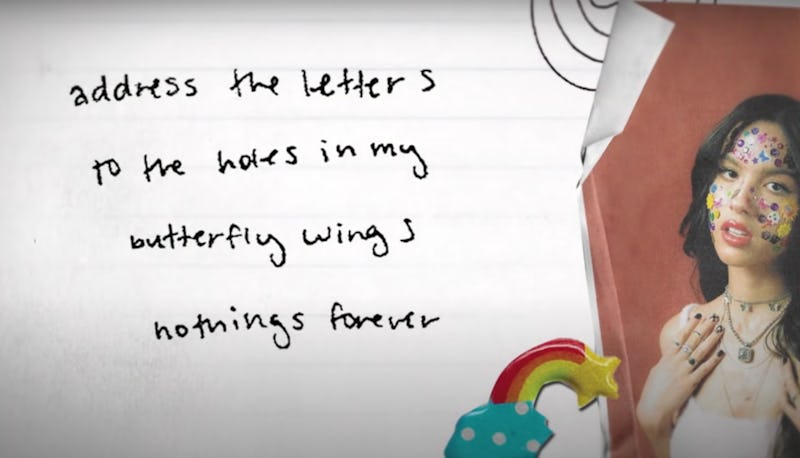 YouTube/Olivia Rodrigo
There's a reason why Olivia Rodrigo's debut album is titled Sour, not Spice. Despite proclaiming she's "worst with spice" and thinking bell peppers are "spicy," the 18-year-old recent high school graduate visited the set of Hot Ones and tried her hand at answering questions about her astronomical career while eating the show's notoriously spicy hot wings.
That, of course, included a discussion around her record-smashing hit single "drivers license," but also provided insight into the stylistic choices she included on the album and a glimpse into her songwriting process. The visit also answered a lingering question surrounding Rodrigo's smooth-crooning single "hope ur ok" and the meaning behind the fan-favorite lyric: "Address the letters to the holes in my butterfly wings; nothing's forever, nothing is as good as it seems."
But, in a turn that fans could've never predicted, Olivia revealed that she too had "no idea" what the poetic line truly meant. "I have no idea! I don't know. It sounds cool!" She said while laughing. "We wanted to have something that's a little abstract and up for your interpretation. I love butterflies, that's like a Sour theme, so [we] incorporated that in there."
As the wings got hotter, so did Rodrigo's takes when it came to songwriting, especially when it came to how to craft a stellar bridge. Her advice? "I think the coolest thing about a bridge is talking about something you didn't talk about in the rest of the song," she said. "I'm a super dynamic songwriter; I love songs that are really quiet and then get really big and stuff like that, so I always try to have a down bridge where it gets really quiet and introspective or a really big one."
She also revealed the creative decisions she made on her single "deja vu" and how different the song would've sounded had she not stepped in. According to Rodrigo, the song's dreamy post-chorus was originally supposed to utilize vocal chops, an idea which she quickly vetoed. "Everyone was like, 'the vocal chops sound amazing, it so cool and trendy!' And I was like, 'I literally would rather die than put vocal chops in my song.' No shade to anyone who does; that's just not my thing!" She said. "I wanted to put that really cool, chunky, crunchy synth sound in there — it sounds like an electric guitar but it's actually a synth — and I had to fight sort of hard to get that on the record but it happened."
With a debut album grounded in gritty early '00s rock, emo, psychedelic pop, and indie ballads, it makes sense that Rodrigo considers the "cool thing about making music in 2021" is that everything is becoming increasingly "genre-less" and creating up more space for experimentation. "I feel like sometimes it doesn't always have to be so linear. Some of my favorite music is music that is super upbeat but the lyrics are so f*cking depressing," she said. "You can just do whatever you want." If it creates No. 1 hits like "good 4 u," then we're definitely on board.