Pete Davidson Blamed MGK After Bringing 40s To Sandra Bullock's Easter Party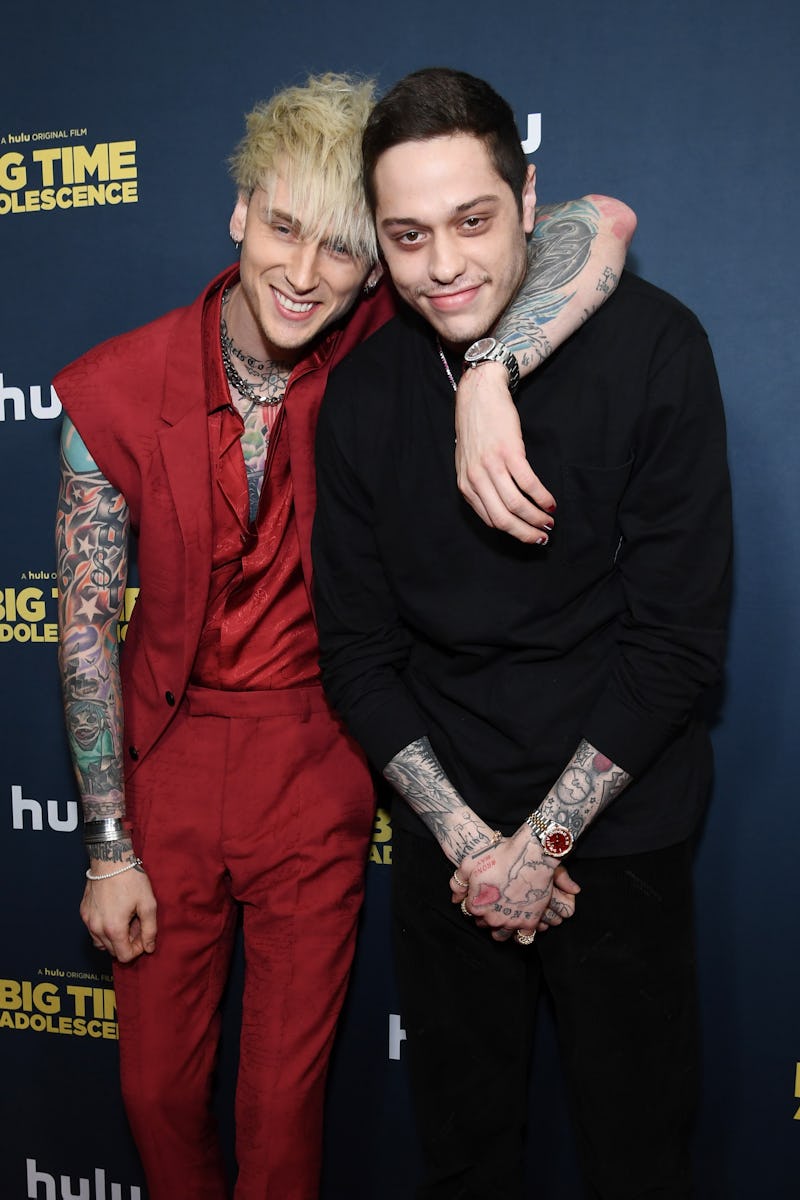 Dimitrios Kambouris/Getty Images Entertainment/Getty Images
Machine Gun Kelly and Pete Davidson are known for their sweet (and sometimes chaotic) bestie behavior — which, apparently, includes making surprise appearances at star-studded celebrity parties. During his May 26 interview on The Tonight Show, MGK (aka Colson Baker) told host Jimmy Fallon about the time he brought Davidson as a plus-one to Sandra Bullock's Easter party. He forgot to mention key event details to Davidson, though.
"There was this one Easter where I was like, 'Hey, Pete ... let's go to my friend's house for Easter,'" the "Emo Girl" singer recalled. "And he like, pulled up, and he had 40s, and he was like, 'Let's do this thing.'"
At that point, Davidson still didn't know whose house they were going to, and when he found out, he wasn't exactly pleased. "We went and it was Sandra Bullock's house," Kelly added, "and we walked in and it's like, Jen Aniston ... and Pete was like, 'Why would you do this to me? We look so stupid, like we have 40 ounces and we're at Sandra Bullock's. Like, why didn't you tell me this is where we were going?'"
To be fair, Davidson's protest totally makes sense. If you're going to be rubbing shoulders with celebrities, you need some advance warning! Fortunately, he got to exact payback on his friend recently. For MGK's birthday in April, Davidson asked if he could bring his own surprise plus-one — and it was a big one. "He pulls up and his plus-one is Robert Pattinson. And I was like, 'You brought Batman?'"
Footage of the friends with Bruce Wayne himself had circulated on social media — but of course, no one knew at the time that Pattinson's arrival was a comeuppance situation for MGK. Guests were, however, excited that Batman himself was in attendance.
As the rapper pointed out, the whole situation was "very serendipitous." In his new film Good Mourning (which MGK based on a text from Megan Fox), he plays an actor who wants to star in the next Batman movie — making the actual Caped Crusader's appearance at the party that much more meaningful.
Fittingly, one of his co-stars in the movie is none other than Davidson. Despite the Saturday Night Live vet's very busy schedule, Kelly and his Good Mourning co-writer and co-director, Mod Sun, were able to get him to appear in their film. "Everyone was like, 'Yo, Pete's not doing this,'" Sun told MGK during a Nylon interview earlier in May. "And you were the only person that was like, 'Dude, that's, like, my best friend. He's going to be there.'"