Pete Davidson Proves He Can Sing In SNL's "Walking In Staten" Sketch
Can we get this on Spotify?!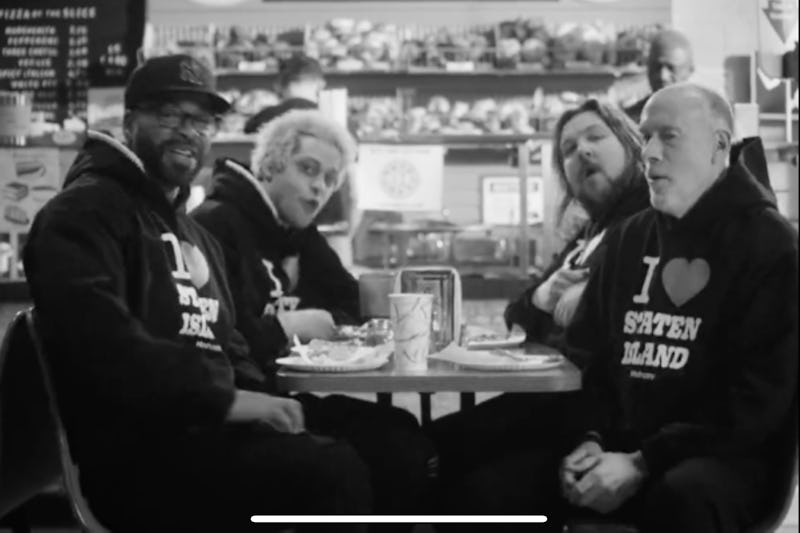 NBC
Everyone knows Pete Davidson is a New York native. But lest anyone forget, The King of Staten Island comedian proclaimed his devotion to his city via song during the Nov. 20 episode of Saturday Night Live. He began his parody of Marc Cohn's 1991 hit "Walking in Memphis" with his own version, "Walking in Staten," which he began while crooning in front of a piano. Though it's unclear whether he was actually playing, it doesn't matter — his voice, somewhat raspy with a strong timbre, really carried.
"Put on my bootleg Jordans and I boarded the train. Touched down in the land of Colin Jost and the legendary Wu-Tang," he bellowed while sporting a black "I [heart] Staten Island" hoodie. In a similar outfit, Big Wet appeared and joined in on the verse. (Davidson previously parodied Big Wet's hit "Turn Up on the Weekend" for a Squid Game parody with Rami Malek.) After singing about bagel and pizza joints, Big Wet added, "You best bet that Marc Cohn's going to sue."
On cue, the song stopped, and a frustrated Cohn appeared at home speaking to someone on the phone. "I don't want to be in a parody of my own song," he lamented. "What do you mean I'm already in it?"
The black-and-white music video quickly picked back up and Cohn, now similarly outfitted, trilled, "And now we're walking in Staten," before expertly taking over the piano. Among the many strange tributes to the city, the lyric "I think the strip club used to be a McDonald's" was his most iconic one.
The song's final collaborator, Method Man, appeared for the earworm's bridge and his rap elevated the entire song to a chart-topping contender. (OK maybe not, but it was good.) The song ended with the line, "Babies here are born with a golden chain," as a cute infant was shown onscreen.
It may just be a parody, but if anyone was still wondering why so many women have a crush on Davidson, including his new rumored romantic partner Kim Kardashian, maybe this music video will help clear things up a bit.