Prince Andrew Mourns Prince Philip In His First Comments Since The Epstein Scandal
Andrew stepped back from royal duties after he was accused of sexual assault.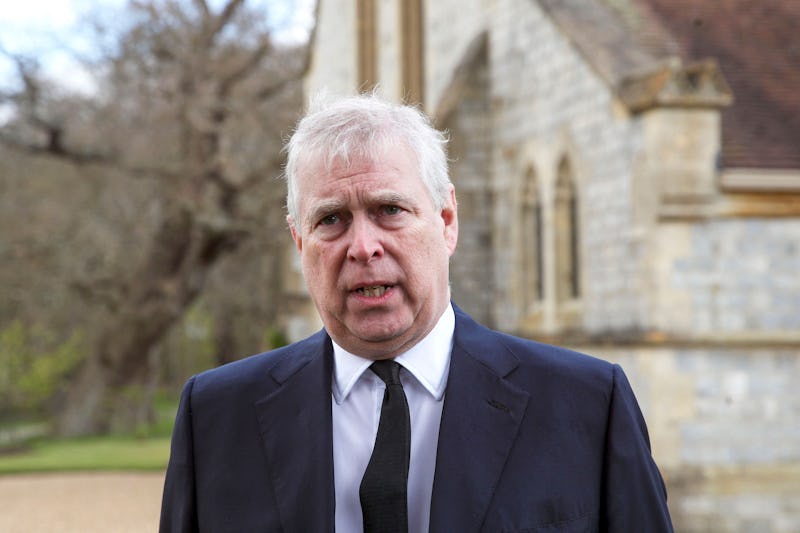 STEVE PARSONS/AFP/Getty Images
Following the death of Prince Philip, who passed away at 99 on April 9, members of the royal family from Queen Elizabeth to Prince Harry have spoken publicly in remembrance of the Duke of Edinburgh. On April 11, Prince Andrew followed in his family members' footsteps and delivered remarks on the loss of his father. Notably, Andrew's comments mark his first time speaking publicly since his controversial 2019 interview with the BBC about his connection to American financier and convicted sex offender Jeffrey Epstein.
"I loved him as a father. He was so calm … He was always someone you could go to and he would always listen," Andrew, 61, told reporters outside of Windsor Great Park's Royal Chapel. "We've lost almost the grandfather of the nation."
He also spoke about how the loss has affected his mother, Queen Elizabeth. "I feel very sorry and supportive of my mother, who's feeling it, I think, probably more than everyone else," he said. "The Queen, as you'd expect, is an incredibly stoic person. She described his passing as a miracle. She's contemplating, I think is the way that I would put it." He continued, "She described it as having left a huge void in her life, but we, the family, the ones that are close to her, are rallying around to make sure we are there to support her."
Andrew's older brother Prince Charles also spoke about his father's passing in a video message released on April 10. "My dear Papa was a very special person who I think above all else would have been amazed by the reaction and the touching things that have been said about him and from that point of view we are, my family, deeply grateful for all that," said Charles, 72. "It will sustain us in this particular loss and at this particularly sad time."
In a statement released by Buckingham Palace, their sister Princess Anne, 70, referred to her father as "my teacher, my supporter and my critic." "You know it's going to happen but you are never really ready," she said of his passing. "I would like to emphasize how much the family appreciate the messages and memories of so many people whose lives he also touched." She concluded, "We will miss him, but he leaves a legacy which can inspire us all."
Following his catastrophic BBC interview, Prince Andrew stepped away from his royal duties in 2019. In the televised conversation, he spoke of his relationship with convicted pedophile Epstein, who died by suicide in August 2019 while imprisoned and facing multiple charges, including allegations of sex trafficking. Andrew also came under fire for his connection to Epstein and was accused of having intercourse with a then-underage woman named Virginia Roberts (now Virginia Giuffre). Andrew denied the claims and then announced he would be stepping down from the royal family just days after the interview aired.
"It has become clear to me over the last few days that the circumstances relating to my former association with Jeffrey Epstein has become a major disruption to my family's work and the valuable work going on in the many organizations and charities that I am proud to support," he said in a November 2019 statement.