Everything To Know About The Real Housewives Of Miami Season 6
Nicole Martin teased "unresolved" issues after the reunion.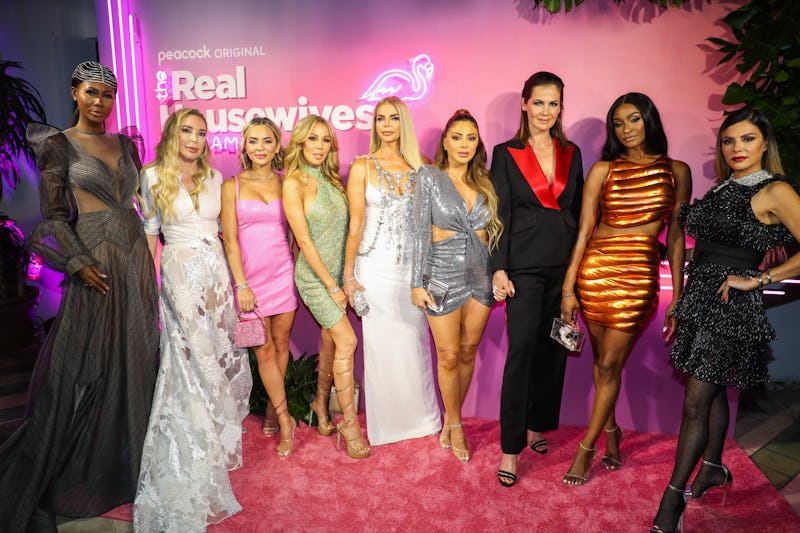 Peacock/NBCUniversal/Getty Images
From the real-time breakdown of a marriage to shady gifts, Peacock's The Real Housewives of Miami Season 5 covered a range of real-life highs and lows among the 305-based friend group. Though the NBC-owned streaming service has yet to renew RHOM for a sixth season, fans and critics alike agree that the revival has already reached new heights. TVLine's Claire Franken recently declared RHOM the "best Housewives franchise," while HuffPost guest writer Michael Arceneaux went a step further to call it the "best reality franchise on TV."
"Many of the Bravo franchises are filled with fake storylines and toxicity, but Peacock is providing what Housewives fans love most: authenticity and escapism," Arceneaux wrote. Meanwhile, Franken opined, "In other franchises, we have sprinter vans, psychic readings and stuffy formal dinners with seating assignments. In Miami we have OnlyFans photoshoots, witchy healing ceremonies and pool parties with flamingo floaties. The Real Housewives of Miami is fresh, it's real and my god, it's entertaining."
Given the positive reception, RHOM is all but certain to return — here's everything to know about Season 6.
The RHOM Season 6 Cast
Across franchises, Housewives casts aren't officially revealed until after filming wraps, as producers sometimes test women in different roles. The formula seems to be working on RHOM, though, and ever since the series moved to Peacock in 2021, the main cast — Larsa Pippen, Lisa Hochstein, Alexia Nepola (née Echevarria), Guerdy Abraira, Dr. Nicole Martin, and Julia Lemigova — has remained unchanged. Also joining the women in friend roles in Peacock's revival of the original Bravo series were Marysol Patton, Adriana de Moura, and Kiki Barth.‌
After the "intense" RHOM Season 5 reunion, Nicole seemed to confirm that they'll be back for Season 6, too. "I want to say we left the reunion and everybody was like, 'Oh, everything was hunky-dory,' you know, in the words of Kathy Hilton," the anesthesiologist told Entertainment Tonight in February, adding, "But, yeah, no. Things are left unresolved, and it's just going to be interesting to see where we go next season."
After sparring with Larsa, Alexia, and Marysol at various points during Season 5, she also would "like an apology from so many people from the show." As Nicole elaborated, "I don't know, that would be nice, you know? I mean, there was some pretty sh*tty things that they said, and it would be nice to be like, 'Hey, it was wrong. I should've had your back, I get you...' I don't know, [I'd like] for OGs to no longer have blind alliances. For them to be like, 'Hey, for this one time — like, OG, you were wrong I side with the newbie.'"
The RHOM Potential Premiere Date
Peacock premiered RHOM Seasons 4 and 5 a year apart in December, so it's likely that a potential Season 6 will follow suit and become available to stream in December 2023.
This post will be updated as more The Real Housewives of Miami Season 6 details become available.