Sarah Paulson's Questions About 'RHOBH' Season 8 Are Relatable For Any Fan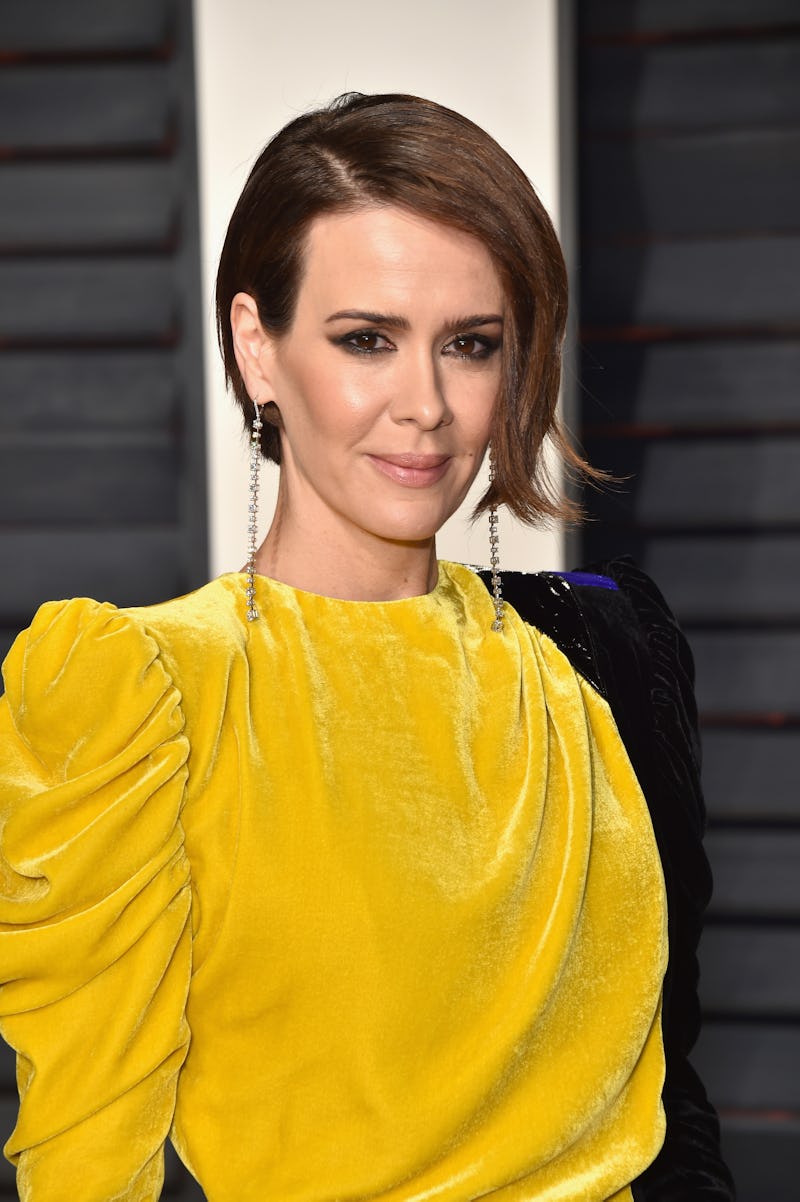 Pascal Le Segretain/Getty Images Entertainment/Getty Images
The new season of the Real Housewives of Beverly Hills finally debuts Dec. 19 and the excitement of RHOBH Season 8 has Sarah Paulson asking questions. During the New York City premiere of The Post on Dec. 14, the American Horror Story actor expressed her concerns to Entertainment Tonight (the interview was released on Tuesday by ET reporter Brice Sander) about what's ahead for the Beverly Hills Housewives since Eileen Davidson left the franchise.
"Who's the new girl and where's Eileen?" Paulson asked ET. "'Cause I love Eileen. I mean, personally, I love Eileen Davidson and I wanna know where she is, has she been abducted, and who's the new girl? I don't know anything about her and I think that's not fair given that I'm a dedicated, devoted viewer and I would like to have some more information at the start."
Her worries are totally understandable, especially as a die-hard fan. In attempt to put her at ease before she watches the premiere, let's provide some answers to her hard-hitting questions. First of all, Davidson announced her departure as a Housewife in July. It was a sad time for her biggest fans, Paulson obviously included. But, the reason behind her exit makes sense.
In a statement given to Bustle, the 58-year-old actor explained,
"After a lot of careful thought, I've decided because of my crazy schedules at The Young and The Restless, as well as Days of Our Lives, it's best for me and my family if I step away from being a Housewife for now. But you never know, I might be popping in from time to time just to see what the ladies are up to! Thanks for your love and support guys!"
At the time, Bravo had no comment on her departure.
So, to answer Paulson, the soap opera star is focusing on her work and what is best for herself and her family at this point in time.
Now, onto "the new girl," as Paulson put it. The latest RHOBH star is Teddi Mellencamp Arroyave. This is her first time in the Bravo world and based on the trailer, she doesn't seem like she'll hold back her thoughts or opinions. At one point in the teaser, Arroyave says, "Some of these women make it very hard to feel at ease." She even declares, "I'm not gonna back down when I know I'm right." Oh, and when it comes to her co-star, Lisa Rinna, well, she says about her in the trailer: "I think Lisa Rinna could be schizophrenic."
Even Andy Cohen told Bustle in November about her, "There is a new full-time Housewife and she's great. And she's really opinionated. And she's young and beautiful and comes from, uh… famous lineage." If her maiden name sounds familiar, it should, because Arroyave is John Mellencamp's daughter. Her father is the famous singer known for all kinds of hit songs, including "Jack & Diane" and "Hurts So Good".
ET's Sander revealed Paulson's concerns directly to this season's RHOBH cast at their premiere party in Hollywood on Dec. 17. Kyle Richards said Paulson "deserves" answers, because as many people already know, she has been a long-time Housewives fan. Rinna flipped out after hearing Paulson's questions, because, of course, she's a fan. "I love her so much! I love her so much," Rinna said, before adding, "I'm a superfan right back. OK, let me compose myself." She then said about her good friend Davidson, "Eileen has not been abducted by aliens. She's very busy doing two different soap operas at the same time."
Erika Girardi (aka Erika Jayne) added, "Miss Sarah Paulson, I have an answer for you. Eileen Davidson is, unfortunately, not with us this season. I miss her incredibly." (Most fans will miss Davidson and Girardi's beloved friendship this season.) As for Arroyave, Girardi wants Paulson to know, "The new girl, I think you may like her. Young, fresh, opinionated, but you know, you'll like me better."
Friend of the Houseweves this season, Camille Grammer, also described Arroyave to ET as "an accountability couch". In response to that, Girardi said, "I don't need anyone to keep me accountable. I'm pretty good on my own, thanks." Unlike Richards and Lisa Vanderpump who told ET they adore Arroyave greatly, it doesn't appear Girardi does.
As soon as Paulson views the RHOBH Season 8 premiere, she'll probably have even more questions, like all of us fans, but the above information from the Housewives should satisfy her until then. Plus, she can now rest easy in knowing Davidson hasn't been "abducted".