Rihanna's Collaborators, Ranked By How Likely They Are To Perform At The Super Bowl
Rihanna's list of collaborators is endless — and so are the possibilities of guests at her Halftime Show.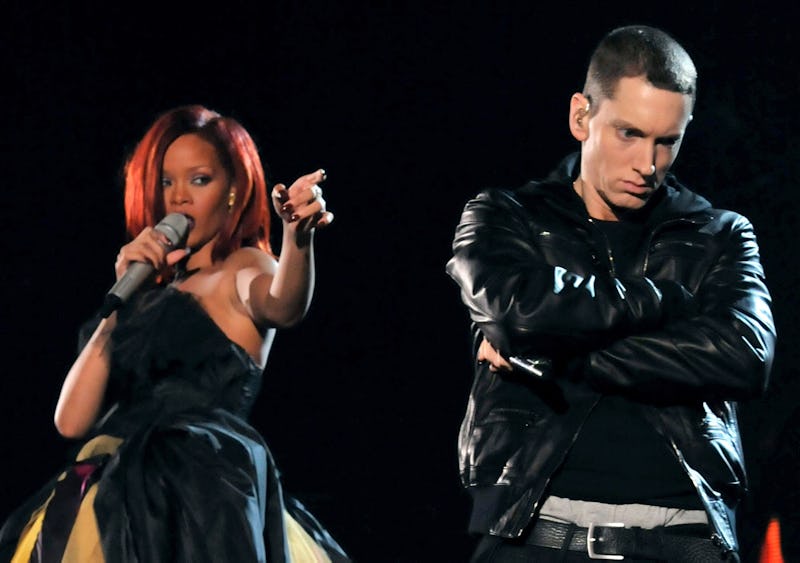 Lester Cohen/WireImage/Getty Images
Rihanna has a seemingly infinite amount of hits, including just as many famous collaborations. From her first major duet with Sean Paul on "Break It Off" to features on hits like Eminem's "Love the Way You Lie" and Jay-Z and Kanye West's "Run This Town," RiRi's voice has become a defining part of mega-hits across all genres even when they're not her own songs. This only means that the possibilities for guests during her Super Bowl Halftime Show on Feb. 12 are endless, and speculation about who she may bring up onstage has been rampant.
Rihanna could very well choose to just keep the spotlight on herself and her own gaggle of mega-hits, given how the Halftime Show marks her first performance in over five years — and could possibly indicate a new album or tour to come in the near future. However, the singer and the NFL have kept quiet on whether she plans to bring out guests or not, meaning all of her many collaborators have a chance of making a surprise appearance on the Super Bowl stage.
To help solve the mystery, we've ranked Rihanna's most famous collaborators by how likely they are to appear at her Halftime Show, taking into account how big those songs actually were, how often Rihanna has performed them, and where she stands with those artists today. There is one potential guest that's more likely than most— and it's not her boyfriend A$AP Rocky.
24. Kanye West ("All of the Lights," "Famous," "Run This Town," "FourFiveSeconds")
Rihanna has been involved with some of Kanye's biggest and most controversial hits, but it's unlikely Ye would perform with her at the Super Bowl. That said, don't be surprised if you hear her infamous chorus of "All of the Lights" without his involvement, even for just a few seconds.
23. Paul McCartney ("FourFiveSeconds")
Given how the Beatle only played guitar in his 2015 collaboration with Rihanna and West, don't expect to see him grace the Super Bowl stage either.
22. Britney Spears ("S&M Remix")
Unlike many collaborations on this list, Rihanna and Spears have actually performed theirs together at the 2011 Billboard Music Awards, ending in an iconic pillow fight. But given how, like RiRi, Spears hasn't performed since 2018, it's not likely that she'll use another artist's Halftime Show for her own comeback — even if she's the most wanted guest according to this survey from VegasInsider.
21. Maroon 5 ("If I Never See Your Face Again")
Maroon 5's 2019 Halftime Show was poorly received by critics and viewers, lead singer Adam Levine just welcomed a baby, and all parties involved have probably forgotten this song exists (even if it does low-key slap). Consider this possibility a non-starter.
20. Shakira ("Can't Remember to Forget You")
Shakira and Rihanna have never once performed their 2014 collaboration together, even when Shaki crushed it during her own Super Bowl Halftime Show with Jennifer Lopez in 2020. Don't expect RiRi's Halftime Show to be the place where that happens.
19. Kendrick Lamar ("LOYALTY.")
While Lamar and Rihanna's collaboration is considered a highlight from his 2017 album DAMN., it was not as big of a hit as her other collabs, and he just did the Super Bowl in 2022, so don't expect her to use her precious 13-minute Halftime Show set-time on this song.
18. David Guetta ("Who's That Chick," "Right Now")
Rihanna has her fair share of Guetta-produced dance bangers in her arsenal, but she's never once performed any of them, so why would she start at the Super Bowl?
17. Sean Paul ("Break It Off")
Rihanna likely won't include a song she's barely performed since its 2006 release in her 13-minute long Halftime Show. But admit it, seeing Paul and RiRi break it down to "Break It Off" would be a nostalgic blast.
16. Slash ("Rockstar 101")
Like McCartney, Slash popping up to play guitar on his and Rihanna's 2009 banger "Rockstar 101" would go hard. But she has snuck it into the occasional setlist over the years. That said, it's unlikely she would ignore mega-hits in order to squeeze this song in.
15. Jeezy ("Hard")
"Hard" absolutely lives up to its title, and "That Rihanna reign just won't let up" is an iconic lyric that deserves to be incorporated into her Super Bowl entrance. But Jeezy's verse is so long that he wouldn't have time to perform it during the Halftime Show anyways.
14. Ne-Yo ("Hate That I Love You")
RiRi and Ne-Yo have played their 2007 hit together on multiple occasions, but not in the past decade. Given how she has bigger ballads to play at the Super Bowl, it's likely that she'll skip this one (even if fans want Ne-Yo to pop up just for the nostalgia).
13. Coldplay ("Princess of China")
Coldplay headlined the Halftime Show in 2016 and they didn't include this track with Rihanna. In fact, they've only performed it together once, making it a very improbable inclusion in her own set. That said, doesn't it sound low-key made for an extravagant Super Bowl performance?
12. Nicki Minaj ("Fly," "Raining Men")
Rihanna and Minaj have two songs that feel iconic to fans but oddly didn't become huge hits, meaning they likely won't be part of the Super Bowl setlist. But their friendship remains strong, so don't be surprised if Minaj is in the audience cheering on RiRi.
11. Future ("Loveeeeeee Song," "Selfish")
"Loveeeeeee Song" was a low-key hit in 2013 and led Future and RiRi to collaborate once again in 2017, meaning his chances of popping up at the Super Bowl are higher than many. But were they big enough to actually warrant inclusion in her setlist? Probably not.
10. Mikky Ekko ("Stay")
Rihanna and Ekko's melancholy duet "Stay" is a strong contender to land on the Super Bowl setlist, given how often she's performed the song live. What's less likely is Rihanna giving the song enough time for Ekko to even sing his parts, but given how much of a hit it was, it's always possible.
9. N.E.R.D. ("Lemon")
N.E.R.D. landed Rihanna on their comeback single in 2017 to spectacular results, but they have yet to actually perform the song together. While "Lemon" may not be an obvious choice for the Super Bowl setlist, it was a more recent hit, meaning its chances of popping up are higher than you think.
8. Drake ("What's My Name?," "Work," "Take Care," "Too Good")
On paper, Drake seems like the most obvious guest for Rihanna's Halftime Show, given just how many genre-defining hits they have together and their sheer chemistry while performing onstage. However, unless they've managed to patch things up since she told Vogue in 2018 that she and Drake were no longer close, then expect Rihanna to sing one or two of these hits solo.
7. SZA ("Consideration")
Rihanna collaborated with SZA before most people knew of her. In fact, "Consideration" was originally written for SZA's debut album Ctrl before she gave it to RiRi and performed it with her at the 2016 BRIT Awards. While it wasn't released a single, SZA's star has only risen since, making her the most optimal guest star she could have at the Super Bowl.
6. T.I. ("Live Your Life")
T.I. and Rihanna haven't performed their 2008 smash together in years, but she still includes her parts in nearly every show she does. The Super Bowl may not be an exception, with or without him.
5. Calvin Harris ("We Found Love," "Where Have You Been," "This Is What You Came For")
If anyone will show up to man the DJ booth, a la Mark Ronson during Bruno Mars' 2016 Super Bowl performance of "Uptown Funk," it's Harris. "We Found Love" is almost guaranteed for her Halftime Show, she regularly includes "Where Have You Been" in her setlists, and she even came out during Harris' 2016 Coachella headlining set for the Taylor Swift co-written "This Is What You Came For." The EDM producer joining her to play all of their hits would not be surprising.
4. DJ Khaled ("Wild Thoughts")
Rihanna's last performance was at the 2018 Grammy Awards, where she sang her DJ Khaled collab "Wild Thoughts" with the man himself. If she includes the hit in her Super Bowl setlist, don't be surprised to hear him scream "we the best" and "another one" throughout.
3. Eminem ("Love the Way You Lie," "Love the Way You Lie (Part II)," "Numb," "The Monster")
Like Lamar, Eminem just performed at the Super Bowl last year. But unlike him, he has multiple iconic collaborations with Rihanna, enough to go on a stadium tour together in 2014. If anyone would repeat the Super Bowl two years in a row solely for RiRi, it's him.
2. A$AP Rocky ("Cockiness Remix")
RiRi and Rocky only have one collaboration to their name, a remix of her 2012 single "Cockiness (Love It)" that the NFL probably even wouldn't allow on her setlist given its cheeky nature. However, they've been dating for over three years and welcomed their first child together in May 2022. There's probably no one that she would feel more comfortable performing with if she wants guests — even if there is one choice that's even more logical.
1. Jay-Z ("Umbrella," "Run This Town," "Talk That Talk")
Jay-Z is embedded in Rihanna's history more than any other musician, after signing her to Def Jam Records in 2005 and featuring on one of her first mega-hits, "Umbrella." He's also never appeared at the Super Bowl, not even during his wife Beyoncé's 2013 Halftime Show, where she reunited with her Destiny's Child bandmates. But in 2019, his company Roc Nation partnered with the NFL to advise on bookings for the Halftime Show, which is likely a huge reason why Rihanna even agreed to play after declining in 2018 in solidarity with Colin Kaepernick. There may be no better reason or opportunity for Jay-Z to finally grace the Super Bowl — unless he now has his eye set on doing it solo one year.