The Royal Family Pays Tribute To Queen Elizabeth II
Camilla paid tribute to the Queen in a heartfelt video message.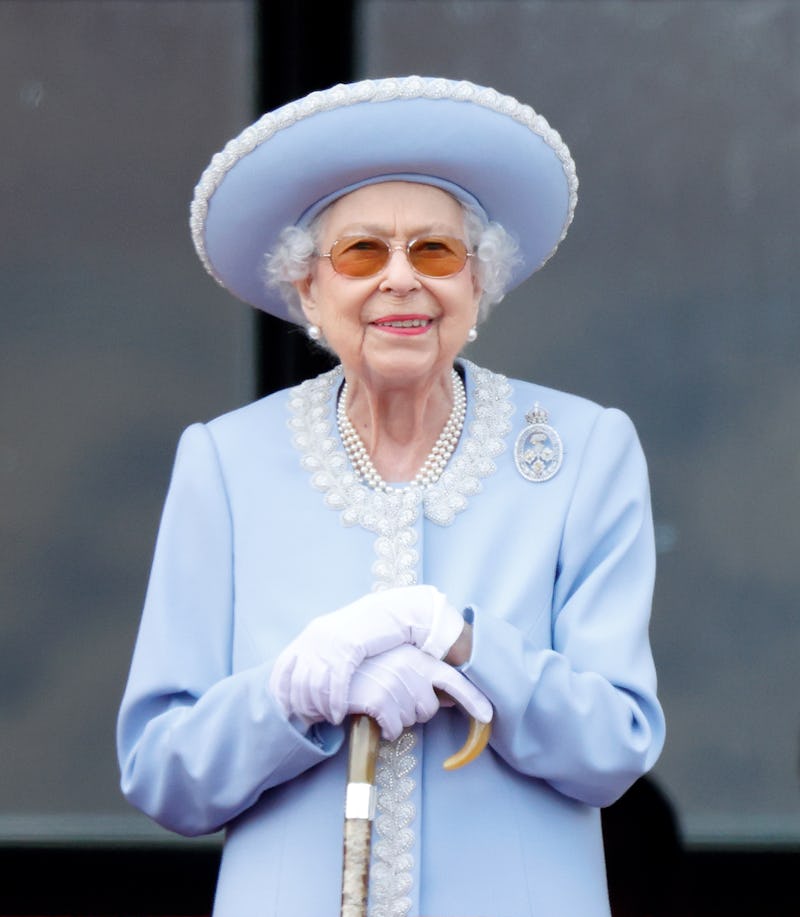 Max Mumby/Indigo/Getty Images Entertainment/Getty Images
Early on Sept. 8, Buckingham Palace released a statement announcing that Her Majesty was "under medical supervision" in Balmoral, Scotland. Members of the British royal family, including the then-Prince Charles, Princess Anne, and Prince William, all travelled to be by her side. On that same day, at 6.30 p.m. local time, it was announced that Queen Elizabeth II had died. During the following 10-day mourning period, members of the royal family have been sharing their homages to the Queen.
Camilla, Queen Consort paid tribute to the late monarch on the eve of Her Majesty the Queen's funeral. In a pre-recorded video message that aired on BBC One on Sunday, Sept. 18, Camilla spoke of the late Queen's love of horse raising, her "good sense of humour," and her "wonderful blue eyes."
"When she smiles, you know, they light up her whole face. I'll always remember that smile, you know, that smile is unforgettable," Camilla said in her tribute, during which she also acknowledged the Queen's "difficult" position of being a woman in a male-dominated environment.
Camilla recognised: "It must've been so difficult for her [the Queen] being a solitary woman and there weren't women prime ministers or women presidents. She was the only one, and so I think she carved her own role."
Meanwhile, on Sept. 12, it was revealed that Meghan Markle's Archetypes podcast is on hold, to mark the family and nation in mourning. The landing page on the Spotify website currently holds the message: "New episodes of Archetypes will be paused during the official mourning period for Her Majesty The Queen."
Also on Sept. 12, Prince Harry returned to the Archewell website to share his full tribute to his "granny." In the poignant message, he said: "In celebrating the life of my grandmother, Her Majesty The Queen —and in mourning her loss — we are all reminded of the guiding compass she was to so many in her commitment to service and duty."
He continued: "Granny, while this final parting brings us great sadness, I am forever grateful for all of our first meetings — from my earliest childhood memories with you, to meeting you for the first time as my Commander-in-Chief, to the first moment you met my darling wife and hugged your beloved great-grandchildren. I cherish these times shared with you, and the many other special moments in between."
Signing off, he wrote: "Thank you for your commitment to service. Thank you for your sound advice. Thank you for your infectious smile," before expressing his comfort at knowing the Queen has now been reunited with her late husband.
King Charles III was the first member of the royal family to speak publicly. "The death of my beloved Mother, Her Majesty The Queen, is a moment of great sadness for me and all members of my family," King Charles III's statement read. "We mourn profoundly the passing of a cherished Sovereign and a much-loved Mother. I know her loss will be deeply felt through the country, the Realms, and the Commonwealth, and by countless people around the world. During this period of mourning and change, my family and I will be comforted and sustained by our knowledge of the respect and deep affection in which The Queen was so widely held."
On Sept. 10, Prince William, now the Prince of Wales, issued a statement of his own. "On Thursday, the world lost an extraordinary leader, whose commitment to the country, the Realms, and the Commonwealth was absolute," he began. "So much will be said in the days ahead about the meaning of her historic reign."
Continuing, he opened up about the personal loss — for him, his wife, and their three children. "I, however, have lost a grandmother," he added. "And while I will grieve her loss, I also feel incredibly grateful. I have had the benefit of The Queen's wisdom and reassurance into my fifth decade.
"My wife has had twenty years of her guidance and support. My three children have got to spend holidays with her and create memories that will last their whole lives."
William went on to discuss how "the reality of life without Grannie" hasn't quite hit him yet and to express his gratitude, not just for himself or his family but for his entire generation. "I will honour her memory by supporting my father, The King, in every way I can," he concluded.
Kate Middleton — now formally known as Catherine, Princess of Wales — also shared the sweet observations of her youngest son, Prince Louis, as she greeted the public in Windsor alongside Prince William, Prince Harry, and Meghan Markle.
"My little Louis, this is so sweet, he said: 'Mummy don't worry, she's now with great grandpa,'" Kate said, while speaking to crowds around the castle on Saturday, Sept. 10. The 4-year-old was, of course, referring to the Queen's late husband Prince Philip, Duke of Edinburgh, who died last year, aged 99. Interestingly, Louis is thought to be named after Prince Philip's uncle, Louis Mountbatten, 1st Earl Mountbatten of Burma.
Shortly after the Queen's death was announced, Prince Harry and Meghan Markle's Archewell website homepage was turned into a blacked-out landing spot, with the tribute: "In loving memory of Her Majesty Queen Elizabeth II 1926-2022."
On Sept. 13, the Queen's only daughter, Princess Anne, who accompanied her late mother during her final journey from Balmoral Castle to Buckingham Palace, also released a poignant tribute. "It has been an honour and a privilege to accompany her on her final journeys," the Princess Royal shared. "Witnessing the love and respect shown by so many on these journeys has been both humbling and uplifting."
Princess Anne also praised her mother's "contribution to our national identity," and said she is "grateful for the support and understanding offered to my dear brother Charles as he accepts the added responsibilities of The Monarch." The tribute concludes, "To my mother, The Queen, thank you."
Prince Andrew's daughters, Princess Beatrice and Princess Eugenie, opened up about the loss on Sept. 17. In a joint statement posted on Eugenie's Instagram account, they wrote that they'd "not been able to put much into words" since losing their grandmother. However, they penned a beautiful tribute that honored the Queen's role as both their "beloved Grannie" and monarch.
"You were our matriarch, our guide, our loving hand on our backs leading us through this world," the sisters wrote, in part. "You taught us so much and we will cherish those lessons and memories forever. … You, being you, will never know the impact you have had on our family and so many people around the world."
They, like others in their family, also shared that it's a comfort to think of their grandparents together again. "We're so happy you're back with Grandpa," the Princesses added. They went on to note that it's "has been the honour of [their] lives to have been [her] granddaughters" and concluded with their support for the new king, "Uncle Charles."
This article was originally published on