Jana Schmieding Reveals The Rutherford Falls Moment That Made Her "Weep"
"By the end, I was giving a standing ovation."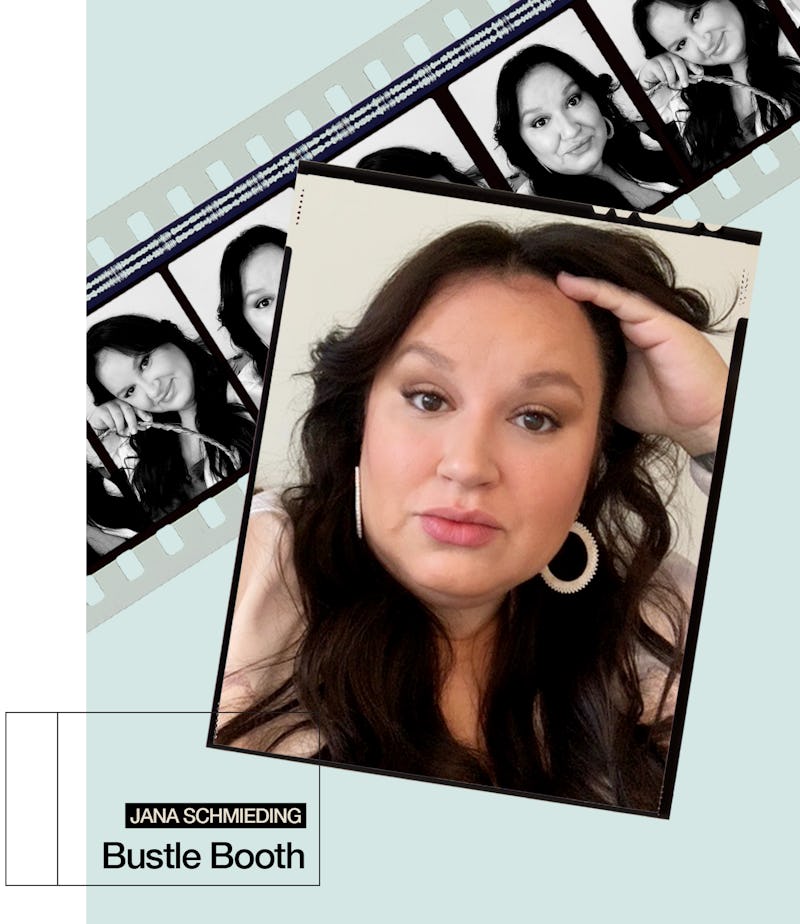 As soon as Jana Schmieding name drops Michael Schur, a co-creator on her new comedy series Rutherford Falls, her cat jumps into the frame of her Zoom call and lands on a black mantle directly behind her. "This is my cat Šázi. Does he get a shoutout in the article? Let's make him famous," Schmieding quips.
As a former middle school and high school teacher, Schmieding is used to random interruptions, picking up where she left off with ease to discuss the groundbreaking diversity of both the Rutherford Falls cast and writers' room. Aside from playing the self-doubting Reagan Wells — a member of the show's fictional Minishonka Nation who dreams of upgrading her tribe's one-room cultural center — Schmieding serves as one of the show's five Native writers, alongside co-creator and executive producer Sierra Teller Ornelas.
"We had queer representation, Black representation, Latinx representation, and Asian representation. It was a very female-heavy [writers'] room too," Schmieding explains. "Within the Native writers, there was also diversity among us; all of us come from different sovereign nations and different regions across Turtle Island, as we would say."
It should go without mentioning that hiring Native voices to write behind the scenes helps Native actors in front of the camera, as she too believes, but history has proven that the entertainment industry hasn't completely understood this, or hasn't cared to.
"The narrative autonomy that we had in the writers' room took a lot of pressure off of the Native performers," Schmieding says. "I know Michael Greyeyes [who plays Minishonka casino owner Terry Thomas] talks a lot about how he's largely had the experience of being the only Native man on set throughout his career, and what that asks of a performer is that you go beyond your role of a performer and you have to abandon your craft and take on a consulting role. As a Native performer, you're often asked to consult on the costumes and on the language a lot of times. It's just unpaid labor."
Schmieding is particularly proud of helping create Episode 4 of Rutherford Falls, which focuses on Greyeyes' character Terry. Through flashbacks to his childhood and his first encounter with capitalism, viewers see how the "everything is business" mentality he learned early in life has affected his business instincts as a father and Native community leader today. "It was one of those episodes where I was weeping at times, but by the end, I was giving a standing ovation," she says.
At one point, Terry tries to make a deal with his teenage daughter to sell her beadwork, to which she replied, "Why are you so obsessed with money? Is everything a deal to you?" And then later, in a conversation with reporter Josh Carter (played by Schitt's Creek's Dustin Milligan), Terry reiterates that every business decision he makes is a selfless act aimed at benefiting his community and family for generations to come. "You never get to see those monologues that we have with each other. you never get to see them on screen. It's so empowering."
Get to know more about Schmieding's love for the movie Bad Trip and her reasoning for wanting to be a contestant on The Great British Bake Off in her Bustle Booth questionnaire below.
In The Bustle Booth
What's your coffee order?
Vanilla oat milk latte, because if I have too much caffeine in a day I can't sleep at night, and we CANNOT miss out on precious sleep.
What special skill did you hone in the past year?
Acting on camera! My life during quarantine has been dedicated to Rutherford Falls. I learned from the greatest on that show, so it was a real education.
What's your favorite thing you recently bought?
My espresso machine. It's small and simple, but it's been a small luxury to be able to have yummy coffee every day.
What's your sign?
Scorpio, and it doesn't mean much but it's fun to look at. I get annoyed reading my horoscope from white astrologers because Lakota cosmology is an actual thing but has been erased through the systems of colonial theft and erasure. #GiveYourCrystalsBackToTheLand
What's your favorite overused movie quote?
"Fat guy in a little coat" because coats are so damn small!
What was your favorite cartoon as a kid?
I wasn't into cartoons as much as I was into live-action kids stuff like Fraggle Rock, The Muppet Show and Pee-wee's Playhouse. God, Pee-wee's Playhouse — what a delightful fever dream.
What's one movie or TV show you're currently obsessed with?
Oh my god: Bad Trip. Is it the funniest movie I've ever seen? Maybe! I'm a huge Eric Andre fan and have watched his show on Adult Swim since it started. Bad Trip is like an extended Eric Andre Show and it happens to feature two of my other favorite comedians: Lil Rel Howery and Tiffany Haddish. Each of them is so funny. I've already watched it four times and can't wait to watch it again and again. Can you tell I love it?
Who is your celebrity idol?
This is really hard because I don't really idolize celebrities and never really have. I watch and admire lot of people's work, and my taste is all over the place. But I really look up to Natasha Rothwell's career, and I see the way Issa Rae bets on herself and lifts other Black women up. I aim to do the same for Native women in comedy myself.
If you had to be on a reality TV show, what would it be?
The Great British Bakeoff hands down. That show is for the basics out here just loving bread, and that person is me.
What's your go-to karaoke song?
"Alone" by Heart. I know what you're thinking: Can she actually pull that song off? On a good night with the right crowd, f*ck yes, I can.
What's something that's inspiring you lately?
Justice and the push for policing and prison abolition. Abolition is about justice and equity, but it's also about love, community and safety, and I dedicate a lot of my thinking imagining a world where Black, Indigenous and trans people aren't criminalized but lifted up by their community members.
What is something you would want people to say about you?
"She makes me laugh." It might sound corny, but laughter is the medicine I'm trying to bring to my people.