7 Food Scenes From The Simple Life That Paved The Way For Cooking With Paris
Yes, including the time she made bacon with a clothes iron.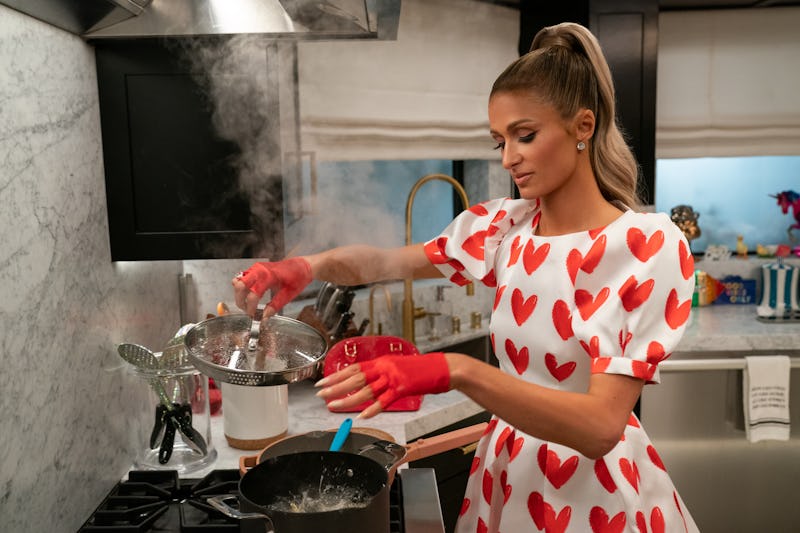 Kit Karzen/Courtesy of Netflix
Paris Hilton has worn quite a few hats throughout her decades-long career. Born into a family known for their hotels, Hilton made a name for herself as a model and New York socialite in the late '90s, earning "It Girl" status by the turn of the millennium. In the early aughts, she starred alongside her then-bestie Nicole Richie in the hit reality show The Simple Life, which saw them working (and often failing at) low-paying jobs; it ran for five seasons and launched them both into global fame. Then, Hilton forayed into acting in films like Raising Helen and House of Wax, launched a music career and scored a lasting hit with "Stars Are Blind," and began selling perfumes that would go on to gross over $2.5 billion worldwide.
More recently, Hilton has released a documentary titled This Is Paris and worked extensively as a club DJ — even earning the title of highest-paid female DJ in 2014, per Time. But after posting a hilarious and chaotic viral video cooking her "famous lasagna" to her YouTube channel in January 2020, Netflix offered her an unscripted series titled Cooking With Paris, premiering Aug. 4 on the streaming service. Set to follow Hilton as she "might actually learn her way around the kitchen," per Netflix, the series' announcement left fans puzzled, unsure why she was offered a cooking show with little-to-no professional experience. However, superfans of The Simple Life know that Hilton has been showing off her questionable food-handling skills since the early 2000s.
To see how Hilton's cooking skills have developed over the years, tune into Cooking With Paris when it hits Netflix. Fingers crossed for a guest spot from Richie.