Everything That Happened In Succession Season 3, Because It's Been A While
There were politics, betrayals, and accidental nudes.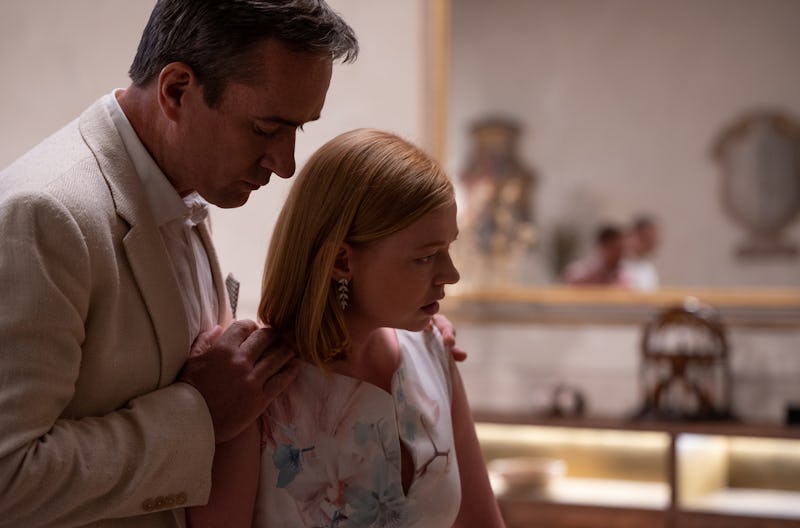 Graeme Hunter/HBO
It's been more than a year since fans last checked in with the Roy family on Succession — and while some events are hard to forget (like Kendall singing "Honesty" or Roman's accidental sext), you may need a refresher on the finer points of the family business before Season 4 drops on March 26. Here's a Succession Season 3 recap with everything you'll want to remember going into the show's fourth (and final) season.
GoJo Entered The Chat
Much of Season 3's business dealing revolved around a potential merger with GoJo, a tech giant helmed by CEO Lukas Matsson (Alexander Skarsgård), who was pretty casual in his disregard for Logan (Brian Cox), going so far as to ask when he might die. While the companies were initially in talks about merging, Matsson flipped the script during the season finale, proposing taking over and buying the company, instead, which Logan was into — but obviously didn't sit well with the Roy siblings. (More on that later.)
What About The Pierces?
The Pierce family took a backseat during Season 3. After failing to acquire their company in Season 2, the Roys really set their sights on GoJo. However, Kendall (Jeremy Strong) was still hanging out with Naomi Pierce (Annabelle Dexter-Jones), who expressed her support for Kendall selling his stake in the company. Cherry Jones' Nan Pierce will be back for Season 4, though, so it will be interesting to see if she's changed her mind about selling.
The Roys Got Political
Well, OK, the Roys have always been political. But Season 3 saw the family take an active role in choosing who they would back for the upcoming presidential election — and shockingly, it's not Connor Roy (Alan Ruck). Rather, Logan selected alt-right Jeryd Mencken (Justin Kirk), much to Shiv's horror. Roman (Kieran Culkin) said they could "tame" him for their benefit, but the presidential hopeful seems dangerously unpredictable. "If Franco, or H, or Travis Bickle had a good pitch, f*ck it, I'm a man for all seasons," he said.
The Siblings (Finally) Banded Together
Season 3 saw the Roy siblings more at odds than ever before, with a series of back-and-forth attacks — like Kendall sabotaging Shiv's first speech as Waystar's domestic president and Shiv (Sarah Snook) then publishing a letter attacking Kendall's character (citing everything from his substance use, to shortcomings as a parent, to "problematic relations with women"). It was bad enough for Roman himself to call it "pretty horrible."
However, by the season finale, they finally banded together. Kendall had an emotional heart-to-heart with his siblings after nearly drowning, which he insisted was not intentional ("too many limoncellos," he said) but left his family concerned. After breaking down and telling Shiv and Roman about the waiter who died at Shiv's wedding, they consoled him.
Then, the trio banded together to stop Logan from selling the company to Mattson, planning to use a clause in their parents' divorce settlement that said the kids could veto such a change. And it was genuinely refreshing to see them on good terms with each other!
But alas...
Tom Carried Out The Biggest Betrayal
Tom (Matthew Macfadyen) secretly informed Logan of the siblings' plan — which gave the family patriarch enough time to change the divorce terms with the kids' mom, Caroline, who just married someone new. Greg (Nicholas Braun) was aligned with the plan to shut the siblings out, as Tom asked if he wanted to make a "deal with the devil."
"What am I gonna do with a soul anyways?" Greg asked. It was actually a pretty cute moment if you're a fan of the duo, but decidedly not good for Shiv, Kendall, or Roman. Ultimately, Season 3 ended with the siblings in a state of shock.