Taylor Swift Accidentally Eats Her Surprise Guest At The Eras Tour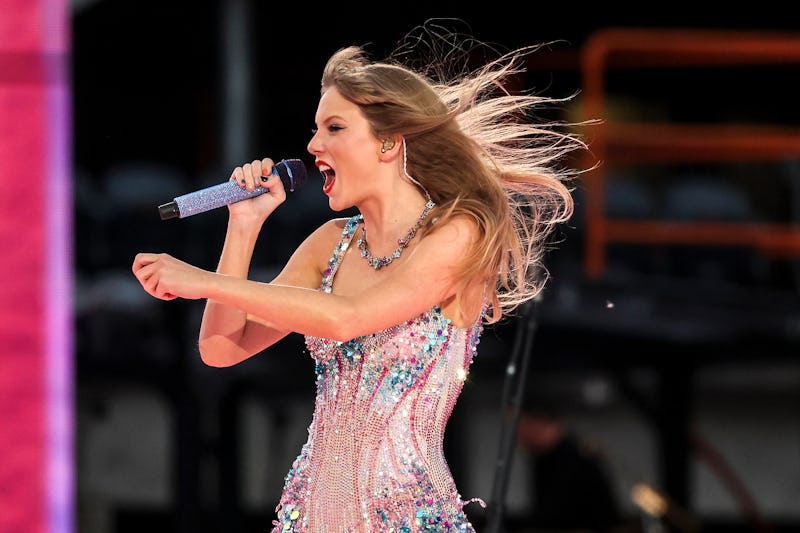 Chicago Tribune/Tribune News Service/Getty Images
Maren Morris wasn't the only surprise guest at Taylor Swift's Eras Tour this weekend. On June 4, Swift accidentally swallowed a bug while performing her third show at Soldier Field in Chicago, Ill. Naturally, Twitter not only laughed at the mishap but got jealous of the bug for having a better seat to the show than them.
During the Evermore act of the show, Swift turned away from the audience and started coughing. "I swallowed a bug, I'm so sorry," she explained, leading to laughs from the crowd. She continued to struggle and attempted to cough out the critter. "Oh delicious," she sarcastically remarked. "Is there any chance none of you saw that?" Finally, she conceded to the bug. "It's fine, it's all — I've swallowed it," she said. "Okay, so I'm just gonna try not to do as many of those. This is gonna happen again, there's so many bugs. There's a thousand of them. Anyway, this has been fun."
Videos of the incident quickly went viral on Twitter, with Swifties applauding the singer's sense of humor and getting envious of the bug's unique experience.
The 12-time Grammy winner also experienced other difficulties earlier in the show — albeit much less gross than inhaling an insect. Before performing "Lover," Swift's mic stopped working, which she handled in the most professional way — by mimicking screaming and making goofy annoying faces at the crowd as she attempted to fix her mic. The crowd started chanting "Taylor" to make up for the silence, which she took with an ecstatic bow, before one of her crew members saved the day with a backup mic. "Let's start this over again. None of that happened," she said, pointing to the crowd.
The Eras Tour has proven that Swift is a master at handling onstage mishaps as they happen, from wardrobe malfunctions to malfunctioning pianos. Most recently, Swift had to ditch her piano at her May 21 show in Foxborough, Mass., after it started playing by itself due to damage from her "rain show" the night before. "Oh my, do you hear that? Is that happening for you too?" she asked, before picking up her guitar for the night's second secret song. The magic of live music, everyone.