The Definitive Ranking Of Lord of the Rings Hotties
These Middle-earth dudes deserve just as much admiration as Legolas and Aragorn.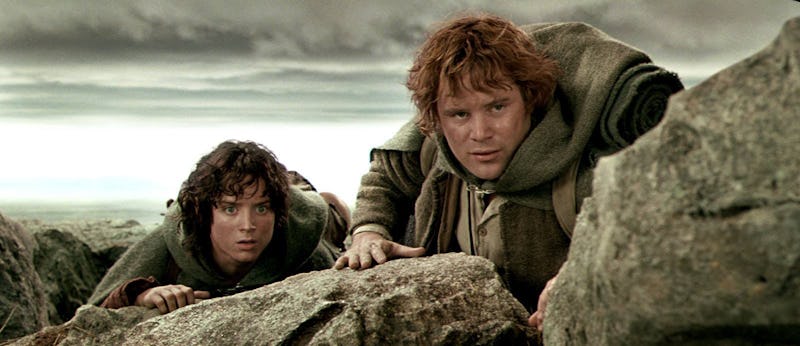 New Line Cinema
It's been exactly 20 years since hobbit Frodo Baggins (Elijah Wood) was plucked from The Shire and tasked with destroying a gilded bauble to save all of Middle-earth from mass destruction. No big deal. Thankfully, eight other cohorts — many of whom might make you swoon — signed up to join his quest in Peter Jackson's Lord of the Rings: The Fellowship of the Ring.
For two decades, though, only two characters were exalted as Middle-earth hotties: Legolas and Aragorn. Played by Orlando Bloom, the blonde elf with killer aim captured hearts by sliding down elephant trunks with nary a half-ponied hair out of place. (His character was so beloved that he was recast in The Hobbit trilogy years later, even though Legolas wasn't in the original J.R.R. Tolkien novel it was based on.) Meanwhile, Aragorn, played by Viggo Mortensen, dazzled as the unassuming ranger who reluctantly takes his throne as the King of Men. Arwen (Liv Tyler) was so charmed by him in the trilogy that she trades her immortality for a chance to be with him.
As the film's anniversary comes around, it's time to give the entire trilogy a rewatch and the other characters their due with a definitive list of unsung LOTR hotties, ranked from least to most thirst-worthy.