The 'Vanderpump Rules' Cast's Coachella Photos Will Take You Inside #Vanderchella 2018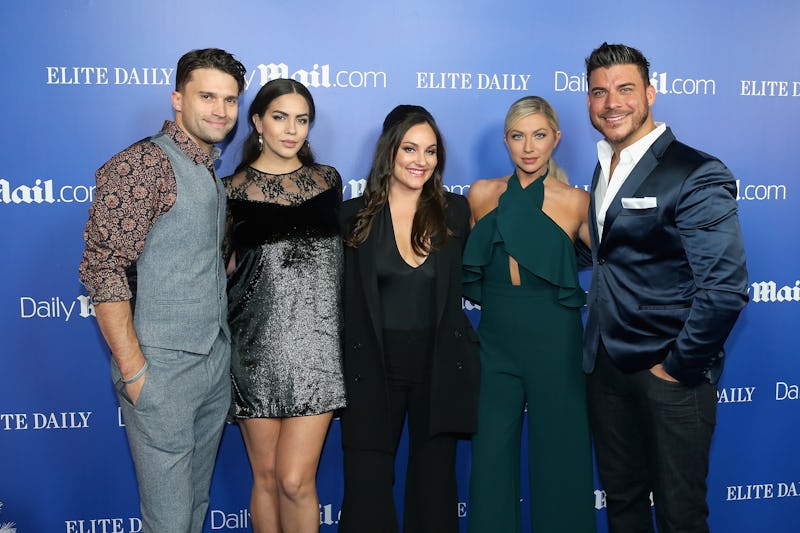 Rob Kim/Getty Images Entertainment/Getty Images
Back in the day, the subject of Coachella was a tricky one for the stars of Vanderpump Rules. The Vanderpump Rules cast's Coachella photos from both weekends of the festival prove just how far they've come in 2018.
First, there was the question of whether Tom Sandoval and Ariana Madix were involved at a Coachella years ago. At that point, he and Kristen Doute were still together, and the question of their potential hookup plagued the relationship. Years later, the concept of Lala Kent's paramour requiring Coachella attendees to sign an NDA would cause enormous rifts in the group. It's been a wild ride for the former SUR coworkers! That's why seeing photos of the Vanderpump Rules cast at Coachella this year is so heartwarming. That, and their amazing festival looks. And Stassi's new boyfriend! Go, Stassi. This new boo is definitely an upgrade from Patrick, whose condescension in his every Vanderpump Rules appearance is enough to make fans wonder why Stassi kept him around for so long.
At Coachella Weekend 1, the Sexy Unique Restaurant was represented by Tom Sandoval, Ariana Madix, James Kennedy, James' fitness instructor girlfriend Racquel, Lala Kent, and other peripheral members of the Vanderpump Rules cast. Weekend 2 saw Stassi Schroeder and her new beau, Beau, Tom Schwartz and Katie Maloney-Schwartz, Kristen Doute, and her boyfriend Carter living it up in the desert. Isn't it better when they all get along?
Jax and Brittany spent the first weekend of Coachella in Kentucky, where they hung out with Brittany's family. Jax had commented on Twitter earlier that he was "too old" for Coachella, and while he'd attended in years past, he no longer felt the need (or desire) to go. Per Brittany's geotagged Instagrams, they spent the following weekend cozy at home in Los Angeles. Ariana's friend Logan also posted photos of their "Grovechella" weekend together, which included SUR host and new Vanderpump Rules castmember Billie Lee.
Vanderpump Rules has been so full of drama this season that it's almost hard to believe the core crew remains friends in their free time. The show isn't currently filming, so it's not like they went to Coachella for the cameras; they just went because they live in L.A., and why wouldn't you go to Coachella if you could cop VIP passes? It is interesting, though, that the group appears so segmented. The lines are clear: Jax and Brittany are out of town, Tom and Ariana and co. are at Coachella, and everyone else is in Los Angeles. Then, Jax and Brittany are back in town, but not hanging out with Ariana, Tom, et. al., and the "Witches of WeHo" have decamped to Coachella with their men. Is it coincidence, or is it time to start snooping into how much time this crew spends together just because they want to?
Of course, the simplest option is probably the best one: Since the majority of them work in the same restaurants and bars, it makes sense that there's a limit on how many people can take off a spring weekend from work. Lisa Vanderpump wouldn't want to lose all of her favorite bartenders, servers, and hosts for the same handful of days if she didn't have to! There's no real saying "no" when this crew wants to take a trip, but this isn't a birthday or a wedding or whatever else the SUR crew gets up to; it's just Coachella.
Jax and Brittany are still going strong, despite what the recent few episodes of the series would suggest, and the only real "Where are they now?" person would be Scheana Marie. IRL, Scheana is leaving L.A. behind for Las Vegas, and seems happy to be putting it behind her. Whether she'll appear on the next season of Vanderpump Rules isn't clear, but this show does love to cook up a scandal. That said, cheers to a seemingly drama-free Coachella season from the Pump Rules crew. Sometimes it really isn't about the pasta.